CFA Graduates Honored at Annual Kahn Awards Competition
Visual Arts
CFA Graduates Honored at Annual Kahn Awards Competition
Grand prize winner is Madelaine Kobe, MFA painting student; five finalists also recognized
This article was originally published in BU Today on May 18, 2023. By Alene Bouranova
Excerpt
New York. Paris. Basel. Appalachia.
To visual artist Madelaine Kobe (CFA'23), fine art is everywhere—not just in the cities the art world deems as "hubs."
That's why Kobe, a painter and this year's Esther B. and Albert S. Kahn Career Entry Award grand prize winner, roots her work in the landscapes and cultures of her native Louisiana and North Carolina. 
Kobe's first exposure to art was through the quilting groups that would meet at places like the local church and public library. "A lot of people don't deem these kinds of crafts as 'art,'" Kobe notes, regardless of the skill and dedication they require.
In her work and study, she says, "I'm really interested in how we all engage in art," as well as "how we understand our collective and individual identities related to the land and the art objects we make."
The $20,000 grand prize award will allow Kobe, a soon-to-be MFA grad, to continue producing works that reflect the rich history of the American South. (She creates sculptural pieces in addition to her paintings.) It will also allow her to conduct a research trip from Montgomery, Ala., to Morgantown, W.Va., in order to study the craft and storytelling traditions of Appalachia. She aims to host workshops along the way, too.
The 2023 Kahn Award winners were celebrated April 25 in a ceremony and reception at the College of Fine Arts. The Kahn Awards competition is open to students enrolled in CFA's School of Music, School of Visual Arts, and School of Theatre who are in their final year of study. The awards are funded by a $1 million endowment from the late Esther Kahn (Wheelock'55, Hon.'86).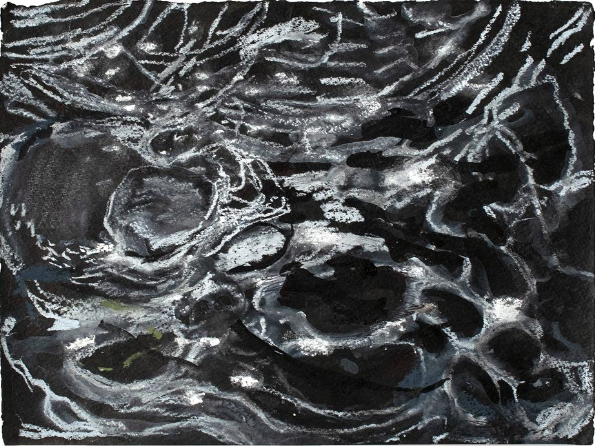 Finalists are chosen based on student proposals explaining how the award would help kick-start their careers, as well as their views on the role of the artist in society and how their art addresses social issues. Each finalist receives $2,500 and the grand prize winner receives $20,000.
This year's jury included Ty Furman, managing director of the BU Arts Initiative, Kara Elliott-Ortega, chief of arts and culture in the Boston Mayor's Office of Arts and Culture, and Jill Medvedow, Ellen Matilda Poss Director of the Institute of Contemporary Art/Boston.
The other 2023 Kahn Award finalists are Valyn Lyric Turner (CFA'23, CAS'23), an actor and playwright, Rayna Yun Chou (CFA'23), a violinist, Ami Okazaki (CFA'23), a set designer, Stephen Proski (CFA'23), a painter, and Joseph Sedarski (CFA'23), a composer. Read more about their work here.
Funds like the Kahn Awards are not only critical to supporting young artists, but also to ensuring art maintains a role in pushing society forward, says Joel Christian Gill, associate professor of art and visual narrative department chair at CFA.