Celebrated Abstract Artist and BU Alum Brice Marden Dies
CFA Alumni
Celebrated Abstract Artist and BU Alum Brice Marden Dies
His paintings are held in museum collections around the world
This article was first published in Bostonia on August 18, 2023. By Cindy Buccini
Excerpt
In the days after acclaimed abstract painter Brice Marden died, appreciations and superlatives poured in from around the world. He was "one of the most admired and influential artists of his generation" (New York Times), a "visionary" (Vogue), and "a master of color, light and texture" (Washington Post). Marden (CFA'61, Hon.'07) "produced a body of work of profound beauty and intelligence" (Museum of Modern Art) and "pathbreaking explorations of gesture, line, and color that put him in a category of one" (Artforum).
Marden's career spanned nearly 60 years, and his works are held in museum collections around the world, including the Museum of Modern Art in New York, the Art Institute of Chicago, the National Gallery of Art in Washington, D.C., the Tate Gallery in London, and the Kunstmuseum Basel in Switzerland. In 2019, the Times proclaimed him "America's grand old master painter."
Marden died of cancer August 9, 2023. He was 84.
Dana Clancy, director of the Boston University College of Fine Arts School of Visual Arts, says she last saw Marden's paintings in 2019, at a powerful exhibition at Gagosian Gallery in New York, which represented the artist. "It's hard to use words to describe such materially rich abstract paintings as Marden's, and it is even difficult to understand their power when only seeing them online or in a book," says Clancy (CFA'99), a CFA associate professor of art. "I went to see the exhibition because the works really function as they are meant to only when seen in person."
"With Marden's paintings, a viewer doesn't stand still looking—the paintings suggest that one move from far to near to look more closely," Clancy says. "Our movement as viewers in the gallery seems invited by—or echoes—the painter's quite physical process. Marden painted and moved across his studio space as he worked, using long-handled brushes or sticks as tools, as well as working the surface by scraping it."
Clancy says she perceives a change in the paintings as she edges closer: "Layers of added and scraped-away wax-based encaustic paint reveal new relationships in paint, color, mark. The longer you look at this work—that at first glance can seem as simple to describe in language as colors and lines—the more you see."
Learning the Fundamentals at BU
Born in New York, Marden attended Florida Southern College for a year before transferring to BU. In a 1998 Bostonia profile, he told art critic and writer Phyllis Tuchman (DGE'66, CAS'68) that he received a grounding in the fundamentals at the College of Fine Arts, and was "made aware of the tradition of being a painter."
Tuchman wrote, "One of America's most accomplished abstractionists still remembers how thorough his education was, including drawing from the model and other kinds of figure studies…. Moreover, his classes in theoretical color were combined with realistic color observation from the future. The young artist didn't balk at these conservative practices: this was the legacy he was inheriting. But he stopped making nudes when they were no longer required. Marden unequivocally states, 'I always wanted to make abstract art.'"
Two CFA faculty members in particular had an impact on Marden. One, according to Clancy, was Reed Kay, now a professor emeritus, who taught the materials and techniques course and who had studied with artist Karl Zerbe. (Marden, the college's convocation speaker in 2007, invited Kay to the event.) "Marden also spoke about being quite influenced by working with graphic design professor Arthur Hoener," Clancy says, "whose work with calligraphic marks and grids perhaps also helped set this artist as a youth on a pathway to developing his specific and groundbreaking painting processes, which have in turn influenced so many painters and artists."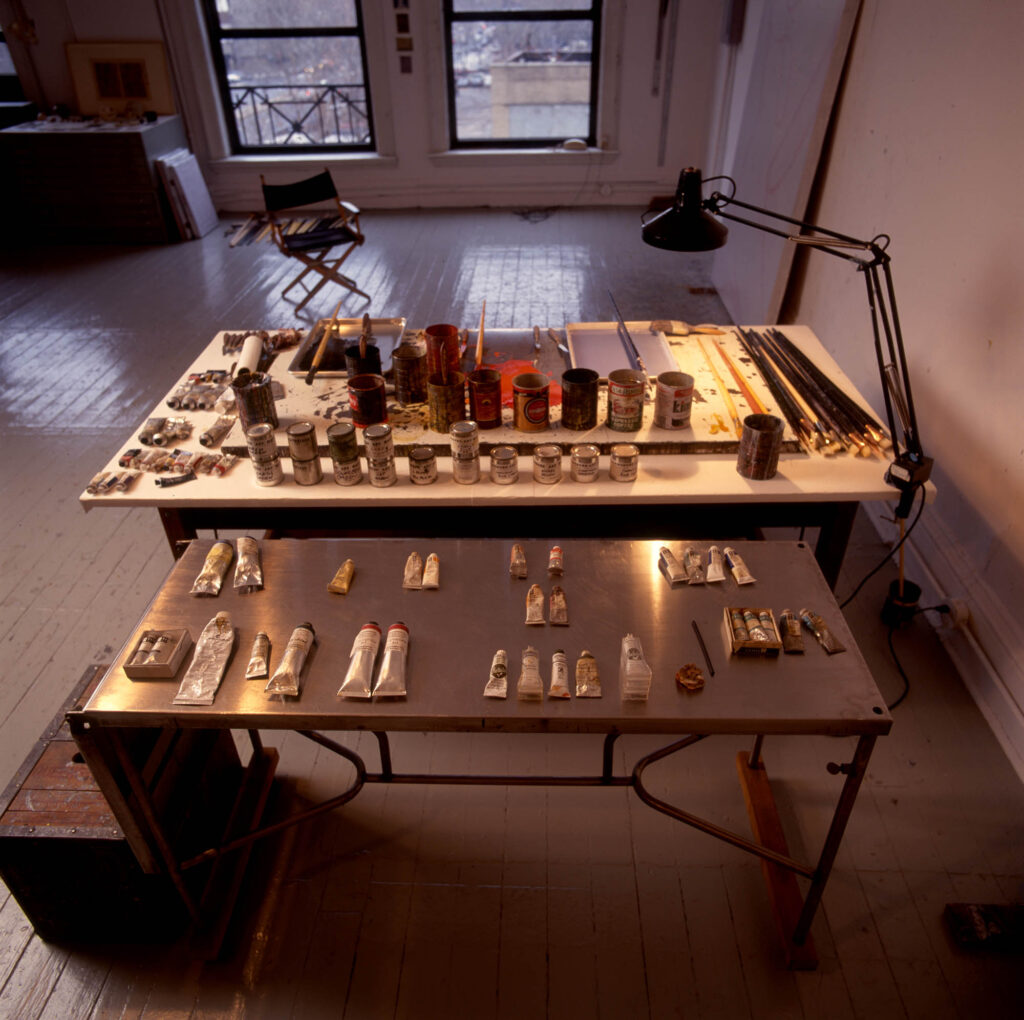 After graduating from BU, Marden earned a master's degree at Yale. He moved to New York and took a job as a guard at the Jewish Museum, where he was able to study Jasper Johns' work during a museum retrospective. It was "an influential moment for the young Marden," according to Artnet News.
Not long after, he had his first solo show, in 1966, at the Bykert Gallery in New York. "With painting decidedly out of vogue, reviews for this inaugural outing, featuring thickly painted surfaces blended with turpentine and beeswax, were mixed," according to Artnet News. "Undeterred, Marden, by now working as a studio assistant for Robert Rauschenberg, slowly made a name for himself with large, often monochromatic canvases featuring flat, rectangular panes of color."
Marden was credited with rejuvenating painting at a time when the art world had largely shifted its attention to pop art and conceptual art.