BU Actors Celebrate Hollywood Strike Settlement and Return to Work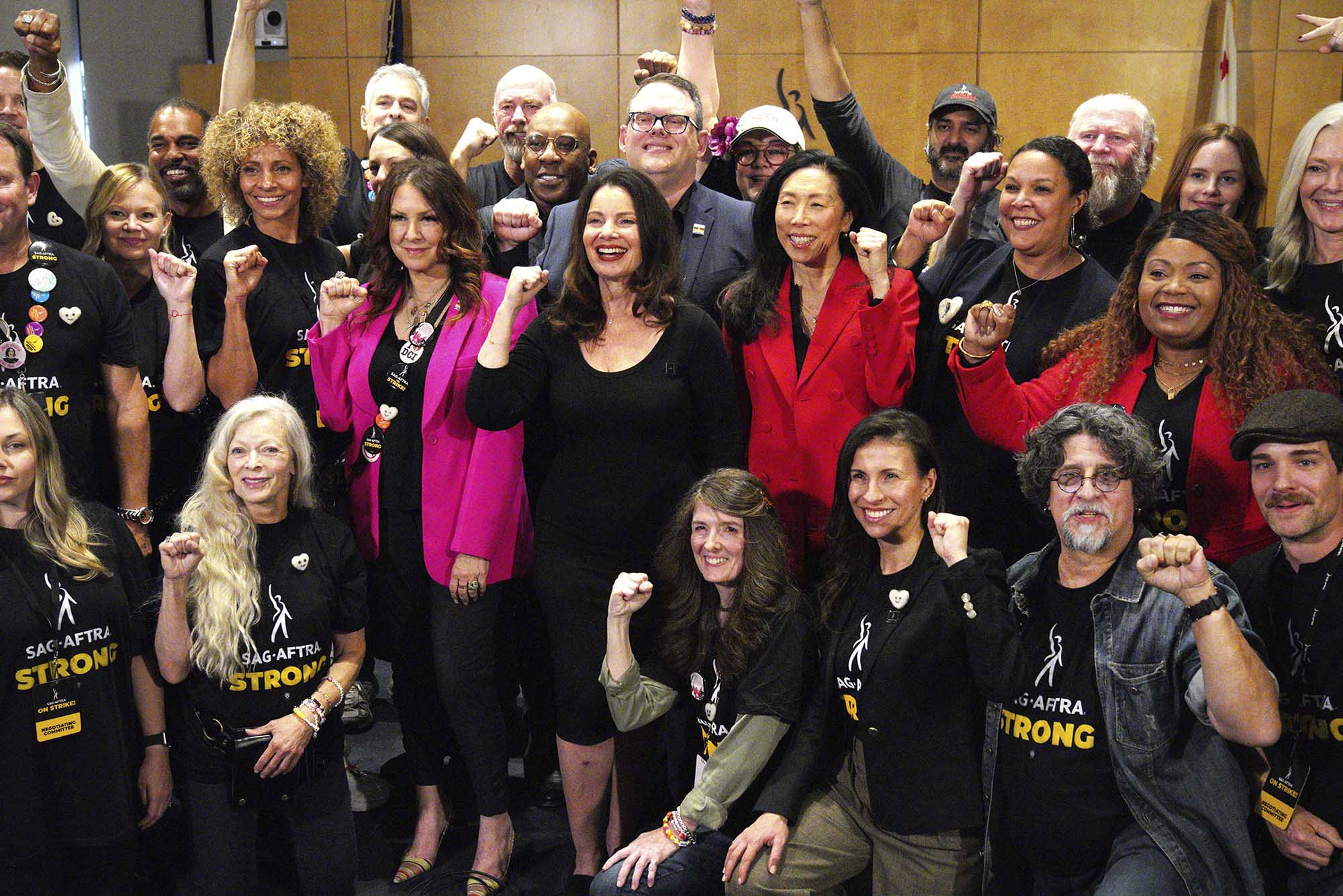 CFA Alumni
BU Actors Celebrate Hollywood Strike Settlement and Return to Work
CFA alums Michelle Hurd, SAG/AFTRA negotiating committee member, and Dave Shalansky celebrate the Hollywood strike settlement and discuss their excitement to return to work.
This story was originally published in Bostonia, by Jim Sullivan, on November 17, 2023.
---
"I so need a vacation," says actor Michelle Hurd. It's now a few days after the SAG/AFTRA strike against the Alliance of Motion Picture and Television Producers was settled, 118 days after its onset. Technically, of course, she and fellow actors have not been working for four months. But Hurd (CFA'88) was plenty busy during that time as a member of the SAG/AFTRA (Screen Actors Guild–American Federation of Television and Radio Artists) negotiating committee and manning picket lines in both New York and Los Angeles.
Boston University has a number of alums who are actors working in Hollywood. BU Today spoke with several of them at the onset of the strike and two following its resolution, Hurd and Dave Shalansky (CFA'96). During the strike, there was unanimity in the anger and frustration, the belief in the cause, the necessity of the strike and naturally, there was relief and joy when it was over. The victory is being called "a massive win" by members of the negotiating committee.
"I didn't expect it to go this long," Hurd says, "but I wasn't surprised, because I saw how they treated us. I think it's sad that they desperately didn't want us to feel like we are collaborators in this beautiful, sacred art form of storytelling. That's just so wrong. We realized these guys are beating [us] down, they don't want to give up any bit of the pot."
"I've been through several strikes in my 27 years as a SAG member," 50-year-old Shalansky says. "So, I was ready for anything. But even though I expected it to last a while, I felt terrible for all the hundreds, if not thousands, of other hard-working people that work on TV and film sets who became unemployed."
He remembers being on the picket line in July, when "it must have been 100 degrees in Times Square, and the IATSE [International Alliance of Theatrical Stage Employees, Moving Picture Technicians, Artists and Allied Crafts]guys showed up with a truck full of ice-cold water. That brought a tear to my eye—the support from other members of unions supporting our cause. The working people get it. It's a horrible issue that this country is facing, in every sense. The rich are getting richer and the hardworking folks just suffer because of it. And all we want to do is put food on the table and have a fair living wage."
The Writers Guild of America (WGA) settled its strike with the studios on September 27. Peter Paige (CFA'91), co-showrunner of the ABC Grey's Anatomy spinoff drama Station 19, told BU Today: "This was a once in a lifetime victory for labor in Hollywood. We got 80 percent or more of what we asked for, which is just unheard of in times like these."
Under the reported terms of the SAG/AFTRA agreement, performers will earn a 7 percent wage increase, effective immediately. That initial pay hike will be followed by a 4 percent increase on July 1, 2024, and a 3.5 percent increase on July 1, 2025. Background actors, stand-ins, and photo doubles will immediately get an 11 percent wage increase, followed by the same 4 percent and 3.5 percent hikes as general performers in 2024 and 2025.
Another sticking point was streaming bonuses: the new contract calls for actors to earn "a success payment," along with the usual residual payments, if they work on streaming projects that attract a significant number of viewers. Hurd says they didn't get exactly what they wanted, "but now they acknowledge that we are deserving of a cut of the profits of our work on streaming services, and that's huge."
Actors also were seeking greater disclosure of viewership statistics, so there would be no uncertainty around how successful a show was. On high-budget streaming productions, producers will be required to disclose the total number of hours the content was streamed in the United States, Canada, and abroad for each quarter. The idea is to help actors determine if they're being fairly compensated relative to a show's distribution and popularity.
One issue that surfaced only in the last year or so is concern about how the use of artificial intelligence, or AI, might impact their jobs down the road. The agreement says that film and TV producers must obtain consent from actors to create and use their digital replicas, as well as specify how they intend to use that digital likeness. Under the agreement actors are entitled to compensation at their usual rate for the number of days they would otherwise have been paid to do the work being performed by a digital replica.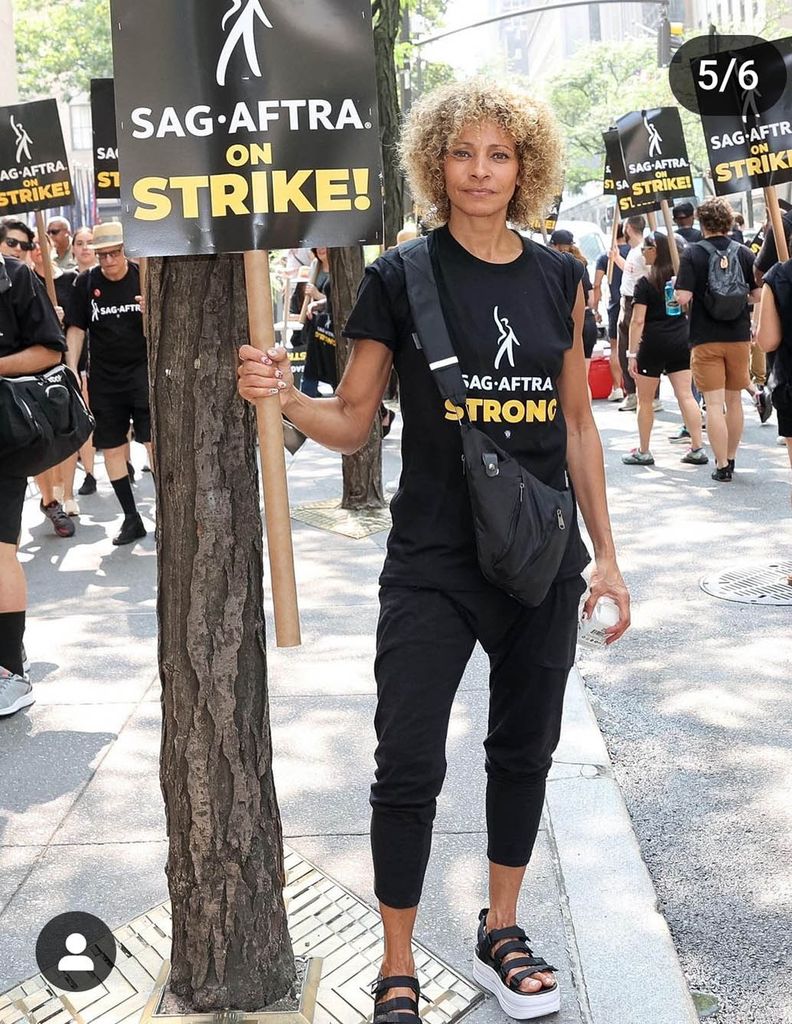 A final point revolved around increasing numbers of background actors being used: they will be hired on union terms on the West Coast to equal the minimum number in New York.
"Let's just get back to work and make a living."
…
For Hurd, now 56, activism and resistance come naturally. "I am the daughter of civil rights activists and I am a woman of color," she says. "I understand the battle fought for me and people like me. I was born and raised in Greenwich Village, so I grew up with the LBGTQ+ community. The thing I understand and appreciate is that our contract, which is always a three-year contract, isn't perfect. We have to see what happens; it's a living, breathing thing, so we have language we can build on."
… "I'm proud of the actors. Every time I walked on the line in New York or L.A., I was always amazingly inspired and grateful, just blown away by the solidarity and strength of our artists. I think one thing [the AMPTP] didn't realize is that actors have always hustled and struggled, so this wasn't new."
"I am super excited to get that first call or email from my agent or manager telling me that I have an audition for a TV show or film. It's amazing how much I missed that."
Read the full story in Bostonia