Boston Musical Intelligencer review: BU's production of Little Women
Theatre
Boston Musical Intelligencer review: BU's production of Little Women
Perfect Little Women…or Were They?
This review was first published in The Boston Musical Intelligencer on February 28, 2023. By Lee Eiseman
Perfect Little Women… or Were They?
Transforming Boston University's Booth Theatre from a workshop-worthy black box to a fully fitted-out, semi-precious jewel box, a sold-out, four-performance run of Mark Adamo's evergreen (the second most-mounted American opera after Menotti's Amahl and the Night Visitors) Little Women gave two large casts and copious collaborators plenty of scope to demonstrate the thriving good health of the BU School of Music Opera Institute and School of Theatre.
---

Little Women gave two large casts and copious collaborators plenty of scope to demonstrate the thriving good health of the BU School of Music Opera Institute and School of Theatre.

---
As I wrote in a previous review, Adamo's first opera became something of an instant hit when Houston Grand Opera premiered it in a studio production. Since then it has been on the boards of 30 major opera houses as well as countless college and community productions. The composer's manner of combining throbbing and angular 12-tone passages to advance action with lyrically arching tonal arias stands as his signal method. Adamo also engaged in some charming sonic onomatopoeia to suggest of braying colts, crying babies, and morse code.
Drawn from the novel, as well as Transcendentalist favorites such as Goethe and Bunyan, his effective libretto in couplets appeals to critics and audiences alike. John Rockwell's NY Times review of the 2003 NY City Opera told us that it's okay for sophisticates to be moved. "Because Adamo brings the 19th century to us without coyness or pandering, his work possesses an authenticity that other improvements of the American primitive genre do not." One could understand the style as Sondheim with touches of Copland barnyard scenes and Bernard Hermann slashing.
Relationships change as time moves forward and backward…That is the mantra of Adamo's timeless libretto. The composer wrote of his work:
"Jo's journey called to mind the Buddhist suggestion that a lesson unlearned will present itself over and over again until at last the pilgrim makes progress and grasps the point. It suggested to me a score in which one could clearly hear Jo's music of resistance tangling with and finally yielding to an unstoppable music of change. In fact, I wanted two scores: a character music sounding these protagonists' emotional journeys, and a narrative music as distinct as I could make it from the thematic foreground."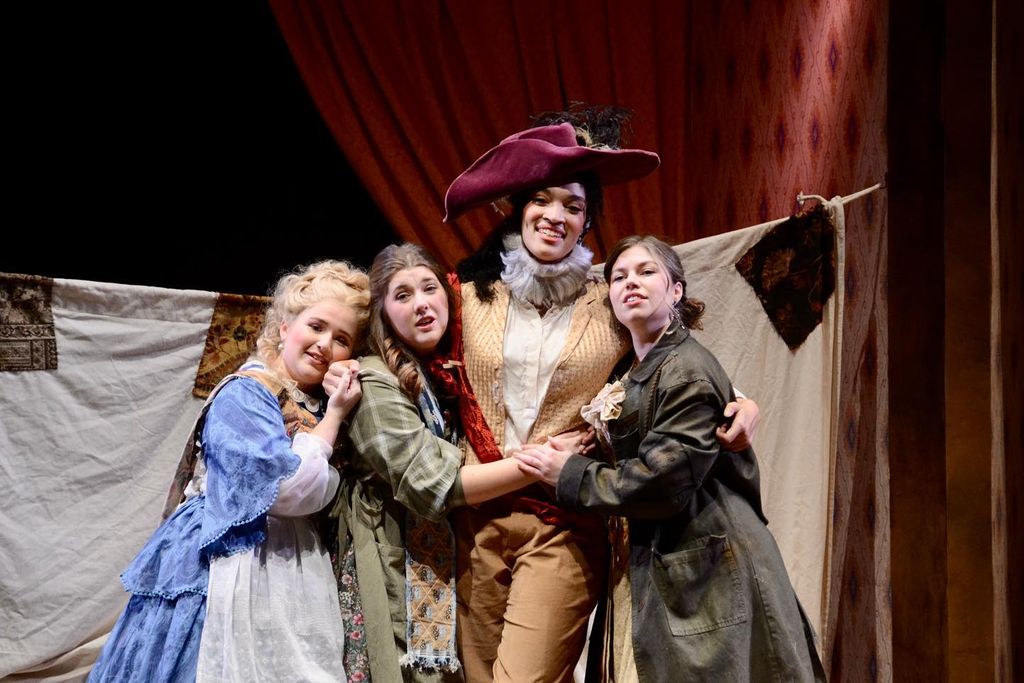 "So, Jo's resistance theme and Meg's and Laurie's change theme, among others, are written in a free lyric language of triad and key. But those moments driven by language and story, rather than music and psychology, take a kind of dodecaphonic recitativo secco, designed to distinguish the flavor of the non-thematic dialogue. It's Jo's Act One scena, "Perfect As We Are," which portrays her divided feelings by disrupting her long-lined F-major cantilena with careening dodecaphonic comedy, which best exemplifies what I dreamed for this opera: a music in which even the most unlike materials could fuse into a single music if the ear is sensitive and the design is sound."
Stage Director Eve Summers placed her 15 colorfully costumed characters all over the thrust stage and rear balcony. Bridges over the orchestra pit expanded the action onto an apron inches away from the front row of seats, permitting this writer close examinations of costumes and props. Such was Summer's zeal for verisimilitude that she placed facsimiles of Louisa May Alcott letters in Jo's hands. A hinged partition rolled back and forth to bring action into a drawing room or out of doors. A third stairway placed midstage facilitated entrances and exits, keeping the characters moving except during time-stopping arias. And Summer took pains to stage background tableaux of actions (such as the dying Meg) which the audience witnessed before all the characters did. She treated Adamo's commenting chorus of the four transcended sisters almost as videos, thanks to Slick Jorgensen's textured lighting. Michael O'Herron's highly detailed outfits deserve a full review. The designs could be at home in the most expensive productions, and they were built by the drapers and stitchers in the BU production crew.
On Saturday night Jo, in the person of Alexis Paert, dominated all—vocally and theatrically. Her characterization, at least as vivid and memorable as Katherine Hepburn's in the Cukor movie, burned into our imagination. We couldn't take our eyes off her extremely plastic face which mirrored an arrogant but ambivalent soul. Her plush yet robust voice projected seamlessly across registers.
read the full review in the Boston musical intelligencer
Dive into the world of Little Women
Mark Adamo's opera is a compelling interpretation of Louisa May Alcott's great American novel, a coming-of-age story about four sisters and their journey from childhood to adulthood in civil-war era New England.
Read more on BU's production of Little Women, which was memorable for the cast, crew, and creative team. "Doing Little Women in Boston is particularly special for all of us here since we are just down the road from where Louisa May Alcott lived and wrote her iconic novel," said Stage Director Eve Summer.