Boston Globe feature: Exhibit at Boston University seeks to establish comics as a medium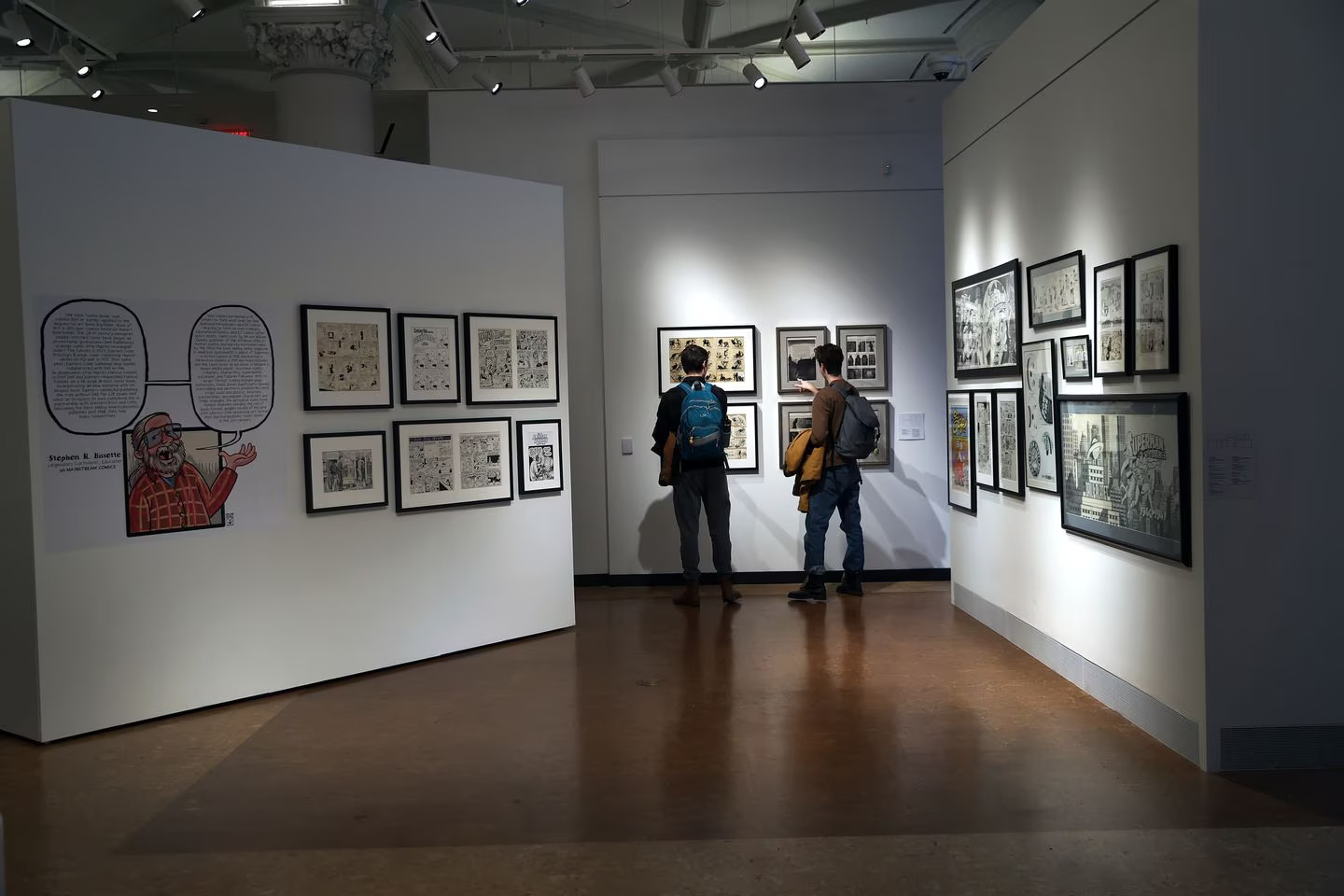 BU Art Galleries
Boston Globe feature: Exhibit at Boston University seeks to establish comics as a medium
'Comics Is a Medium, Not a Genre' combats misconceptions about the art form
This article was first published in The Boston Globe on February 17, 2023. By Abigail Lee
Excerpt
For the comic fan, the assumption that comics are merely a children's genre — colorful like an animated kids' movie, easy to read like a picture book — is exasperating at best, inaccurate and reductive at worst. Comics, like any other art form, are capable of complex expression and storytelling. That's exactly the idea an exhibit from Boston University Art Galleries, called "Comics Is a Medium, Not a Genre," aims to establish.
The exhibit opened in January and runs through March 24 in the Faye G., Jo, and James Stone Gallery. Some 184 pieces from 29 lenders are on display in what curator Joel Christian Gill calls "an explosion of comics."
"We have as many kinds of comics as you can think of," Gill said. "When you walk in, it's going to be overwhelming."
Gill is himself a cartoonist, historian, and the chair of BU's Master of Fine Arts in Visual Narrative program. The Visual Narrative program began in fall 2022, and the exhibit was meant to roughly accompany its launch. When planning the exhibit, Gill sought to combat the misconceptions about comics.
People often mistake the most prominent comics in pop culture as representative of the entire form, Gill said. For example: Because the Marvel and DC comics are well-known, many assume comics in general tell superhero stories, he explained, the problem is a conflation of genre with medium.
As he put it: "It would be like reading a bunch of Stephen King books and then thinking all novels were Stephen King."
Gill pulled together a variety of comics — from fiction to nonfiction, newspaper strips to self-published works, mainstream to underground pieces — to provide a "macro view of comics."
Most of the pieces in the exhibit are samples from longer works, which allowed for the large assortment of comics, said Lissa Cramer, director of BU Art Galleries.
"You'll go to one comic, and you'll read it and then you'll go to the next comic, and it's gonna be a completely different page from a completely different comic," Cramer said.
The exhibit includes Charles M. Schulz's first published appearance of Charlie Brown, a self-portrait by "Maus" creator Art Spiegelman that pays homage to the cartoonist Ernie Bushmiller, and pages from Alison Bechdel's "Dykes to Watch Out For" comic strips. Other artists featured are the comics pioneer Will Eisner, Mad magazine founder Harvey Kurtzman, and Denys Cowan, cofounder of Milestone Media, a company created in the 1990s to diversify comics.
There are also several international artists showcased, including Claire Bretécher and Jean Giraud from France, Gabriella Giandelli from Italy, and Tatsumi Yoshihiro from Japan.