Bostonia feature: Teacher and CFA Alum Ben Ducoff on His Debut Feature Film
CFA Alumni
Teacher and CFA Alum Ben Ducoff on His Debut Feature Film
Dark comedy Yaniv follows a fictional high school teacher who infiltrates an underground Israeli card game run by Hasidic Jews
This article originally published in Bostonia on November 2, 2023. By Sujena Soumyanath (COM'25).
---
What do a New York public high school, an Israeli card game, and a school musical have in common? The creative mind of New York City–based filmmaker and producer Ben Ducoff. Ducoff (CFA'15), who studied theater at Boston University, blends these three themes in Yaniv, his first feature film.
---

The whole process has been a dream come true. As a kid, I could never imagine this happening, but it is—and it's thrilling. 

---
Ducoff developed the idea with his best friend, Amnon Carmi, who directs the film, which includes four additional CFA alums who worked in various roles in front of, and behind, the camera. Yaniv, part comedy, part drama,follows Barry Bernstein, a high school teacher in the Bronx—played by Ducoff—whose school is facing budget cuts to its arts curriculum. To scrape together the money needed to stage the school's spring musical, Bernstein infiltrates an underground community of Hasidic jews playing Yaniv, the Israeli card game in question. With his best friend and fellow teacher in tow, he tries to cheat the game, encountering chaos, comedy, and adventure in the process.
When Bostonia spoke with Ducoff, the SAG-AFTRA (Screen Actors Guild–American Federation of Television and Radio Artists) strike was in full swing, which severely curtailed actors' ability to promote their upcoming films. Fortunately, Ducoff received an interim agreement from the actors union and was able to tell us how he came up with the idea for the film, what the titular card game entails, and the challenges he faced making his first feature film.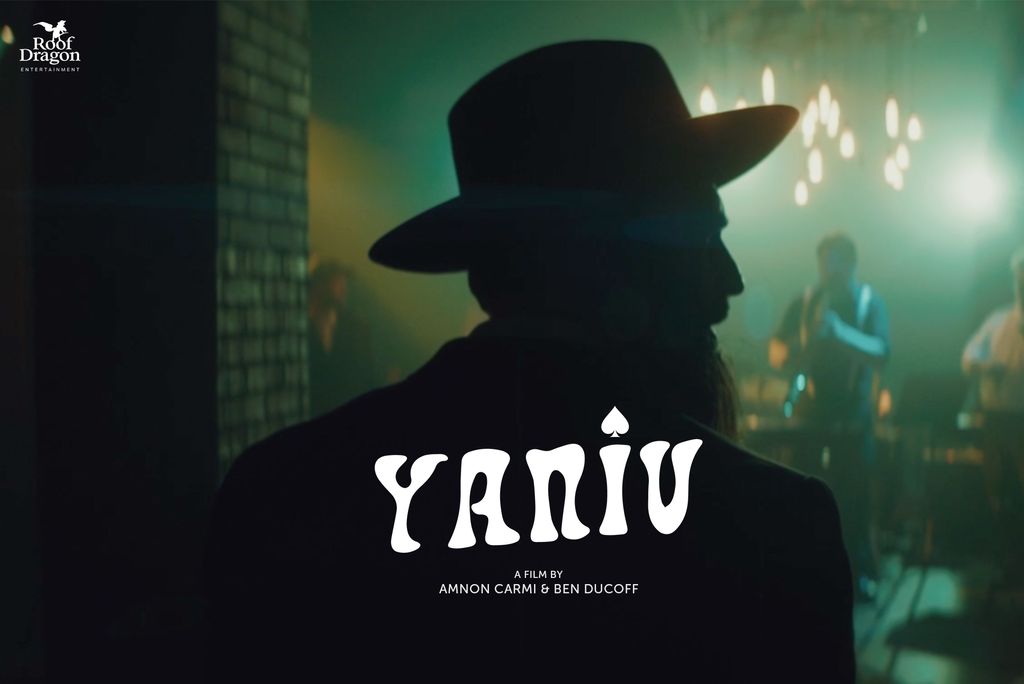 Bostonia:
How did you get the idea for Yaniv?
Ducoff: The film is partially based off of my experience teaching in the South Bronx. I still work for the Department of Education, that's my day job. During the pandemic, we [Carmi and I] were bouncing ideas off of each other, like, what would be a good story?

We grew up playing this Israeli card game, Yaniv, and we always would joke that it would be a great game in a casino. And then it was like boom, okay: what if there's this teacher who's got to raise money for the school musical, so he infiltrates the underground game? The whole world kind of unraveled from there.
Bostonia:
Tell us more about the film's storyline.
Ducoff: The film is about a high school teacher in the Bronx who runs the drama club. All the arts funding gets cut that year and he can't do the spring musical, so [to raise money] he decides to infiltrate an underground card game run by Orthodox Jews. It's a game that he learned from his grandfather, who lets him know there is a place you can play for money if you so choose. He ends up recruiting his best friend at work, who's the statistics teacher and a recovering gambling addict, and he dresses his friend up as an Orthodox Jew and they go in and basically cheat at this game. Then they get caught and it all unravels—but there's a happy ending.
Bostonia:
Who were the other CFA alums involved in the film, and what was it like working with them?
Ducoff: Nik Sadhnani (CFA'15) produced the movie with me and also has a supporting role in it, as a rude party guest. Annabelle Steven (CFA'16) plays one of the female leads, Deb, a new teacher at Ed Koch High School, and Ben Salus (CFA'16) plays Rick, a soon-to-be groom, whose bachelor party leads to disaster. We also had Ian Geers (CFA'14), who helped out behind the camera and played background characters in several scenes.

Annabelle and I were in the same class at BU and had done a play together. So acting with someone you already have rapport with is just really great. It was the same thing with Nik. I felt like we all spoke the same language. We'd come out of the same training program, and we knew how to make things happen together. So when I was finally ready to produce the feature—these are my closest friends from school and we know how to create together—it really made sense to bring them on board. It paid off really well.
Bostonia:
The film also involved a partnership with the New York Department of Education. Can you talk about that?
Ducoff: I teach at a school called Hero High School, and this filmmaking program came out of a partnership with the New York Department of Youth and Community Development. They basically offer paid internship programs, where they place students at work sites and pay their wages.

There were about 10 students from the program that came to work on the set when we were filming in New York, and they were dispersed across departments. They were working in the art department, doing hair and makeup, and assisting the camera department, while others were holding the boom mic. They were really instrumental with the art department, because it was the middle of the summer, but we were filming in a school and had to make it seem like the middle of the school year. So these kids made fake homework assignments, fake student council posters, and fake extracurriculars. Some of them were even in the movie, and they recruited kids in the neighborhood who came in and played students as well. And the kids that had lines could get their SAG [Screen Actors Guild] eligibility.

One student, who was graduating, got a job offer to be first assistant director for a project. So we saw students going from our program and just getting a foot in the door in the industry. It was really incredible.
Bostonia:
How has the Jewish community reacted to Yaniv?

Ducoff: I mean, first of all, we had some Orthodox Jews working on the film with us. We also had rabbinical and Yiddish consultants. It was really important to us that we not lean into any stereotypes. What we really wanted to do was tell a story about modern Jewish life. We've also been accepted into a number of Jewish film festivals. So, this is a movie that is our own strange, bizarre love letter to the Jewish community.
Read the full interview with Ducoff in Bostonia
"The whole process has been a dream come true. As a kid, I could never imagine this happening, but it is—and it's thrilling," says Ben Ducoff.