A Saturday Night Concert at Symphony Hall Caps the 150th Festivities for Boston University School of Music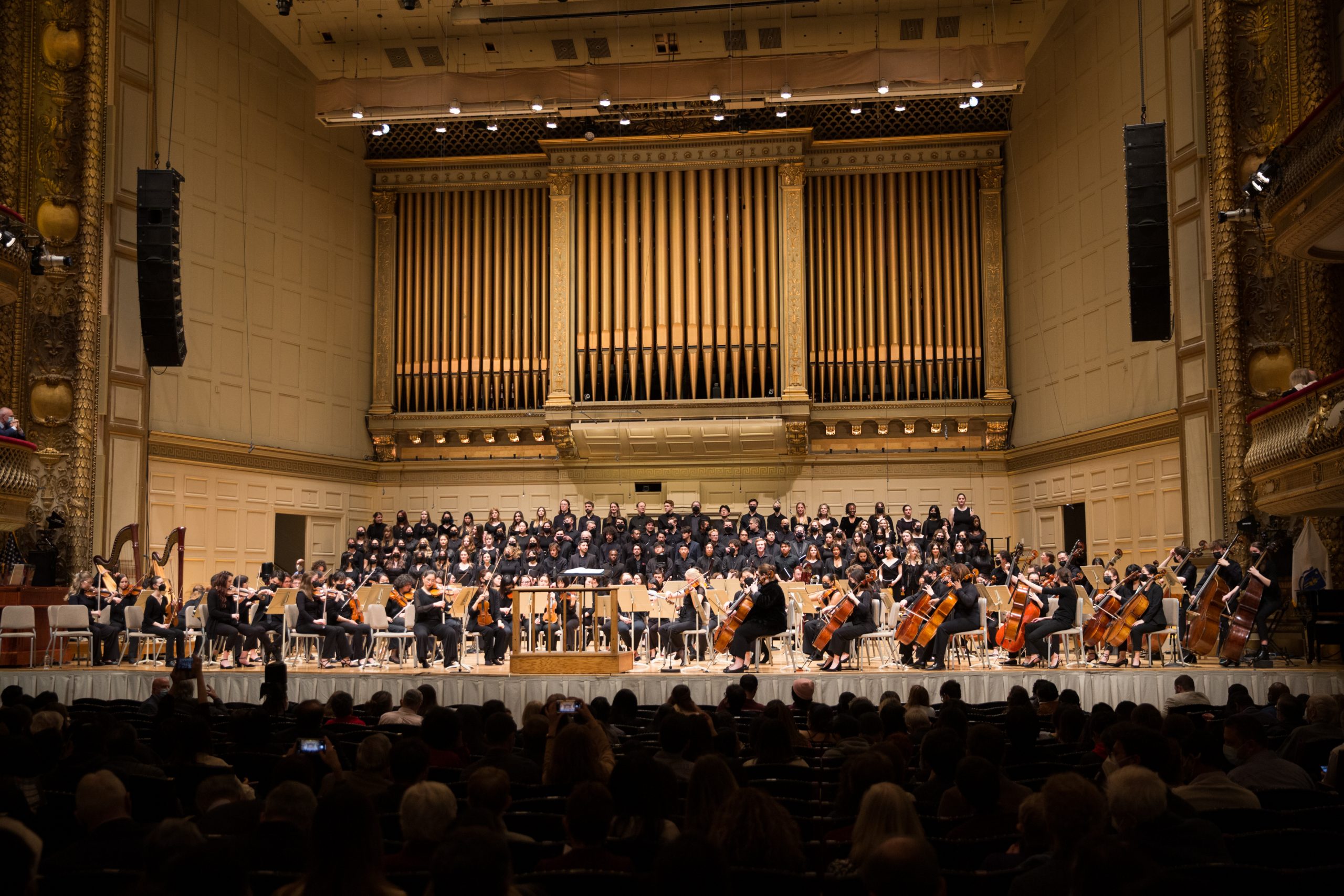 CFA Faculty
A Saturday Night Concert at Symphony Hall Caps the 150th Festivities for Boston University School of Music
The April 1st concert showcases Boston University Symphony Orchestra, Symphonic Chorus, and Wind Ensemble, salutes retiring Maestro David Martins and is free with ticket
Maestro James Burton, Director of Orchestral Activities at BU; Master Lecturer, Music; and Boston Symphony Orchestra's Choral Director, leads the BU Symphony Orchestra & Symphonic Chorus performing Gustav Mahler's Symphony No. 2 "Resurrection" with Chorus Master William Cutter (CFA'87,'89) and soloists Addison Pattillo (CFA'23), Soprano, and Alexis Peart (CFA'23), Mezzo-Soprano.
David Martins, Master Lecturer; Director of BU Wind Ensemble; and Chair of Ensembles Department, conducts the BU Wind Ensemble performing James Stephenson's Symphony No. 2 "Voices" with soloist Olivia Schurke (CFA'23), Mezzo-Soprano. The BU Wind Ensemble will also perform Legacy by Kenneth Amis (CFA'91, BUTI'86,'87), BU School of Music Lecturer in Music, Tuba. According to Amis, Legacy has an aesthetic connection to the late 19th century, given the reflection on the year 1872, and can be enjoyed and appreciated by more than just music majors and people with formal music training.
Amis will be designated the new director and conductor of the BU Wind Ensemble program, as Martins retires at the end of the 2022-2023 academic year.
The BU concert at Symphony Hall is free and open to the public.
Tickets are required for admittance to Symphony Hall. Reserved tickets will be available for pickup starting at 6pm on Saturday, April 1 at the Symphony Hall BU table.
"This concert marks the final Symphony Hall with Maestro David Martins with the BU Wind Ensemble. Martins' legacy is profound, and his impact on thousands of students is far-reaching and will long be felt. This concert also marks the ritual passing of the baton to Maestro Kenneth Amis, who will assume leadership of the Wind Ensemble next fall. We celebrate the leadership of both Martins and Amis and their commitment to excellence."
–Gregory Melchor-Barz, Director of BU School of Music and Professor of Ethnomusicology.
---
BOSTON UNIVERSITY SYMPHONY ORCHESTRA, SYMPHONIC CHORUS, AND WIND ENSEMBLE AT SYMPHONY HALL
Presented by Boston University School of Music
DATE & TIME
Saturday, April 1, 2023 • 7pm
CONCERT PROGRAM
Boston University Wind Ensemble
Conductor, David Martins
Kenneth Amis – Legacy
James Stephenson – Symphony No. 2 "Voices"

Soloist: Olivia Schurke, Mezzo-Soprano
Boston University Symphony Orchestra & Symphonic Chorus
Conductor, James Burton
Chorus Master, William Cutter
Gustav Mahler – Symphony No. 2 "Resurrection"

Soloists: Addison Pattillo, Soprano • Alexis Peart, Mezzo-Soprano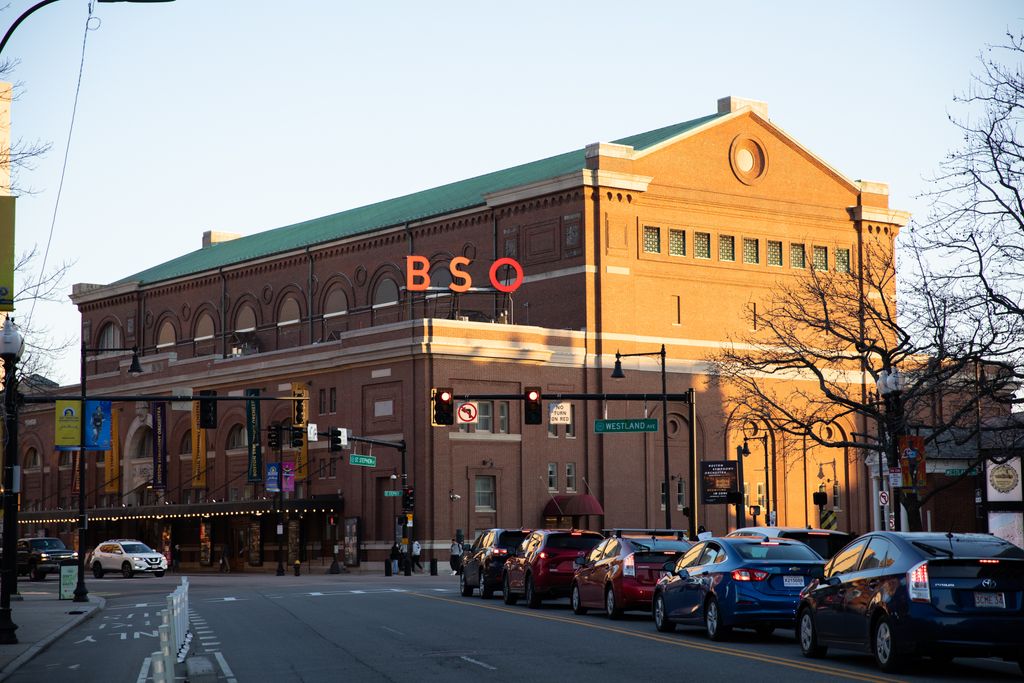 LOCATION
Symphony Hall, Boston • 301 Massachusetts Avenue
TICKETS
Admission is free, but tickets are required for admittance to Symphony Hall.
Reserved tickets will be available for pickup starting at 6pm on Saturday April 1 at the Symphony Hall BU table.
About Us
Founded in 1839, Boston University is an internationally recognized institution of higher education and research. With more than 34,000 students, it is the fourth-largest independent university in the United States. BU consists of 17 schools and colleges, along with a number of multi-disciplinary centers and institutes integral to the University's research and teaching mission. In 2012, BU joined the Association of American Universities (AAU), a consortium of 62 leading research universities in the United States and Canada. Learn more at bu.edu.
Founded in 1872, the School of Music combines the intimacy and intensity of traditional conservatory-style training with a broad liberal arts education at the undergraduate level, and elective coursework at the graduate level. The school offers degrees in performance, conducting, composition and theory, musicology, music education, and historical performance, as well as Artist and Performance diplomas and a certificate program in its Opera Institute.
Established in 1954, Boston University College of Fine Arts (CFA) is a community of artist-scholars and scholar-artists who are passionate about the fine and performing arts, committed to diversity and inclusion, and determined to improve the lives of others through art. With programs in Music, Theatre, and Visual Arts, CFA prepares students for a meaningful creative life by developing their intellectual capacity to create art, shift perspective, think broadly, and master relevant skills. CFA offers a wide array of undergraduate, graduate, and doctoral programs, as well as a range of online degrees and certificates. Learn more at bu.edu/cfa.
The Wind Ensemble is the premiere music major band in the School of Music. Under the baton of Professor David Martins, the Wind Ensemble is designed to prepare wind, brass, and percussion players for the professional careers in ensemble performance. It also provides future music educators with institute standard teaching concepts and methods related to the study of band repertoire and performance. Prof. Martins demonstrates standard rehearsal techniques and requires an outstanding level of performance.
The Boston University School of Music orchestral program, which includes the Symphony Orchestra and the Chamber Orchestra, plays a central role in the education of the School's instrumentalists who aspire to professions as chamber musicians, orchestral musicians, teachers, or a combination of all three.
Professor James Burton assumed the role of Director of Orchestral Activities at Boston University in Fall 2020. He oversees artistic and educational planning for the entire program and conducts the majority of the Symphony Orchestra performances, including their annual concert at Boston's Symphony Hall.
The orchestras also work with other BU faculty, distinguished guest conductors, and members of the graduate conducting program. Professor William Lumpkin, Director of the BU Opera Institute, directs the school's two annual mainstage opera productions. The orchestras collaborate with the choral department, perform concerto repertoire with student competition winners, and take part in composition reading sessions. All orchestral students are assigned to projects on a per-cycle basis, regularly rotating between the Symphony and Chamber orchestras, operas, and other projects.
The Boston University Symphonic Chorus is open to all musicians in the campus community: undergraduates, graduate students, faculty, staff, and friends. BU community members sing alongside music performance majors from the School of Music, collectively forming the premier choral ensemble at Boston University. The ensemble presents one concert each semester, including an annual performance with BU's orchestra at Symphony Hall, the home of the Boston Symphony Orchestra. They perform in a variety of languages, exploring music from various choral traditions. Symphonic Chorus is led by Dr. Mariah Wilson, Director of Choral Activities.