Teacher Appreciation Week feature: Jordan Muñoz, Online Art Ed Student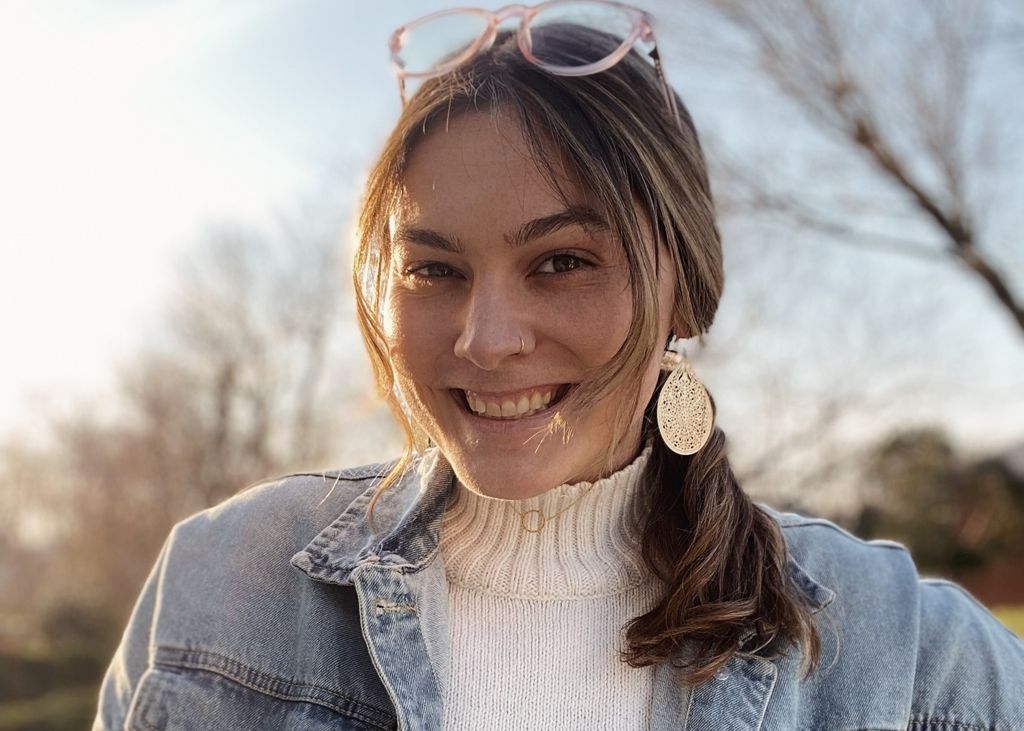 2022 Teacher Appreciation Week
When you think about your dream job, favorite subject, or ultimate passion, who comes to mind? Who helped you discover that interest? We'll give you a hint. It starts with a "t" and ends with "r." That's right, a teacher! For many of us, we often think back to a particular teacher who empowered us to go for our dreams, who taught us about a topic we found surprisingly captivating, and who took an interest in our well-being.
It's Teacher Appreciation Week, and we're celebrating at CFA by recognizing CFA students who are also educators! Every day this week (May 2-May 6), we will feature a teacher who'll speak about their experience as a teacher, how the CFA program they're currently studying is helping them advance in their careers, and what Teacher Appreciation Week means to them.
---
Meet Jordan Muñoz, CFA Online Art Education Student
Combining her passions for teaching and art-making has been made possible for Jordan Muñoz, a Pennsylvania middle school art teacher, through CFA's online Master of Arts in Art Education program. In the Q&A with Jordan, she shares with CFA what she enjoys most about teaching, her arts-based research, and takes a moment to reflect on the teachers that helped share her into the teacher she is today.
CFA: What inspired you to become a teacher?
My 6th grade English Language Arts (ELA) teacher inspired me to want to be a teacher and my college art professor inspired me to pursue art!
What do you enjoy most about teaching?
As a middle school art teacher for grades 6-8 at New Cumberland Middle School, I love having the opportunity to get to know students while getting to create art; it's such a fun way to share my passion for the arts!
Can you share some of your career highlights/proudest moments?
I have had the opportunity to develop and implement an arts and English education program in rural Mexico. I then presented this at the National Art Education Association (NAEA) conference in 2020 and it has inspired different research that I have conducted.
Have you faced any challenges as an educator and if so, how did you overcome them?
Thus far, the most difficult challenge has been starting my career during the COVID-19 pandemic. Since I had graduated from undergrad in 2020, I have not had a "normal" school year yet! While working in these conditions, I have had a lot of support from my colleagues and my family.
What does Teacher Appreciation Week mean to you?
Teacher Appreciation Week serves as a reminder to me of all the great educators that I have had and it inspires me to want to be the best that I can be for my students.
If someone were to tell you at this moment, "I want to be a teacher," what advice would you give them?
I would encourage them to find a content area that they are passionate about and be open-minded to learn new things, even if it's teaching a grade level you never anticipated enjoying! I have been pleasantly surprised throughout my student teaching and professional experiences where I have had some of the most fun teaching the grades I least expected to like.
How do you think the CFA MA Art Education program will help you in your career as an educator?
This program has provided me with many opportunities to combine my passions for teaching and art-making which is so valuable for educators like me!
Doing any interesting research?
For my arts-based research, I am utilizing the framework of a/r/tography to investigate the process of contemplation through art-making. In the studio, I am creating silk paintings that are inspired by different liturgical texts which will then be sewed together to create a kimono.
What other passions/hobbies do you have outside of teaching?
As an art educator, I value being active in my own artistic practice. I enjoy working with textiles and ceramics! I also love plants and want to get into gardening.
Anything else you'd like to add?
Thank you to all of my teachers who have helped shape me into the teacher that I am today!
---
Learn more on CFA's MA Art Education Online Program