Teacher Appreciation Week feature: Hannah Berube, Online Music Ed Student

2022 Teacher Appreciation Week
When you think about your dream job, favorite subject, or ultimate passion, who comes to mind? Who helped you discover that interest? We'll give you a hint. It starts with a "t" and ends with "r." That's right, a teacher! For many of us, we often think back to a particular teacher who empowered us to go for our dreams, who taught us about a topic we found surprisingly captivating, and who took an interest in our well-being.
It's Teacher Appreciation Week, and we're celebrating at CFA by recognizing CFA students who are also educators! Every day this week (May 2-May 6), we will feature a teacher who'll speak about their experience as a teacher, how the CFA program they're currently studying is helping them advance in their careers, and what Teacher Appreciation Week means to them.
---
Meet Hannah Berube, CFA Online Music Education Student
Massachusetts native, Hannah Berube just finished work on a Master of Music Education (insert applause) and celebrated by socializing with a litter of golden retriever puppies!
Hannah, a K-2 general music teacher at Meadow Brook Elementary School shares with CFA how the online Master of Music in Music Education program helped her develop skills related to research, advocacy, and pedagogy. Learn about the focus of her capstone project – anti-ableism in early childhood music education – and what she loves most about being an educator.
CFA: What inspired you to become a teacher?
I've had so many amazing teachers, but my grandfather, Paul, inspired me to become an arts educator. I grew up making art alongside him in his studio and watching him teach art classes at UMass Amherst. He indulged every interest and curiosity, and brought me along on every adventure, even as a young child. When I became his caretaker in the last years of his life, he continued to teach me patience, compassion, and how to truly listen.
What do you enjoy most about teaching?
In my first year of teaching, I wondered when helping students discover their musicality would get old. Every day continues to bring new challenges and joys, and teaching is just as magical and exciting as it was in the beginning (except with much less first-year teacher anxiety!)
Can you share some of your career highlights/proudest moments?
My proudest moments are when I see former students engaging in lifelong music-making. It is wonderful to see students I taught in kindergarten joining the band, or former students contributing their insights as musicians to their work as educators, healthcare professionals, tradespeople, scientists, artists, etc.
Have you faced any challenges as an educator and if so, how did you overcome them?
Teaching music and adapting to all of the sudden changes throughout the pandemic was the biggest challenge of my career. I am in awe of how amazingly my communities came together to face each new challenge, and how resilient and flexible my students and their families have been.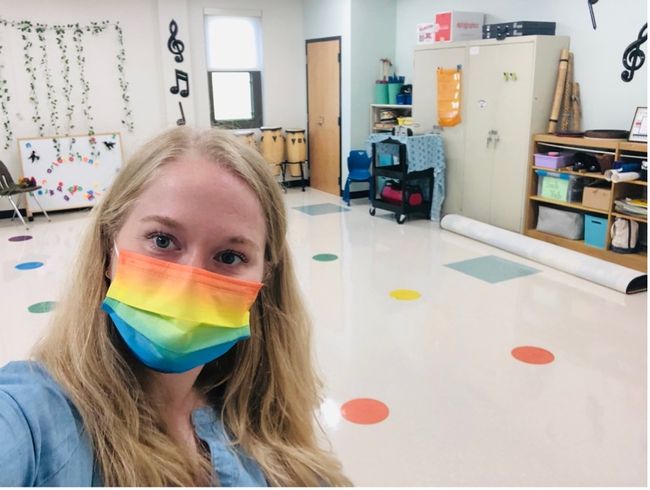 What does Teacher Appreciation Week mean to you?
Teacher Appreciation Week is more than an obligatory exercise in thanking teachers. It is an opportunity to understand and acknowledge the work of educators. Moreover, it is a call for action to question systems and beliefs that increasingly villainize our profession and politicize our work in making sure every student feels safe, welcome, and affirmed when they come to school.
If someone were to tell you at this moment, "I want to be a teacher," what advice would you give them?
I would ask if they also want to be a counselor, mediator, activist, advocate, fundraiser, tech wizard, shoe tie-er, spider-catcher, or whatever else your students, community, and colleagues need you to be on any given day. If so, welcome to education!
How would you describe your experience as an online student at CFA?
It was a lot of work, but I am a better teacher and musician for it. I appreciated being able to work on my own schedule and customize coursework to my professional pursuits. I enjoyed being able to work with professors and facilitators with a wide range of backgrounds, and being able to connect with music educators from around the world.
How do you think the MM in Music Education program will help you in your career as an educator?
This program helped me to develop skills related to research, advocacy, and pedagogy that will help me to adapt my teaching to the needs of my current and future students. I am empowered and motivated to extend this work beyond the walls of my classroom.
Doing any interesting research?
The focus of my capstone project was anti-ableism in early childhood music education, which is a topic I can't stop talking about! We have a long way to go in terms of countering ableism in our society, but I believe that the arts and early childhood education are an important part of that work.
What other passions/hobbies do you have outside of teaching?
I spend as much of my free time outside as possible, gardening, running, and looking for artifacts. If I'm not outside, I'm making a mess of my kitchen with an overly complicated recipe or learning a new tune on my square neck dobro!
Anything else you'd like to add?
I am honored to be part of a community of musicians that had the courage to envision and enact change as the music world fell apart due to the pandemic. We formed The New England Repertory Orchestra (NERO) in the backyard of our maestro and visionary, Cailin Marcel Manson. Among other things, the mission of NERO is to "dismantle the exclusivity of symphonic music" and "to empower, feature, and champion artists of color." I think our comradery, creativity, and willingness to confront social issues stem from the fact that most of us are also educators. We are in the middle of an exciting season featuring works by Fanny Mendelssohn, R. Nathaniel Dett, Florence Price, and Ginastera, among others.
I'm also a Wind Ensemble Director at Smith College and Clarinet Instructor at Greenwood Music Camp.
---
Learn more on CFA's MM Music Education Online Program