Matilda, a Most Remarkable Heroine, Takes the Stage at Wheelock Family Theatre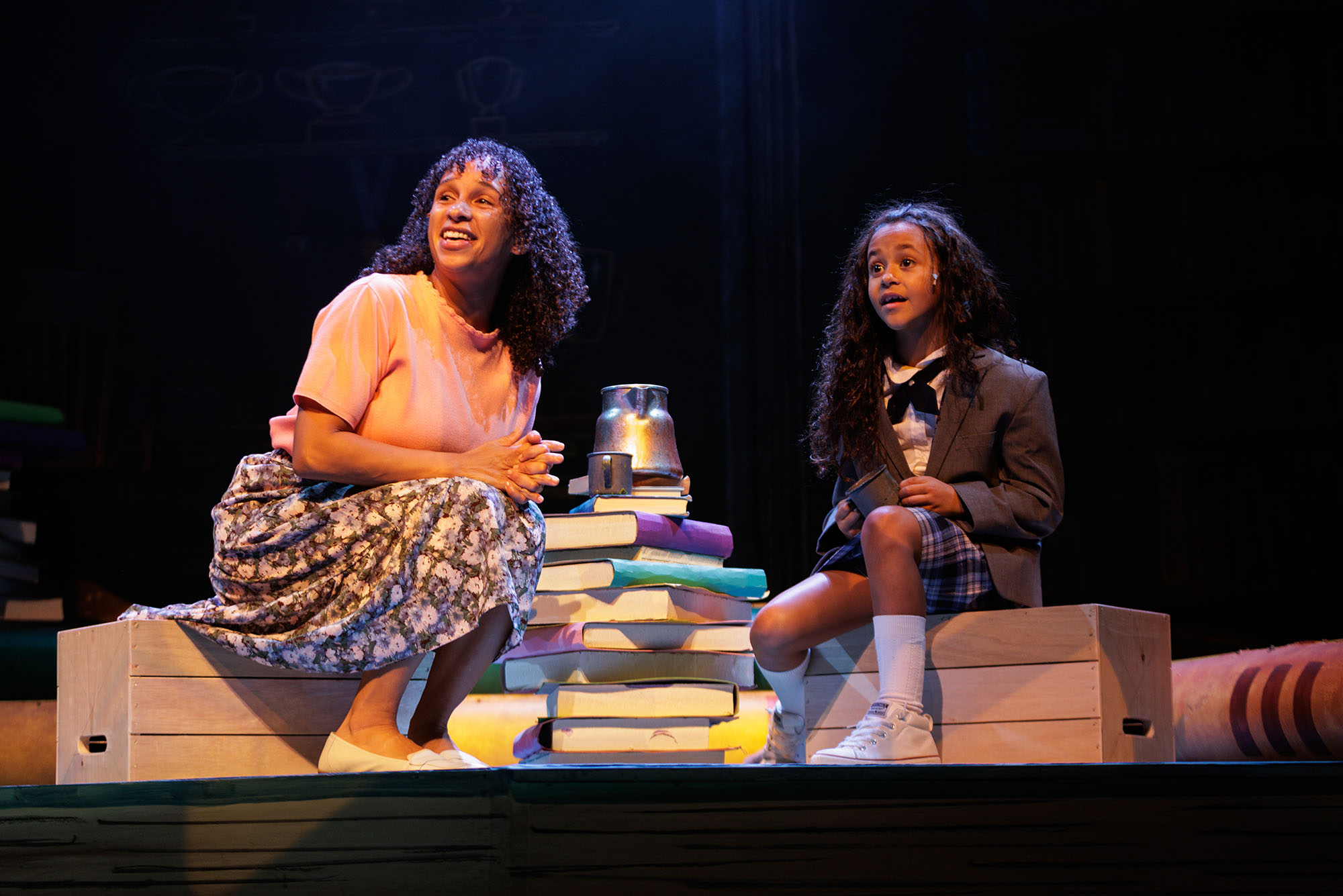 Theatre
Matilda, a Most Remarkable Heroine, Takes the Stage at Wheelock Family Theatre
In Roald Dahl's Matilda, the Musical, a young girl reminds us that even if you're little, you can still do a lot
This article was first published in BU Today on October 20, 2022. By John O'Rourke.
Excerpt
Roald Dahl created some of the most indelible children's characters in contemporary fiction: Charlie Bucket, the noble, caring boy whose goodness is rewarded with a chocolate factory (Charlie and the Chocolate Factory); James Henry Trotter, the seven-year-old orphan who embarks on a quest for home (James and the Giant Peach); Sophie, the plucky eight-year-old who befriends a giant (The BFG); and Danny, the courageous nine-year-old who rescues his father (Danny, the Champion of the World).
But perhaps none is more memorable than Matilda Wormwood, the brilliant and mischievous five-year-old who uses her intelligence and powers of telekinesis to battle indifferent and abusive adults.
Happily, the plucky and enterprising heroine has arrived in Boston, and for the next month, she'll be delighting theater-goers of all ages. Wheelock Family Theatre is kicking off its 2022-2023 season with a production of Roald Dahl's Matilda, the Musical, the Olivier Award– and Tony Award–winning musical adaptation of Dahl's 1988 children's story, with lyrics and music by Tim Minchin and book by Dennis Kelly.
The musical, first staged in England in 2010, then on Broadway in 2013, is about preternaturally precocious Matilda, who is speaking in complete sentences at age one and by four and a half has devoured all her local library's children's books. As the musical opens, Matilda finds herself enrolled at Crunchem Hall, where she comes up against the tyrannical and sadistic (and also hilarious) headmistress, Miss Agnes Trunchbull. Salvation comes in the form of the lovely Miss Honey, Matilda's teacher, who nurtures her considerable talents.
The New York Times called the Broadway show "the most satisfying and subversive musical ever to come out of Britain." (Fans of the book may also recall a 1996 film adaptation, directed by Danny Devito and starring Mara Wilson.)
Matilda is the latest in a series of musical adaptations of Dahl's children's books staged by WFT. The company presented both James and the Giant Peach and Roald Dahl's Willy Wonka in 2019 and had already secured the rights to Matilda when the pandemic struck.
Emily Ranii (CFA'13), WFT artistic director and director of Matilda, says children respond to Dahl's works because they are tales of empowerment.
"I think it's about the agency that these young people have in the stories," Ranii says. "They change their world in pretty big ways. Matilda's family isn't kind to her, so she goes out and makes a new family with Miss Honey. I think with so many other stories, the adults have all the power. In Roald Dahl's works, the children have the ability to change their surroundings, change their families."
Matilda is Ranii's favorite of Dahl's protagonists. "She's fiercely intelligent, so much so that she has superpowers and can move things with her eyes. As a child, I was absolutely in awe of that. She also has an incredible sense of morality, and she keeps saying, 'That's not right' when she sees Miss Trunchbull mistreating other kids."
…
"I hope the audience, watching Matilda and Miss Honey, recognizes the importance of seeing someone and raising them up," Troilo says. "That's a valuable person to strive to be, and it's valuable to look around and see who those people are for you."
In keeping with WFT tradition, a number of current BU students and alums are working behind the scenes on the production: Evan Brown (CFA'23) and Savannah Scott (CFA'25), assistant choreographers; Steven Doucette (CFA'17), props designer; Frank Meissner (CFA'85), lighting designer; and James Rotondo III (CFA'17), shadow puppeteer and scenic painter.
Ranii says she hopes the children who come to see Matilda will take to heart the book's line that Carlisle-Zepeda and her understudy say before rehearsals: "Even if you're little, you can do a lot."
"I hope the young people in our audience understand that their voice can change the world and realize the importance of sticking up for yourself and for others," she says, "and that they know they are already powerful and have everything within them to make a difference."