Curtain's Up on Boston Playwrights' Theatre's 2022-2023 Season
Theatre
Curtain's Up on Boston Playwrights' Theatre's 2022-2023 Season
Wilderness therapy goes awry in dark comedy Eat Your Young
This article was first published in BU Today on October 5, 2022. By Joel Brown | Photos by Jackie Ricciardi
Excerpt
You can get an idea how playwright J. C. Pankratz feels about wilderness therapy for "troubled" teenagers by the title of their new play: Eat Your Young.
"As someone who is queer, who's nonbinary, who's trans, I think of my community as having more of a radar for institutions that are based on homogenizing people, like with conversion therapy," says Pankratz (GRS'23), who uses they/them pronouns.
The play opens the Boston Playwrights' Theatre 2022-2023 season Thursday, October 6, and runs Fridays to Sundays through October 16.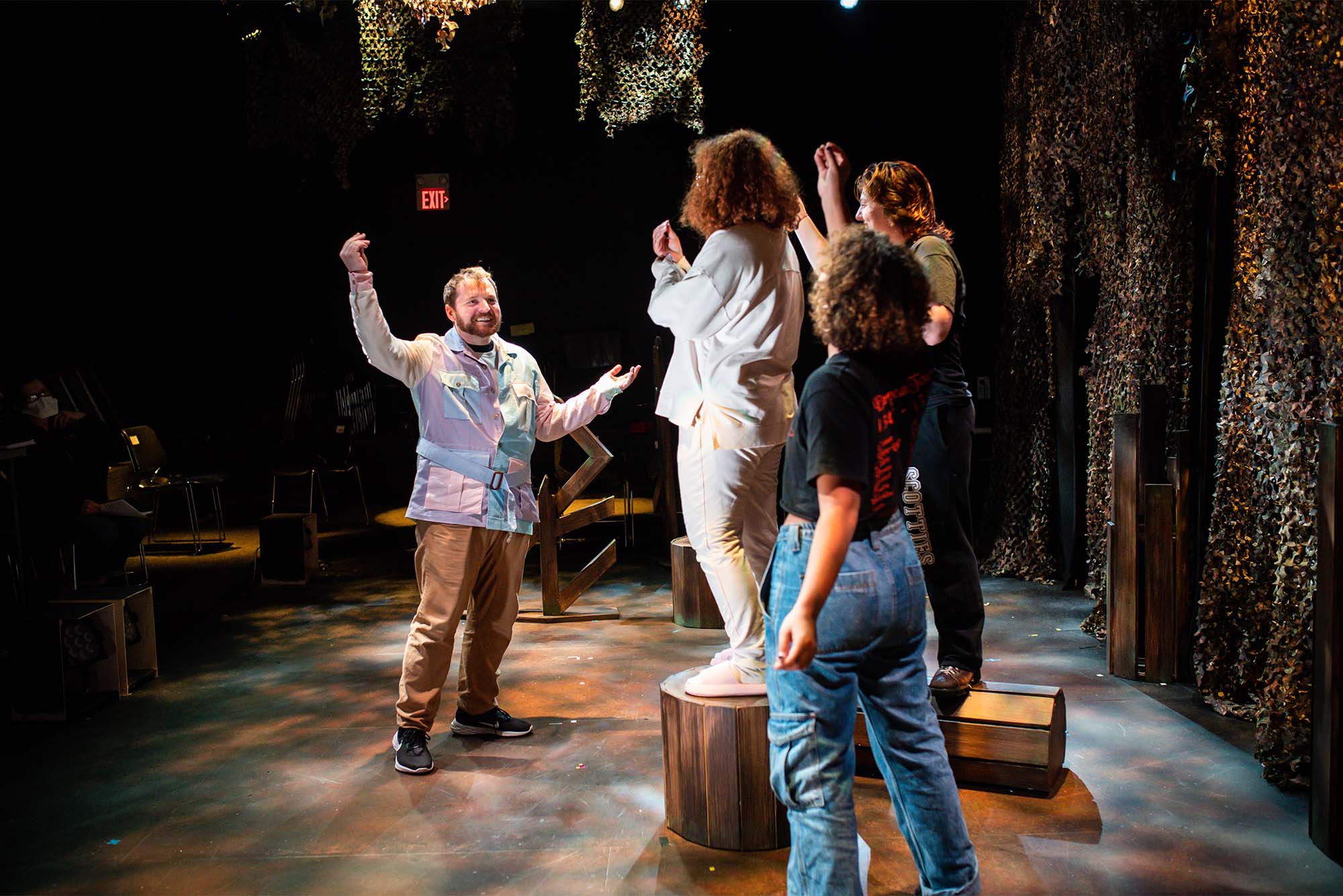 But Eat Your Young isn't a polemic against conversion therapy or even a thriller about escaping a fresh-air gulag. It's a supernatural dark comedy following nonbinary 14-year-old Quinn's efforts to survive a deep-woods experience with three other disaffected teens and two mildly wacko counselors.
The play includes broad comedy and genuinely affecting struggles with gender and identity. Oh, and there's also a forest monster…
"I think of it as a version of magical realism," says Pankratz. "The thing that I love feeling most in a theater, like as an audience member, is I love feeling surprised. And so when I'm writing a play, I like to think of ways something really impossible can happen.
"When I'm sitting alone in my room with my computer, I'm trying to think of things that delight me and make me laugh and make me lean in, and make me really wanna see what's at the end of this, whether it's an argument or someone getting eaten by a monster."
Pankratz grew up in deep-red Indiana, but the play isn't based on personal experience. During 2020, they followed a social media saga revealing that a prominent queer athlete was working for a wilderness therapy program. They began to read about the whole concept and its use as an alternative to institutionalization or juvenile detention.
"I was watching people who had survived some of these institutions try to educate, or really just trying to communicate the harm it has caused to them. I think was what really made that stick in my mind," Pankratz says.
In Eat Your Young, "Benadryl enjoyer" Quinn (Maez Gordon, CFA'23) arrives uneasily at the New Frontiers woods encampment, escorted by counselor Marty (Ross Beschler). There Quinn meets older campers Lucia (Abacus Dean-Polacheck, CFA'24), Jelly (Charlotte Stowe), and Ginger (Sunny Feldman), along with co-counselor Marty B (Jay Eddy, GRS'23), a former camper who is not Marty's biggest fan.