BU Theatre Students Work with Award-Winning Director Ain Gordon and Resident Lighting Designer Kelly Martin (CFA'16)
The week and a half-long workshop brought theatre, design, dramaturgy, arts administration, LGBTQ+ studies, and medical BU students together, reflecting on an often-buried moment in history: the start of AIDS.
The early 80s brought a growing wave of chaos with the AIDS crisis. In those early years, affected people and their families and friends were trying to navigate the unknown. How was the disease transmitted? What information was available? What information was being blocked by the government? What news source should be trusted? Is there a treatment, a cure?
Fear consumed the population. Many funeral directors willingly avoided entering an "AIDS ward" to gather a body and provide funeral services. A New York Times (NYT) article released in 1981 distorted the early AIDS history by calling it a "gay cancer."
In response to the 40th anniversary of the first reported case of AIDS in Philadelphia, three-time Obie-award-winning Writer and Director Ain Gordon wanted to create an alternative memorial to the era's resilience and tragedy in partnership with Philadelphia's William Way LGBT Community Center. After conducting research for eighteen months, speaking with families and friends of Philadelphians who succumbed to AIDS, Gordon wrote a play inspired by his research. That play was workshopped at BU College of Fine Arts from January 25 through February 4, with two public staged readings held on February 5 at CFA School of Theatre's Studio ONE.
"The play is trying to think about how some individuals navigated what was available to know, what information was being blocked (both by the government and by societal attitudes towards 'homosexuality') prior to treatment, prior to education, prior to acceptance," says Gordon. "Philadelphia's wave of infections began one year after the first two hotspots (San Francisco and New York), but there was no official information sharing system, especially for those not already in the medical community."
The workshop brought together theatre, design, dramaturgy, arts administration, LGBTQ+ studies, and medical students.
Theatre arts major Edward Sturm (CFA'24) was the dramaturg in the production, dedicated to compiling relevant research. For Sturm, discovering what was unknown during the AIDS epidemic became just as important as discovering what was known.
"Because the Ronald Reagan administration and other structural powers so thoroughly ignored the epidemic and blocked public education, the knowledge of medical researchers did not reach the communities who needed the information most," said Sturm.
How did Sturm apply the research he collected into the production? "For this project, I focused on creating approachable resources for the actors to learn how the AIDS crisis unfolded and understand the specific cultural and geographical references used in the text."
The play imagines three figures: a nurse, a single man, and a chorister or a singer in a choir. The workshop included a double cast with two BU students sharing each of the three roles.
Janelle Grace (CFA'24), a sophomore acting major and arts leadership minor, was one of the actors who played the role of Nurse. "The Nurse, also played by Hamptom Richards, is the combination of different stories from many nurses who were on the front lines of the AIDS epidemic. The parallels in their stories are fascinating," says Grace. "Learning about this often-buried history in such an intimate way has been very sobering. Seeing the similarities and dissimilarities between then and now puts a lot into perspective. Working with Ain has been great. He is a beautiful writer and a gracious and passionate director."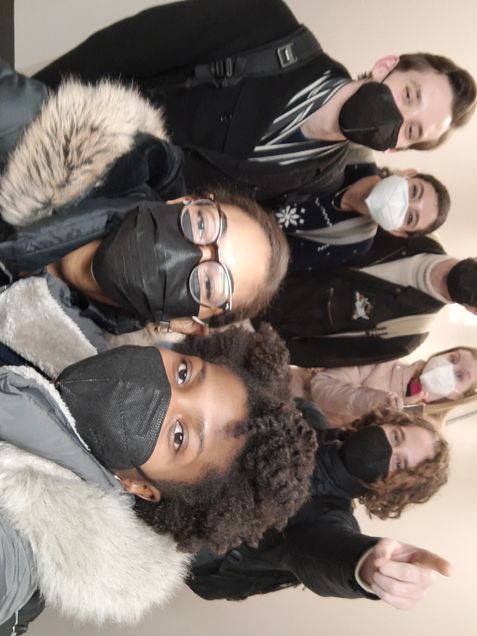 These sentiments towards Gordon were shared among the entire student team. "I like the way Ain 'feels' things out rather than giving very specific direction," says Brenda Dziaddzio (CFA'22), a theatre student graduating this May with SOT's Artisan Certificate in Scene Painting. "This is my first experience 'designing' for theatre as I have been an Advertising Art Director for many years. What I enjoyed most is the tactile experience of creating a physical piece. It's much more gratifying than viewing my work through a TV screen."
Working through a tight timeline, with approximately 10 days to rehearse and shape the design, assistant lighting designer, McKenna Ebert (CFA'22) recalls what the lighting design process for the show was like. "When the workshop first started on Tuesday, January 25, we had notes and focus calls to get the plot (architectural blueprint used specifically by theatrical lighting designers) into shape to start designing. By Friday, we started cueing over rehearsal to ensure tech would be in great shape the following week."
Ebert also got the chance to work with CFA alum Kelly Martin (CFA'16), who's worked closely with Gordon on several projects since 2017. "Working with Kelly has been amazing!" adds Ebert. "As a graduating senior, it's really fun to work with a School of Theatre alum who has already established himself in the industry. I'm learning a lot from him about how to approach workshops and new works like this one."
Martin has found his time back at BU most rewarding. "This is my first time originating a piece with Gordon. As a writer and director, Ain has a strong picture in his mind of how to stage a play, fueled by the practicalities of a small cast delivering direct address monologues and the intimacy they deserve," says Martin. "As a lighting designer, my task became how to peel away unnecessary visual elements down to the most succinct and elegant picture onstage. Putting on this workshop is remarkably useful because it has given me the capacity to throw a whole pile of design ideas at the play and see what sticks. Having the students around is what makes that possible – the production support from all the talented students and McKenna's help keeping track of our light plot as ideas evolved in each rehearsal. It's also exciting to bring in a style of theatre-making rooted in the professional world and see how it differs from plays in the educational setting."
Like Ebert has learned from Martin, Martin recalls his time at BU learning from Associate Professor Mark Stanley, who's also the Resident Lighting Designer for New York City Ballet. "Mark Stanley's program excels at teaching both the theoretical and practical aspects of putting together a light plot. The theoretical involves breaking down our understanding of light into its qualities and how our tools and technologies let us manage that light. The practical elements are all about the spatial geometry and physics of light. These are tools that help us determine the best place to hang a light."
The workshop concluded with two public readings on February 5. The Daily Free Press' review on the workshop says it brought light to a historically underrepresented community in an artful fashion.
Looking ahead, Gordon has partnered with Philadelphia's William Way LGBT Community Center on the play and a Philadelphia premiere is scheduled for May 2022 with BU student participants invited to attend.
"You know, I never really think about what feeling I may manage to evoke in an audience, or that's not my approach," says Gordon. "I hope they are engaged by what the characters wrestle with, with who the characters ARE. I hope we can offer another window into that time that is too often collectively labeled 'the AIDS crisis' rather than a remembrance of the individuals within."
Gordon adds, "I have known Professor Mark Stanley for many years professionally, and prior to COVID, he had brought me in to speak with students during their week in New York for their senior thesis. He really spearheaded this whole idea, for which I am enormously grateful."
---
Special thanks to the entire cast, crew, and participants from Boston University:
BU School of Theatre
Professional Participation
BU and Community-Wide Participation