BU School of Visual Arts presents Figure, Character, Sign exhibition in Venice
Celebrating 20 years of teaching art and design in Venice
Boston University College of Fine Arts and School of Visual Arts, along with BU Study Abroad, Global Programs, and The Venice Studio Arts Program are delighted to celebrate more than 20 years of teaching art and design in Venice by partnering with A plus A Gallery and School for Curatorial Studies, Venice, for the exhibition, Figure, Character, Sign. In the show, on view from Friday, July 29 through Friday, August 19 at A plus A Gallery, ritualized artistic return to a subject is an important form of cultural inquiry and a source for creative work.
By circling back to the past—and to language, identity, archetypal images, earthly elements, and card games—the artists in this exhibition develop new forms of expression, share research, and raise questions about the individual relative to the collective. Patterns of stones, water, stars, and leaves evoke nature, spiritual ritual, the context of Venice, and connections between the human and non-human—a theme of the 2022 Venice Biennale.
Radical Return, a group project of work by Chinese and Chinese American artists and designers curated by Mary Y. Yang and Zhongkai Li, is centered around visual meditations on the Chinese character 回 hui, which means to return, to turn around, to circle, or to reply. The Radical Return exhibition catalog and the work of the 36 participants raise the question "Why does one return to something, someone, or somewhere?" Radical Return collectively explores meeting points of personal vision with cultural and national points of origin. For a list of all the artists involved, visit the official Radical Characters website.
The role of coming back to something, someone, or somewhere to forge new ways of making and being is explored by Maria Molteni (CFA'06) and Adrienne Elise Tarver (CFA'07) in their layered work and research.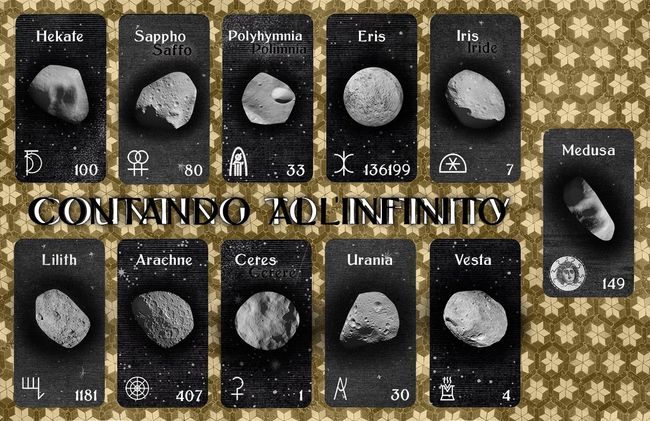 Via the ritual of the Italian card game Scopa, Maria Molteni's installation "Counting to Infinity / Sweeping Stars (Contando All'infinito / Stelle Scopa)" visually and conceptually interweaves cycles of play, prayer, dance, and labor to connect the ground underfoot with the sweeping comets above. Adrienne Elise Tarver's ongoing Mirage Series returns to histories of figuration to raise questions about leisure, visibility, and privilege. Tarver explores the complexity of Black female identity, both archetypal and individual, questioning tropes of the past toward reframing the future.
This exhibition at A plus A Gallery marks a return to Venice by Adrienne Elise Tarver and Maria Molteni who studied with Boston University Study Abroad over a decade ago. Contributors to Radical Return have also taken part in The Venice Studio Arts Program.
Figure, Character, Sign is curated by Dana Clancy, Director, Associate Professor of Art, and Mary Y. Yang, Assistant Professor of Art, at Boston University College of Fine Arts School of Visual Arts. The exhibition identity and design is by Mary Y. Yang and the typeface is Viviano Book designed by Sophia Viviano (CFA'23), an MFA Graphic Design student.
---
Figure, Character, Sign
Dates
Friday, July 29 – Friday, August 19, 2022
Opening reception Saturday, July 30, 7:00 – 8:30 pm
Where
A plus A Gallery, Venice
Calle Malipiero, San Marco 3073, Venice 30124, Italy
---
About CFA School of Visual Arts
Boston University College of Fine Arts School of Visual Arts prepares students to think seriously, to see critically, to make intensely, and to act with creative agency in the contemporary world. The School of Visual Arts merges the intensive studio education of an art school with the opportunities of a large urban university, and is committed to educating the eye, hand, and mind of the artist. With rigorous graduate and undergraduate fine art programs that are rooted in studio practice, CFA School of Visual Arts provides highly motivated students with programs in the bedrock disciplines of the fine arts coupled with a vast array of electives and liberal arts opportunities.