Theatremaker Malika Oyetimein on directing BU artists & designing her own path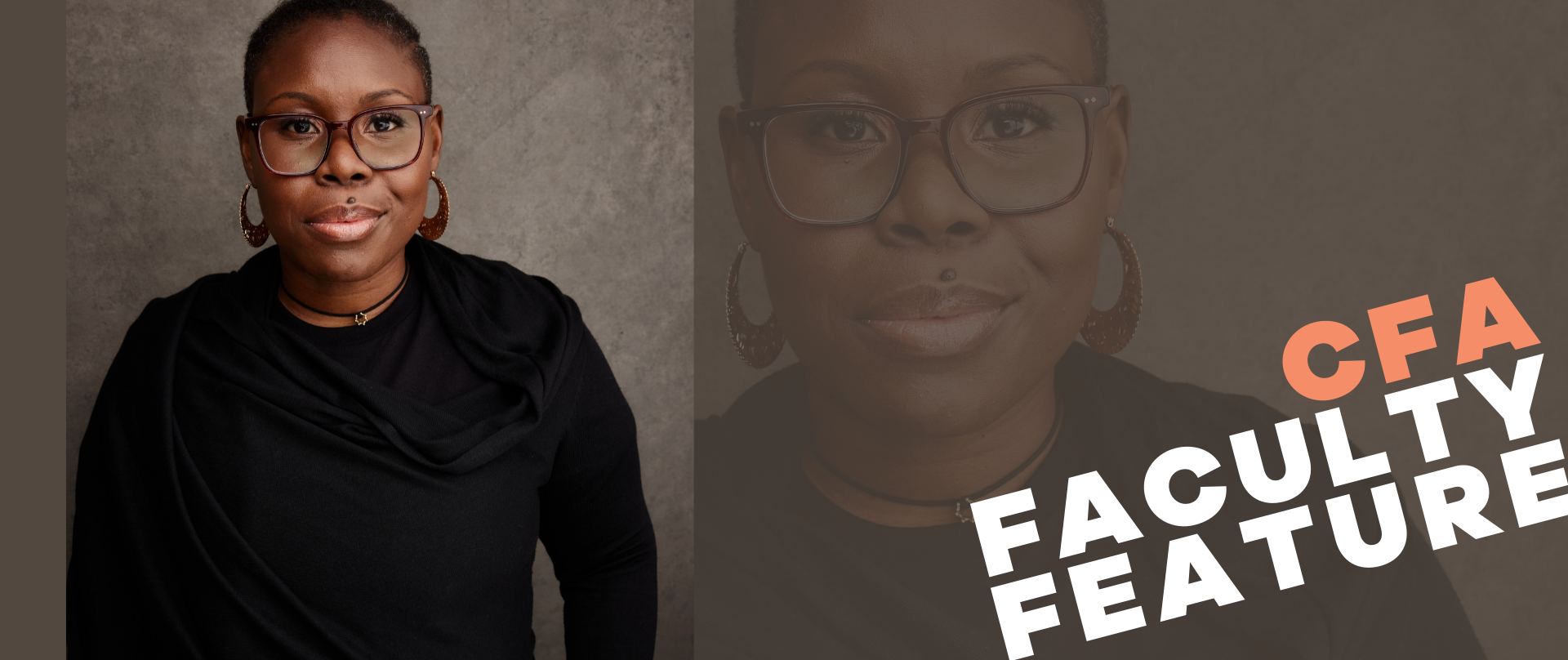 By Alex Ross (COM'22)
Malika Oyetimein knows why the caged bird sings.
The newly minted School of Theatre lecturer co-adapted and directed Maya Angelou's famous book for the stage almost immediately after graduating with an MFA from the University of Washington's School of Drama. And Oyetimein says it changed her life.
"It just solidified the type of work that I meant to do, you know? And it gave me my writer's voice back when I started writing again. It showcased my life. It was beautiful," Oyetimein said.
One November morning over Zoom, Oyetimein, a director by trade and artist above all, sat down with me to discuss all things mentorship, Merrimack Repertory Theatre and making her way through the industry as a self-proclaimed unambiguous Black woman.
---
Alex Ross, CFA: What brought you to your career in theater? How did you first get into directing? Tell me about the start.
Malika Oyetimein: Oh my god. As I get older, that question gets more and more daunting. It was so long ago. Listen, like most people, I was a theater baby, right? I used to act and sing and everything and the hard, ugly truth is, I started becoming a director because of racism. Because I wasn't being cast in the shows. Because I'm Black. And I was playing maids and sub characters and side characters. And I said f— that, so I stopped auditioning and started this program with my best friend. And it was the first time I directed something. And I was just like, 'Oh, well, that's what I'm supposed to do.' And that was my senior year of high school.
Barely two questions in, Oyetimein starts asking me her own questions. She's inquisitive by nature.
MO: Are you a performer?
(I am most definitely not a performer, and I tell her so).
MO: You can imagine, though, that performers and artists get pigeonholed, not pigeonholed, but you put yourself in a box. There weren't as many slashes, you know what I mean? Now, artists are like 'I'm an artist. I will not have to find myself and put me in this box.' But when I was coming out, hitting the scene, it was like I had this baby face and nobody was letting me direct. There was no exploration because you had to solidify yourself, to prove yourself. And now there's exploration. And so, you can be like, 'Yeah, I write plays and I direct plays and I act in them, too.' I've done that. I don't do that anymore, Alex.
AR: Do you have a certain philosophy? How do you approach your work as a director?
MO: I'm very story based and very text based. What story am I telling? And who am I telling it to? It's something that I'm teaching my students now because I'm teaching MFA directing and we forget the audience too much. Who are you telling this story to? It matters. It matters, it matters in the choices that you're making and matters in the way the story is being told. A director is not changing any words in the play, but I don't need to. I have so many other things to make exactly what I want you to see, so I approach it from the story first, and who I'm telling the story to, and then if that excites me— then it's game on.
AR: What's been your favorite part about teaching the theatre students here at BU? What has that experience been like?
MO: Working with people who are the next theatre makers right after COVID feels like a gift. We're in a different time and now is the time for art. Art is the only thing that is going to save us, and to be able to have the privilege of helping to mold that new class? You know, these new thought makers… I love it. I love it. It's invigorating.
AR: That's a good word for it. You talked a little bit earlier about not forgetting the audience. So, what are you excited for audiences to experience with Passage?
MO: Passage is an unabashedly political play. Like it is a political play. And what I've learned from just the few months that I've been teaching the students here is we want to talk about these things. This is not a time when we're like, 'Oh, I don't discuss politics,' or 'Oh, I'd rather not.' People want to talk about these things, people want to have these discussions and Passage is the type of show that will get people to start having these discussions on a deeper level. In my director's note, I'm asking audiences to listen. This is the Facebook age. I know that's dating myself because Facebook's for old people, right? But like the social media age where we love to talk. We love to talk! However many characters we're given. We love to tweet out an opinion, but not listen to dissent. And then we just cultivate our friends list smaller and smaller. So, it's just an echo chamber. What happens when the echo doesn't bounce back?
That's profound, I tell Oyetimein, as I envision her sound bite as a pull quote. Oyetimein laughs.
"Put it in the story, Alex!" she says.
AR: We've talked about you being a director and your philosophy there. But what about as an educator— what has it been like to teach this next generation? How do you approach that?
MO: That's interesting, because I've been full-time faculty as of September. But I've been an educator for like 15 years. I've taught babies, I've taught college kids, high school kids, grown adults trying to get into grad school, and for me, it's just all about the lesson. I know that sounds silly, but it's like 'What's the thing that I have to teach? What can I give? And how do I make sure I'm giving it in a way that it's being received?' I always say to my students, 'take it or leave it baby, but this is what I've got to teach.' So, what is it? What's the lesson that I need to teach? What is the best way that I can give it? That's kind of how I approach it, and since it's directing on an MFA level, I got a lot to say. I got a lot to teach. I got a lot to give. So, I hope that they're here to receive it.
AR: I want to take you back. You're growing up, you're not getting cast in these roles that you want. Were there any particular role models that you looked up to, whether it was when you were starting out, or are there other directors that you really admire? Where did you look for that inspiration?
MO: There weren't a lot. I'm an unambiguous Black woman. I didn't find another Black woman director until I started my graduate school search, which is— I got accepted into most of the universities that I applied to, all but two— but I chose my university because of my mentor, who's a Black woman. Valerie Curtis-Newton is my mentor. And I knew in the seat of my soul that no one was going to teach me what I needed to know like a Black woman would, and she's been my mentor for life. She will be my mentor for life. I call her all the time, and I call her Auntie, because there's just a bond. Until about, I want to say, six years ago, maybe five years ago, I used to play a game with people, I'd say name me five Black female directors. Throw in Me and Valerie, you could say Ava DuVernay, you can say Liesl Tommy, these are all my role models. Because Liesl Tommy is my big role model. In addition to Valerie Curtis-Newton, Liesl Tommy is someone that I very much look up to and have the privilege of calling her a mentor as well. But I did not know of Liesl Tommy until I was about 28 years old. That's a decade after high school. Here's a graduate, and I had been working that whole time, not ever seeing someone who looked like me in this position. And still to this day, I get older people, everyone, every cast I direct, it's more like all but one person has never been directed by a Black woman. And these are Black people. These are white people. These are everyone. Sometimes, older Black people, they come up to me and just shake my hand. The thing I found too with directing and being an educator, I find that we have this idea that the only students who need to be taught by Black people are Black students. We know that the population of Black students at BU is very low. My students are hungry to be educated by other people, people that don't look like them. They are hungry, and very excited to be educated by me. And I think that's a really awesome thing. And it's one of the reasons why I love teaching at BU so much.
AR: I want to talk about your role as an artist in residence at the Merrimack Theatre. Give me all the details on that experience!
MO: So, I am an artist in residence at Merrimack Theatre. Courtney Sale is the artistic director and I directed a play here last year during COVID and it was right when you know everything was hitting and we didn't know what was going on, it's gonna be outdoors, then it was, everything is gonna be fine. And then it had to shift and shift and shift. And it was in all of those shifts that Courtney and basically, Merrimack Theatre was just like, 'Oh Malika knows how to pivot, right? She's really good at pivoting seamlessly and giving us a great show.' And there's something that Courtney wanted to tap into with that and this time right now as again, I think there's some theaters who are doing lip service— people all over the world, definitely all over this country doing lip service— to change, but nothing is really changing. You see it everywhere. But Courtney didn't want that to be the case with Merrimack and wanted to bring on somebody who can really talk about the way theaters pivoting and really add an inside eye to that. And in addition to that, I will be directing a reading with students at UMass Lowell, in conjunction, that's going to happen later in the season. But right now, it's a lot of being brought on for my thoughts and in planning towards the future.
I pause for a moment and candidly ask Oyetimein how she has time for all of this. She chuckles goodnaturedly and tells me that between everything going on and being disabled, she really doesn't know.
She does, however, underscore the fact that the two heads of the institutions she devotes so much of her time to— the Merrimack Theatre and the School of Theatre at CFA— are "human forward."
"You know, I matter more than the product and that is felt," Oyetimein says. "I just feel really excited. I feel really excited for my time here [at CFA]. It's gotten off to a really great start. And I just look forward to the future."
CFA's Faculty Feature series spotlights the exceptional faculty from across Boston University College of Fine Arts.
---
ABOUT MALIKA OYETIMEIN
Malika Oyetimein is a disabled artist who received her MFA from The University of Washington's School of Drama. She is also a member of the Directors Lab at Lincoln Center Theater. She was featured in Seattle's City Art Magazine 2016 Future List, Cross Cut 2017 and her productions of Bootycandy (2016 ) and Hoodoo Love (2017) were nominated for Gregory Awards: Best Production. She is also the co-adapter and director of Dr. Maya Angelou's I Know why the Caged Bird Sings (Book-It Repertory Theatre) which garnered a Gregory Award nomination for Best Director. Select directing credits: How I Learned What I Learned ( Arden Theatre Co.) The workshop production of The First Deep Breath (National Black Theatre), The Bitter Game (Wallis Annenberg), Eclipsed (Southern Repertory Theatre), the world premiere of WHITE (Theatre Horizon) Barbecue, Bootycandy (Intiman Theatre Festival), And In This Corner: Cassius Clay (Seattle Children's Theatre). More at malikaoye.com.
CFA SCHOOL OF THEATRE
The School of Theatre at Boston University College of Fine Arts offers conservatory-style education for the study of acting, stage management, design, production, and all aspects of the theatre profession within the setting of a major research university. The School of Theatre seeks to provide students with opportunities for artistic growth through a rigorous curriculum, professional connections, and an emphasis on collaboration and new work. Learn more at bu.edu/cfa/theatre.