MFA Sculpture Show kicks off 2021 Thesis Exhibitions

First exhibition of 2021 features work from MFA Sculpture candidates from the Classes of 2020 and 2021
Boston University College of Fine Arts School of Visual Arts is proud to present the 2021 MFA Thesis Show. Featuring the work of the graduating MFA candidates in Graphic Design, Painting, and Sculpture, this series of showcases has a unique structure in a unique year. Each program will be on view in Boston University Art Galleries' newly renovated Stone Gallery over the course of the Spring 2021 semester.
Launching the exhibitions with their work in the newly renovated Stone Gallery are the 2020 and 2021 Masters of Fine Arts Sculpture candidates. The MFA Graphic Design, MFA Painting, and BFA Thesis Shows will follow later in the semester.
Artists
Aris Hu (CFA'21)
Hannah Minifie (CFA'21)
Chang Wu (CFA'20)
Jennifer Kilburn (CFA'20)
Ania Garcia Llorente (CFA'20)
[bu_slideshow show_id="77326″ show_nav="1″ transition="slide" nav_style="icon" autoplay="1″ transition_delay="5″ width="auto" shuffle="0″]
About the Show
As the exhibition statement on bu.edu/art describes, Sculpture offers a direct, embodied experience of reality through encounter with material presence within physical space. The artists in this exhibition consider sculpture as a means of cultural production that shares material, process, language, and history with our social and physical environment. In other words, their creative work extends beyond its formal characteristics, pointing to the varied and complex areas of specialized labor that are embedded within every aspect of our daily life – from architecture and physical infrastructure to the production of consumer goods and the myriad collocations of text and image that flood forth from our illuminated screens. These artists make work that is both entangled with the conditions of reality while seeking to fundamentally reconsider much of what we overlook, take for granted, or ignore.
Over the course of their years within this program, these five artists have worked to push against the boundaries of their field, and as a result have transformed and amplified their individual creative voices. They found agency within their own artistic practices during this unpredictable time of crisis, both in the context of a global pandemic and our exigent and ongoing national reckoning with history. The resulting work is an offer of realness, an encounter with the familiar through the prism of transformation, an invocation of the hope that our connection to the world and to each other will strengthen and endure.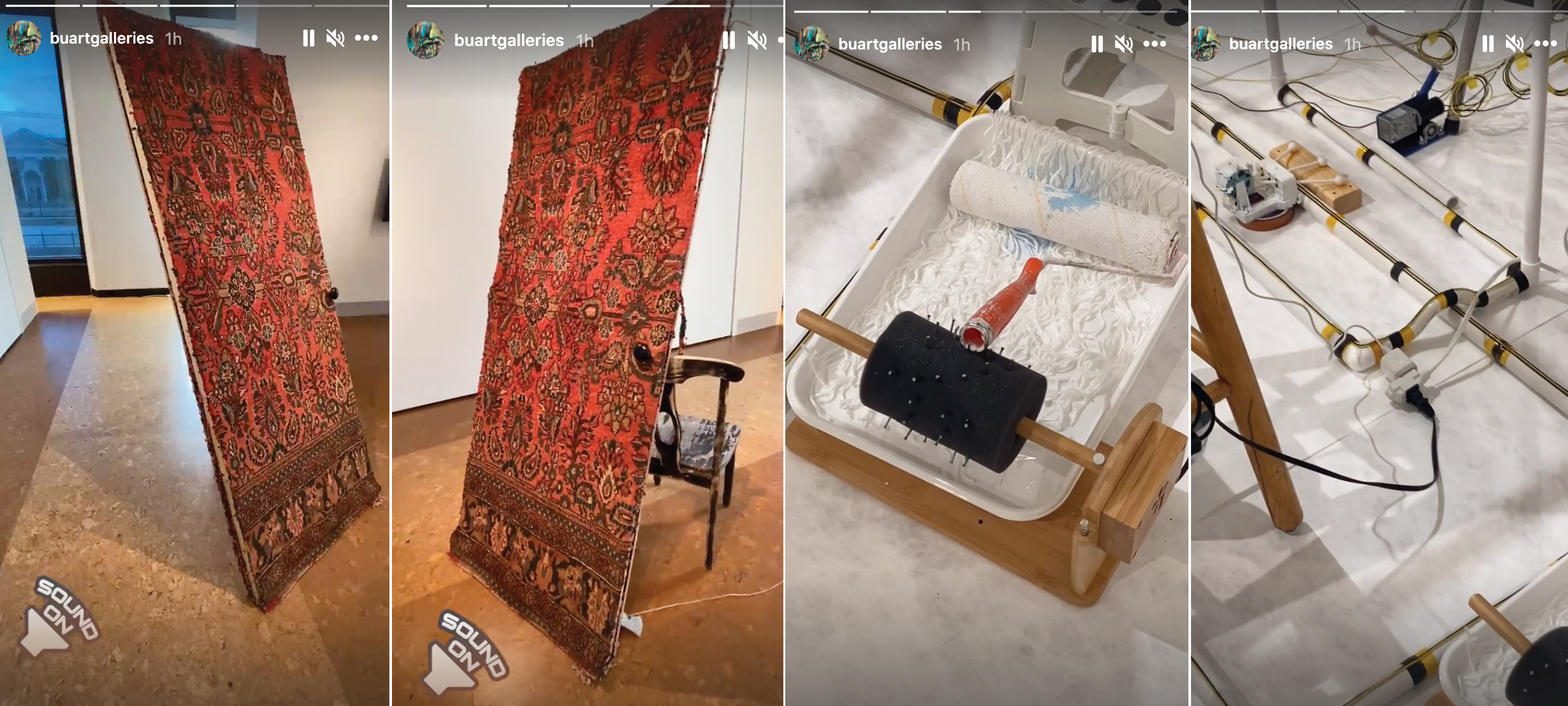 Visit BUAG
Gallery Hours: Wednesday – Friday, 11:00 – 5:00pm
Due to the ongoing pandemic, visitors are limited to the Boston University on-campus community of students, faculty, and staff. All visitors are welcome to check out the virtual tour that will be available soon.
Be sure to follow @buartgalleries, @bu_visualarts, and @buarts to catch the graduate candidates' work!
---
SCULPTURE AT CFA
The Sculpture program at BU College of Fine Arts School of Visual Arts encompasses a wide range of approaches, methods and skills, with an emphasis on personal expression grounded in material and technique. Students work closely with faculty, peers, and visiting artists, with many hours of concentrated work devoted to the development of personal voice through object making. BFA and MFA degrees offered. The ability to think three-dimensionally is an essential and empowering tool in the visual arts. Sculpture is a discipline that encompasses a wide variety of media and concerns with the made object at its core. Learn more about studying Sculpture at BU.