MFA Painting Thesis Exhibition Highlights the Work of 17 Talented 2021 Grads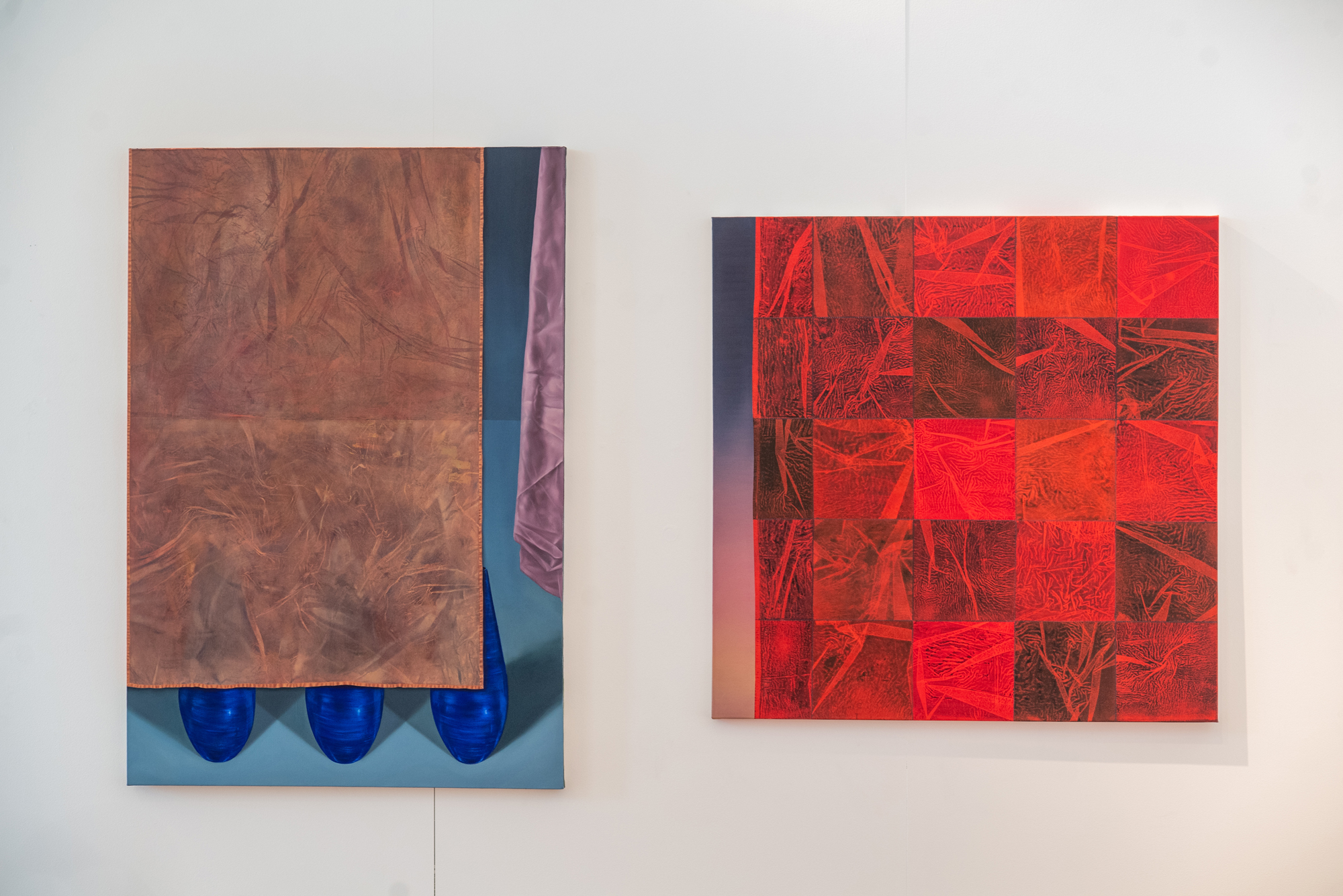 This article was first published in BU Today on April 16, 2021. By Sam Drysdale (COM'21). Photos by Cydney Scott
EXCERPT
When Bradley Milligan entered the College of Fine Arts, he saw himself as a traditional painter, working with oils. But during his two years in the Graduate Painting program his approach to painting underwent a significant transformation. Today he uses elements of sculpture and construction to create what he describes as "freestanding, built paintings" that consider issues of masculinity, race, and American politics.
Milligan (CFA'21) is one of 17 artists whose exciting work can be seen in this year's MFA Painting Thesis Exhibition, now on view at the Faye G., Jo, and James Stone Gallery through April 26. There are 34 paintings, representing the culmination of the artists' thesis work, in the 2021 show.
Josephine Halvorson, a CFA professor of art and chair of graduate studies in painting, says the diverse exhibition reflects the individual way each artist has developed their own artistic practice over their two years at BU. "They've each demonstrated breadth and depth in their artistic research," Halvorson says. "By breadth, I mean they have experimented, they have reached out to different histories, discourses, and ideas. By depth, I mean they have given themselves permission to follow these inquiries into places that they haven't gone before."
Milligan uses visual tropes and signifiers of rural America to consider contemporary American politics. One of his two pieces in the show is a wall, constructed of various types of fencing, which he built himself. "Notions of vulnerability and loss run through my work, creating a tension between an artwork's appearance and the larger issues which I allude to through my subject matter," Milligan writes in his artist's statement. "My working process allows me to explore these themes and their relation to rural Americana aesthetics and "The American Dream."
Halvorson says Milligan's work shares a common thread with that of Amanda Hawkins (CFA'21), another of the thesis exhibition artists. Hawkins' thesis examines the ecology of the New England forest, mainly where it has been disrupted. Both painters, Halvorson notes, are examining the damage done to the American landscape—the former in terms of politics and the latter in terms of the environment.
[bu_slideshow show_id="78634″ show_nav="1″ transition="slide" nav_style="icon" autoplay="1″ transition_delay="5″ width="auto" shuffle="0″]
Hawkins has three paintings, all acrylic on canvas, in the exhibition: Oriental Bittersweet, Former Property Line, and Disturbance #3. The first depicts an invasive vine that is killing other plant species and uprooting trees in forests across much of the United States, the second is a landscape with a rock wall, and the third is a painting of a fallen tree.
Discussing Former Property Line, the artist says the centuries-old rock walls that weave through New England denote former property lines and were originally used to mark farmers' pastures. "What's really funny about these rock walls is that they symbolize past cultures that have lived on the lands that we're currently on. They also symbolize new growth of the forest around these walls," Hawkins says. "I think that's something worth celebrating through painting."
To research her subject matter, she says, she often just walked in various forests throughout Massachusetts until she came across something that captured her attention.
"Prior to graduate school my art was just about witnessing beauty in nature, and I've come to realize that there's a much more complex relationship between humans and nature that I was leaving out," Hawkins says.
Her artist statement explores this notion further: "The subject matter of my paintings—fallen trees, invasive species, rock walls—isolate moments of past ecological events and human interventions that demonstrate the trauma, vulnerability and resilience of the forest. The forest floor, in all it's entanglements of underbrush and invasive species, tells a long story of human movement, colonization, and globalism."
Nearly all of the 2021 MFA graduate painting students returned to Boston this year for an in-person learning experience, after having to work remotely last spring. Halvorson says every one of them worked hard to make this possible. Since the artists' access to their campus studios is so important, each of them carefully followed COVID-19 health protocols.
…
Halvorson says she couldn't be prouder of this year's artists and the exhibition they have mounted. "I don't think there's been a harder time or a more important time to make art, at least in my lifetime," she says. "When I think about what these students have accomplished in the face of the challenges that they've faced over the last year, it really is remarkable and hopeful."
---
The 2021 MFA Painting Thesis Exhibition is at the Faye G., Jo, and James Stone Gallery, 855 Commonwealth Ave., through April 26. Gallery hours are Monday to Friday, 11 am to 5 pm. Because of the pandemic, exhibition visitors are limited to on-campus BU students, faculty, and staff.