Faculty Feature: David Guzman, Assistant Professor of Music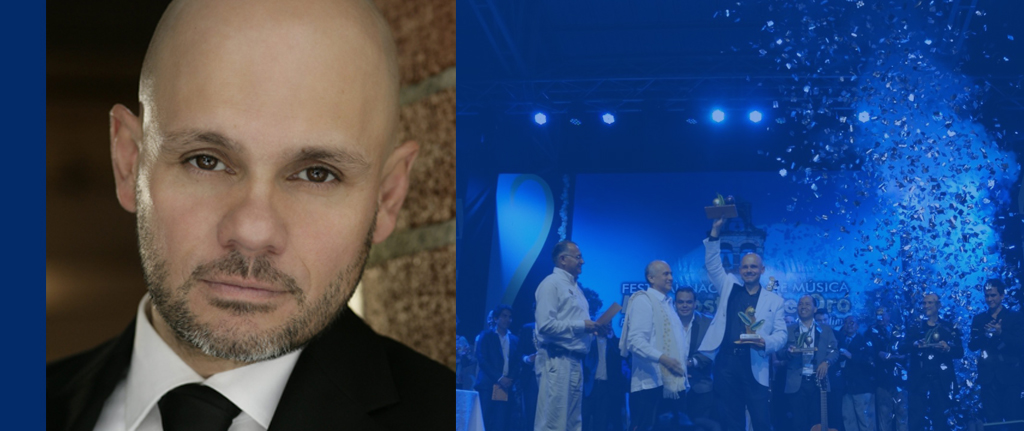 April 28, 2021 | Interview by Alex Ross (COM'22)
Celebrated tenor Dr. David Guzman, who joined the College of Fine Arts this year as Assistant Professor of Music, Voice, discusses the path to his vocation, how he equips his students to be successful in their practice, and some of his most memorable performances.
Q
&

A
AN INTERVIEW WITH DAVID GUZMAN
News:
What inspired you to pursue a career in performance? Were you always singing from a young age?
I have been singing since I was five years old. My parents recalled that one day, out of nowhere, I began to sing a song that [they] used to listen to at home often, and I became the show. The song was an Argentinian milonga, "Zapatos Rotos" (broken shoes) performed by Enrique Rodriguez.
My childhood was full of music and dancing Latin-American folk music. Both of my parents were music lovers— they were able to sing in tune and they danced really well together. In all the family celebrations and gatherings there was live music performed by my parents' friends and then eventually by me and a group of my school friends that were musicians. I went to different art-oriented schools in which I was able to participate in various musical activities and ensembles. When I finished high school, it was clear for me that music was all I wanted to do in my life.
News:
How would you describe yourself as a teacher?
I am a really positive person, and I believe that voice students and musicians in general need good guidance and hard work to improve in their instruments. Voice technique is difficult to teach and also difficult to learn because both teacher and student are talking about an instrument that they do not actually see. When you start talking to a new student about the diaphragm, soft and hard palates, intercostal muscles, floating ribs, larynx, glottis, vocal folds, etc. it takes some time for the student to be able to feel the movement of those organs and even a longer period of time for the student to be able to coordinate the movement of those organs at will. So, I am all the time thinking about kinesthetic routine exercises that might help each student. It is a process in which the students end up recognizing their own instruments and as athletes gain strength by daily practice routines.
News:
What's your your approach to music education?
I have a bachelor's degree in music education and a lot of experience teaching primary, middle, high school and college students. I had wonderful results in class using Carl Orff's method with percussion instruments that include Xylophones and recorders. Playing, singing and dancing engage the students at this level really well. The physical interaction with these instruments, dancing and singing allow the students to develop their sense of rhythm and aural skills. At the same time, [it] lets the student recognize their singing voices and expose them to the joy of making music at such a young age.
In the middle and high school levels where the first approach is with band instruments, choirs and orchestra instruments, I believe that the most productive way is the combination of private lessons and ensemble activities where the students work on their ensemble parts with their private instructor beyond their instrument's technic learning, and play rehearsals and performances.

At the college level and especially talking about singers, I consider that learning how to sing at a professional level implies learning and developing several skills: voice technique, music proficiencies, languages and acting. I believe that singers are closely related to athletes because, like athletes, singers work from their bodies to achieve success. Like athletes, we require daily exercise routines and mental preparation with a goal that motivates us to work (perform). Those routines of physical and vocal exercises allow us to understand and gain control of the singing mechanism. As a voice teacher, I help my students develop practice routines designed to improve their vocal technique.
News:
What was it like to perform in Carnegie Hall? Is there a particular performance that stands out to you as a career highlight?
I have performed a couple of times at Carnegie Hall and each time has been a wonderful experience. It is such an emblematic venue that I feel honored to have the chance of performing there.
News:
What tools do you equip your students with in order for them to be successful in their practice?
In my lessons, I incorporate movement and short stretching routines to correct posture and to aid in the management of body tension over time. I also include breathing exercises and vocal exercises followed by working on repertoire. These routines are different in length and difficulty depending on the student's level of expertise. I guide my students to find the correct way to study repertoire and practice their technique exercises by structuring their learning of new repertoire and practice routines in class.
News:
Do you have a favorite performance?
This is a really difficult question to answer. As a performer, every single time I am on stage is so special regardless of the venue's size or the level of the production or the piece. Since the beginning of the performance process, the bond among cast members and the music piece is certainly unique and that is established by the day I open the music score for the first time and start learning or reviewing the piece until I set foot on the stage to perform.

That being said, I recall the Houston Grand Opera production of Martinez/Folia's To cross the face of the moon/ Cruzar la cara de la luna, the first "Mariachi" opera, performed at Théâtre du Châtelet in Paris, as one of the most memorable performances because of the way the audience responded. Every single night the theater exploded in emotional standing ovations. We performed with a Mariachi band singing in Spanish and English to a French audience that in general is not familiar with Mexican Mariachi music. The opera's story, though, was universal. It is about migration and how that affects families for generations.

As an audience member, I recall two wonderful performances— the first one at the Metropolitan Opera in 2011 with James Levine conducting Richard Wagner's Die Walküre with Jonas Kaufmann, Deborah Voight, Bryn Terfel, Stephanie Blythe among other great performers, and the second— the 2017 Carnegie Hall concerts of the nine Bruckner symphonies with Daniel Barenboim at the piano and conducting the Staatskapelle Berlin.
News:
What has joining CFA been like for you? 
It has been a wonderful experience. Everybody at CFA has been especially supportive and welcoming. I really appreciate it.
Find more from Professor Guzman at davidguzmantenor.com.
CFA's Faculty Feature series spotlights the exceptional faculty from across Boston University College of Fine Arts. This interview has been lightly edited for clarity.
---
CFA SCHOOL OF MUSIC
Founded in 1872, Boston University College of Fine Arts School of Music combines the intimacy and intensity of traditional conservatory-style training with a broad liberal arts education at the undergraduate level, and elective coursework at the graduate level. The school offers degrees in performance, conducting, composition and theory, musicology, music education, and historical performance, as well as artist and performance diplomas and a certificate program in its Opera Institute.