2021 MFA Painting Thesis Exhibition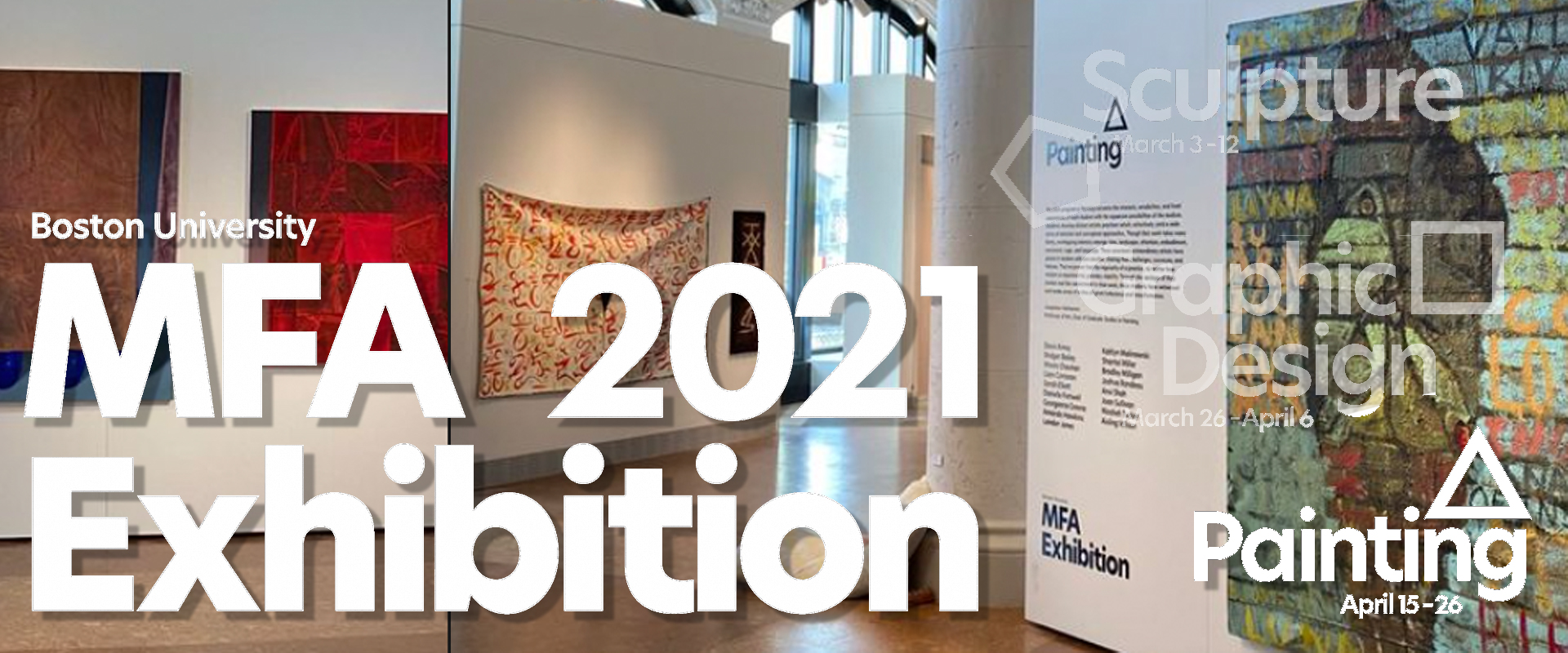 2021 MFA Painting candidates work exhibits in Stone Gallery April 15-26
Boston University College of Fine Arts School of Visual Arts is thrilled to present the 2021 MFA Thesis Shows. Featuring the work of the graduating MFA candidates in Graphic Design, Painting, and Sculpture, this series of showcases has a unique structure in a unique year. Each program on view in Boston University Art Galleries' newly renovated Stone Gallery over the course of the Spring 2021 semester.
Opening April 15 in the recently renovated Stone Gallery is the exhibition featuring 17 Masters of Fine Arts Painting candidates from the Class of 2021. It will be on view through April 26.
The BFA Thesis will follow later in the semester. Miss the previous MFA Thesis shows? See more from MFA Sculpture and MFA Graphic Design! Video walkthroughs will be available soon.
Artists
Davis Arney
Bridget Bailey
Meera Chauhan
Liam Corcoran
Sarah Elliott
Danielle Fretwell
Georganna Greene
Amanda Hawkins
Landon Jones
Kaitlyn Malinowski
Shantel Miller
Bradley Milligan
Josh Rondeau
Anvi Shah
Joni Sullivan
Mosheh Tucker
Aisling Wilson
Visit BUAG
Gallery Hours: Monday – Friday, 11:00 – 5:00pm
Due to the ongoing pandemic, visitors are limited to the Boston University on-campus community of students, faculty, and staff. All visitors are welcome to check out the virtual tour that will be available soon.
Be sure to follow @buartgalleries, @bu_visualarts, and @buarts to catch the graduate candidates' work!
---
PAINTING MFA AT CFA
The Master of Fine Arts (MFA) program in Painting at Boston University promotes the discipline in its varied manifestations as a fundamental form of artistic expression. At its core, the program is studio-driven, with rigorous expectations about each student's commitment to their own artistic practice. As an art form, painting is more than just an activity; it is a long-term critical engagement with ideas, feelings, and sensibilities. As such, the program supplements this emphasis on the studio with critical dialogue, in the form of studio visits, critiques, weekly seminars, lectures, field trips, and workshops.
Graduate students develop close working relationships with both faculty and peers, forging a tight-knit community that continues beyond graduation. Frequent visits from major figures in the contemporary art world, as well as regular trips within New England, New York City, and beyond, bolster this sense of community and prepare students for a life in painting. Real world experience, critical dialogue, and an intensive studio climate support each student's journey toward an ever-sharpening artistic vision.
Learn more about BU's Graduate Painting program.