Bostonia feature: On the Art of Storytelling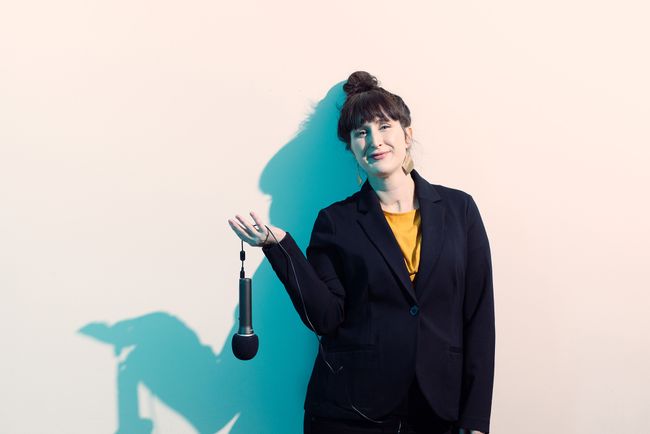 This article was originally published in CFA magazine and Bostonia. 
A conversation with podcasters Erika B. Hess, of I Like Your Work, and Erika Block, of Inside The Notes
Artist and curator Erika B. Hess sits among the paints, brushes, palettes, and canvases that fill her converted garage studio at her home in Ohio. But on the desk in front of her are some very different tools—a big microphone and a laptop. In this space, she not only paints; she interviews her peers from the visual arts world, from painters and illustrators to curators and gallerists, for her podcast, I Like Your Work. On this day, Hess (CFA'09) opens up Skype on her laptop and dials the Los Angeles-based abstract painter Tomory Dodge. The two launch into a discussion about Dodge's work—his use of color, his style of paint application—which eventually turns into a conversation about how taking up zen meditation has impacted his art.
Hess started I Like Your Work "to tell the stories of artists and create a dialogue that can lead to community. We see the work of artists and read their exhibition history, but when you hear about their lives, the day-to-day, you have a better understanding of their creations and can see yourself in their stories."
Her conversations tackle issues many artists face, including work/life balance and managing finances. Through her podcast, she also partners with curators and galleries to host her own juried art shows. During the summers, she takes time off from the podcast to work on her paintings.
Clarinetist Erika Block (BUTI'96, CFA'02,'04) also balances her art with podcasting. Block, a clarinet instructor at Western Washington University, hosts Inside the Notes, in which she interviews fellow musicians from around the world, among them famed guitar player Pepe Romero; Richard Roberts, concertmaster of the Montreal Symphony Orchestra; and award-winning mezzo-soprano Jamie Barton. She conducts all of her interviews in person, fitting them into a busy schedule of teaching and playing in numerous music groups.
Both Hess and Block are in the second seasons of their podcasts. The two chatted by phone about their podcasting journeys and how artists can help each other succeed. They immediately bonded over their shared name—especially when Block revealed she was named after a Swiss alpine skier named Erika Hess.