Boston University College of Fine Arts appoints new faculty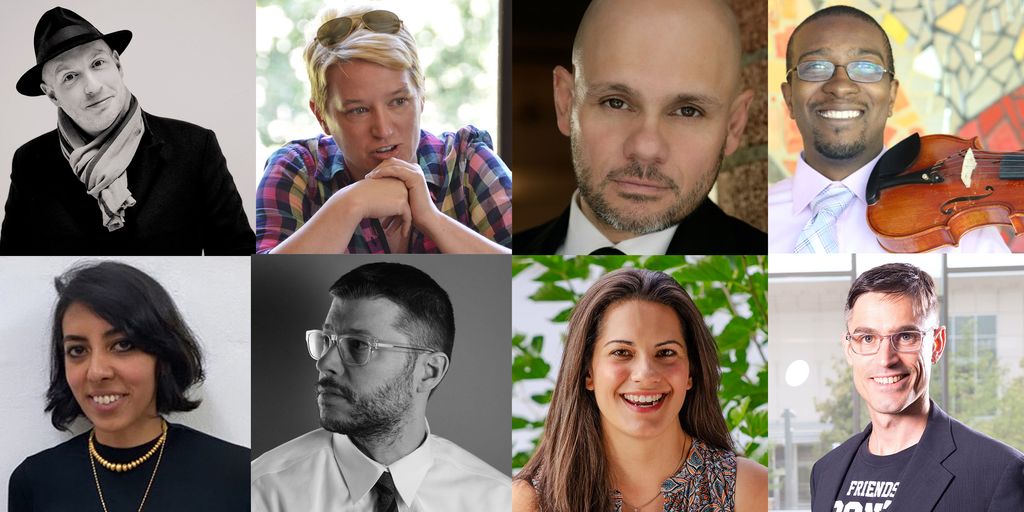 CFA announces the appointments of faculty in the School of Music, School of Theatre, and School of Visual Arts
August 2020 | Boston University College of Fine Arts (CFA) is thrilled to formally announce the appointment of eight new full-time faculty members with the appointments of James Burton (Director of Orchestral Activities and Master Lecturer, Music), Kelly Bylica (Assistant Professor of Music, Music Education), Wendy C. Goldberg (Master Lecturer, Theatre), David Guzman (Assistant Professor of Music, Voice), Meena Hasan (Lecturer of Art, Painting), Brian Kellum (Lecturer, Music Education), Christopher Sleboda (Associate Professor of Art, Graphic Design), and Gareth Smith (Assistant Professor of Music, Music Education).
"Our newest colleagues are accomplished artists and arts researchers who work at the highest levels of theatre, music, and the visual arts," says Harvey Young, Dean of BU College of Fine Arts. "Equally exciting, they are dynamic educators with a passion for teaching. I am thrilled that they are a part of the BU community."
James Burton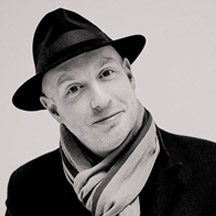 Celebrated Boston Symphony Orchestra Choral Director James Burton joined Boston University as the Director of Orchestral Activities at CFA School of Music. He will also serve as master lecturer at CFA. In this new role at BU, Burton will be overseeing CFA School of Music's orchestra repertoires, performances, and stewardship of the College's orchestral education.
"James Burton is a true leader both on and off the podium. His rich musical background and his commitment to educating the complete musician is legend," says Gregory Melchor-Barz, Director of Boston University College of Fine Arts School of Music. "Burton brings with him a depth of experience and understanding in a wide variety of musical traditions, and will be a champion for musical diversity and inclusivity in our concerts." Burton "believes in educating the whole student, training orchestras in repertoire, styles and techniques, while modeling a passion to perform at the highest level."
In 2017 Burton moved from his native UK to Boston to take up the position of Boston Symphony Orchestra Choral Director, a new post created for him. He is the Conductor of the orchestra's Tanglewood Festival Chorus and is a frequent collaborator with Andris Nelsons and Keith Lockhart, as well as the BSO's world leading guest conductors. He has been a regular guest conductor with the Boston Pops Orchestra, and in 2018 he founded the Boston Symphony Children's Choir. Burton is an integral member of the core artistic leadership team with the BSO and he brings tremendous musical and creative resources with him to his position at BU.
Burton received his Master of Music in Orchestral Conducting from Peabody Institute of the Johns Hopkins University in 1998, studying under Frederik Prausnitz and Gustav Meier. He earned his Bachelor of Arts (Music) in 1995, and Master of Arts (Music) in 1996 from St John's College, Cambridge University. Read more about James Burton here.
Kelly Bylica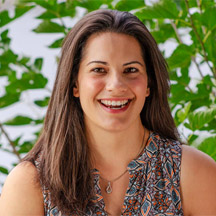 Kelly Bylica, who was named Assistant Professor of Music, Music Education at BU College of Fine Arts School of Music, holds degrees from Western University, Ontario (PhD, Music Education), Northwestern University, Illinois (M.M. Music Education with honors), and Valparaiso University, Indiana (B.M.E. Music Education, Humanities).
Dr. Bylica's scholarly interests are grounded in facilitating experiences that encourage music educators and students to challenge assumptions and develop critically artistic dispositions. Her recent work explores critical and creative learning projects as opportunities for incorporating multiple ways of knowing in music classrooms. More broadly, Bylica's research agenda is focused on middle school musical experiences, curriculum development, critical pedagogy, and issues related to diversity and access in the music classroom. Bylica has presented on these and other topics at regional, national and international conferences including the NAfME Biennial Conference, Mayday Colloquium, the International Symposium on the Sociology of Music Education, and the Research in Music Education Conference (RiME). She has also published chapters in Leadership In and Through Higher Music Education and Gender and the Music Industry, as well as articles in Music Education Research, The Journal for Popular Music Education, The British Journal of Music Education, and The Canadian Music Educators Journal, among others.
Dr. Bylica's research agenda developed from her experiences as a middle-school and K-8 general music and choir teacher in Chicago, Illinois. She has also served on the teaching staff of several community-based youth music programs. For more information, visit www.kellybylica.com.
Wendy Goldberg
BU College of Fine Arts School of Theatre is thrilled to welcome Wendy C. Goldberg (Master Lecturer, Theatre), who has spent 20 years leading the foremost programs in the development, direction and the production of new works for the American Theater. As Artistic Director of the National Playwrights Conference at the Eugene O'Neill Theater Center for 16 seasons, under Goldberg's tenure, the O'Neill was awarded the 2010 Regional Tony Award, the first play development and education organization to receive this honor as well as the 2016 National Medal of Arts from the White House. Goldberg's work as Artistic Director is featured in the book The O'Neill: The Transformation of Modern American Theater, published by Yale University Press. She is the first woman to lead the conference in its fifty-year history. Goldberg served as the Chair of Jury for the Pulitzer Prize in Drama in 2020, and as a member of the jury for the Pulitzer Prize in 2019.
In addition to leading The O'Neill to national prominence, Goldberg has established herself as one of the leading directors in this country and contributors to the directing field having served for 13 years on the Executive Board of the Society of Stage Directors and Choreographers and founding and leading the National Directors Fellowship now in its sixth year. Credits include five productions for Arena Stage, five productions for The Denver Center, three productions for Actors Theatre of Louisville, four productions for Cincinnati Playhouse in the Park where she is an Associate Artist, three productions for The Guthrie, and productions for The Goodman, Signature, Center Stage, Alliance, Playmakers Rep, and Paper Mill Playhouse among others.
In 2019, Goldberg founded TheFrontOffice, a theatrical and media development company after serving as a performance director for Rockstar Games in NYC. In 2017, Goldberg was hired to help direct the world-wide phenomenon RED DEAD REDEMPTION 2, the largest open world video game in the history of gaming and the best opening weekend for an entertainment product in the history of entertainment. She is in active development for ON THE RISE, about the rising stars of junior tennis with LeBron James's media company SPRING HILL.
As Artistic Associate at Arena Stage for five seasons, Goldberg helped to create the theater's new play initiatives and led them from their inception through 2005. American Theatre Magazine has described her as "one of the most promising theater artists working today." Goldberg is the recipient of the Zelda Fichandler Finalist Award given to a director who is "transforming the region through theater" by the Society of Stage Directors and Choreographers Foundation.
She is an honors graduate of the University of Michigan (BA) and holds an MFA in Directing from UCLA's School of Theater, Film and Television where she received the distinguished alumni award in 2014.
David Guzman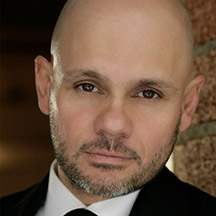 Joining the faculty of BU College of Fine Arts School of Music is distinguished tenor Dr. David Guzman, who was named Assistant Professor of Music, Voice.
Hailed by the Tampa Bay Times as the "one to watch," Colombian tenor Guzman is known for his exquisite tone and impeccable musicianship. He has been praised by the Houston Chronicle for his "impressive tenor, singing with force and ease throughout his range, with ringing tone at full voice, thoughtful in quieter moments."
Dr. Guzman's most recent performances include Haydn's The Creation and Orff's Carmina Burana with Hudson Valley Singers in New York City, the title role of Offenbachs' Orpheus in the Underworld in a return engagement with Western Plains Opera, Alfredo in La Traviata with Sarasota Opera, and the tenor soloist in Carmina Burana with both the Minot Symphony Association and the Hartford Symphony.
He holds a Bachelor of Arts in Music Education from Universidad Pedagogica Nacional de Colombia, a Master of Music in Voice Performance from Texas Christian University, and a Doctor of Musical Arts in Voice performance from SUNY at Stony Brook. Guzman's recent CD release, Latin-American Art Songs, is the first result of his continuous research of forgotten Latin-American art song repertoire and performance practices. Read more at www.davidguzmantenor.com. Read more about Dr. Guzman and his appointment here.
Meena Hasan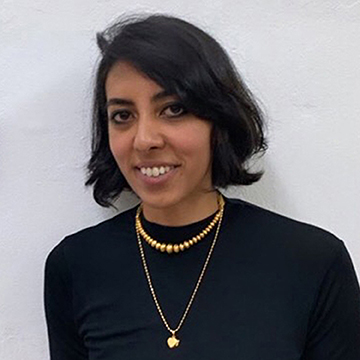 Meena Hasan joins CFA School of Visual Arts as a lecturer in Painting. Hasan received her B.A. in Studio Art from Oberlin College in 2009 and her MFA in Painting and Printmaking from Yale School of Art in 2013, where she won the Carol Schlosberg Memorial Prize for Painting.
In 2010, Hasan was awarded the Terna Prize Affiliated Fellowship at the American Academy in Rome. She has participated in a number of group exhibitions including Sheherezade's Gift at the Center for Book Arts, NY, Stages at Zürcher Gallery, NY, Bosch Young Talent Show at The Stedelijk Museum, Den Bosch, The Netherlands and Ying/Yang at 0.0 Gallery, L.A.
Recent two-person and solo exhibitions include Other Echoes Inhabit the Garden at LAUNCH F18, NYC, wallflower frieze at 6BASE, NYC and PoVs at The Peddie School's Mariboe Gallery, NJ, where she was a visiting artist and lecturer. Hasan has been a Part-Time Lecturer in Painting at Rutgers University – Newark, Visiting Assistant Professor in Painting at Pratt Institute's Painting MFA program, Assistant Professor in Painting at RISD, Providence and Teaching Artist with Studio in a School, NYC.
Hasan is represented by LAUNCH F18 in Tribeca, NYC and lives and works in Brooklyn, NY. Read more and explore her works at meenahasan.com.
Brian Kellum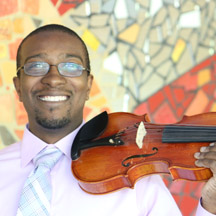 Brian W. Kellum, joining BU College of Fine Arts School of Music as Lecturer in Music Education, has extensive experience as a string teacher and administrator in public, community, and private settings. He taught strings in St. Louis working with students grades 3-8 in the Ritenour and Parkway school districts, and in Atlanta where he taught middle school strings and general music through 2014. Kellum served on the faculty of Middle Tennessee State University as a Minority Dissertation Fellow. He was the Artistic Director for the Cameron Youth Chamber Orchestra and the founder and Artistic Director of the St. Louis Youth Chamber Ensemble. He was Program Director for MusicWorks!, an El Sistema-inspired program of the Asheville Symphony, served as Director of Orchestral Programs for the Atlanta Music Project, an El Sistema-inspired program, and maintains a private studio of violin and piano students.
Kellum graduated from Duquesne University with a Bachelor of Science in Music Education in 2001, and earned a master of Music Education degree from Southern Illinois University at Edwardsville in 2005. As a doctoral student at the University of Illinois Urbana-Champaign, he served as a Graduate Teaching Assistant to Dr. Louis Bergonzi in the Music Education Department. His duties included assisting with conducting and string pedagogy courses, supervising student teachers, and teaching undergraduate string pedagogy. Kellum was twice elected to the executive board of the National Black Graduate Student Association, serving as Vice President of Administration and Treasurer.
Kellum received the Presser Award to conduct research on Fundamusical Simón Bolívar in Venezuela, and has presented on various topics at the Committee on Inter-Institutional Cooperation Conference, Illinois Music Educators Conference, NBGSA regional and national conferences, MENC Southwest Symposium, and the American String Teachers Association National Conference.
Christopher Sleboda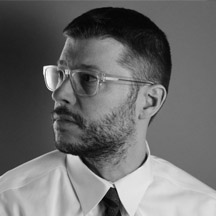 Christopher Sleboda (Associate Professor of Art, Graphic Design) is a designer, illustrator, curator, and educator whose work spans multiple disciplines. For more than fifteen years, he served as the Director of Graphic Design at the Yale University Art Gallery. Overseeing graphic design and wayfinding for the museum—from exhibition identities, motion graphics, and signage to brochures, programs, and art books—Sleboda led a department that worked closely with graphic design students in the Yale MFA program while organizing annual public events like the Odds and Ends Art Book Fair and talks by visiting graphic designers.
Sleboda is also the co-founder of Draw Down Books, which was conceived as a platform to design, publish and sell titles that focus on graphic design, typography, photography, illustration, architecture, and art. The project has offered Sleboda opportunities to curate exhibitions, exhibit and speak at artist book fairs, and take an active role in the independent publishing community.
Since 2003 Sleboda has produced work under the studio name Gluekit. This award-winning design practice provides graphic images and photo-illustration for an international clientele; projects range from theater graphics and editorial illustrations to book covers and Google Doodles, with clients including Apple, the Guardian, Netflix, New York magazine, the New York Times, Simon & Schuster, TIME, and The Wall Street Journal.
Sleboda also receives design commissions from cultural and arts institutions, producing work for the Albright-Knox Art Gallery, DeCordova Sculpture Park, and the Renee & Chaim Gross Foundation.
His designs have won numerous awards, including recognition by AIGA 50 Books, the Type Directors Club, Print magazine, and various national and international "best of" shows. Sleboda appeared on the cover of Print's 2008 Regional Design Annual and in Taschen's Contemporary Graphic Design. His work is featured in over a dozen books about graphic design, product design, and illustration, and he is the author of two monographs, Cleon Peterson (2015) and Hardcore Fanzine: Good and Plenty, 1989-1993 (2019).
Before joining the faculty at Boston University College of Fine Arts School of Visual Arts, Sleboda taught at the Rhode Island School of Design, the University of Connecticut, Marywood University, and Wilkes University. He's been a recurring guest critic at Yale University and Parsons School of Design, and holds an MFA in Graphic Design from Yale. Find more at csleboda.com.
Gareth Smith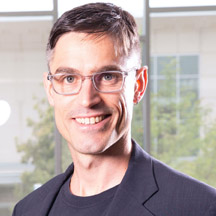 Gareth Smith (Assistant Professor of Music, Music Education) is active nationally and internationally as a teacher, speaker, researcher and drummer. Overarching themes in his research are eudaimonia, popular music education, and sociology of music education. Smith has a keen interest in social justice in and through music learning, and enjoys exploring intersections of musicking within and without schooling contexts.
Smith's work has been published in journals including Research Studies in Music Education; Psychology of Music; Action, Criticism, and Theory for Music Education; Music + Practice; Punk & Post-Punk; Journal of Music, Technology and Education; British Journal of Music Education; and Artivate. He has written dozens of articles for encyclopedias including several pieces about drummers in the Grove dictionary of American music. Smith's books include I drum, therefore I am: Being and becoming a drummer; Sociology for music teachers: Practical applications (with Hildegard Froehlich); Punk pedagogies: Music, culture and learning (with Mike Dines and Tom Parkinson); The Routledge research companion to popular music education (with Zack Moir, Matt Brennan, Shara Rambarran and Phil Kirkman); Sound advice for drummers; and Eudaimonia: Perspectives for music learning (with Marissa Silverman). He is working on two monographs about phenomenology and philosophy of drumming.
Smith's career highlights as a drummer include an ongoing partnership of more than 20 years with award-wining Welsh composer, producer, and guitarist, Stephen Wheel; 100+ punk shows across the UK, Ireland, Europe, and USA with London-Irish psycho-cèilidh band Neck; touring and recording with singer-songwriters Gillian Glover and Daniel Spiller; four albums with garage rock band the Eruptörs; making and releasing an album with Iron Maiden alumni V1; a stint as the house drummer for the global Guitar Idol finals; and playing in dozens of regional and off West End musical theatre productions around London and England. Smith is currently working on an album of duets and a concept album with Stephen Wheel based on the John le Carré novel Tinker, Tailor, Soldier, Spy. He plays drums for riff-rock band Black Belt Jesus with Dan Sheehan's Tales from Earth, Inc., and with Zack Moir in rock-jazz-electronica duo Build A Fort.
Before coming to BU College of Fine Arts School of Music, Smith worked for music education nonprofit Little Kids Rock in New Jersey. Prior to that he was at the Institute of Contemporary Music Performance in London, England where he taught graduate and undergraduate classes, co-designed a master's program in Popular Music Performance, and founded the Popular Music Education Research Centre. Smith served as external examiner for the Royal Northern College of Music, University of Sussex, and University of Wolverhampton, which included stints at the International College of Music in Kuala Lumpur, Malaysia, and Westford School of Management in Kochi, India. Before working in higher education, Smith taught drum kit peripatetically in south Wales for Cardiff and Vale Music Service, and served as a music teacher in elementary and high schools in north London. Smith has served as a board member of the International Society for Music Education and as President and Vice President of the Association for Popular Music Education. He is Chair of the National Association for Music Education's Special Research Interest Group on Popular Music Education. Smith is founding editor, with Bryan Powell, of the Journal of Popular Music Education.
---
Boston University College of Fine Arts
Established in 1954, Boston University College of Fine Arts (CFA) is a community of artist-scholars and scholar-artists who are passionate about the fine and performing arts, committed to diversity and inclusion, and determined to improve the lives of others through art. With programs in Music, Theatre, and Visual Arts, CFA prepares students for a meaningful creative life by developing their intellectual capacity to create art, shift perspective, think broadly, and master relevant 21st century skills. CFA offers a wide array of undergraduate, graduate, and doctoral programs, as well as a range of online degrees and certificates.