'As, Not For' Exhibition Highlights Black Designers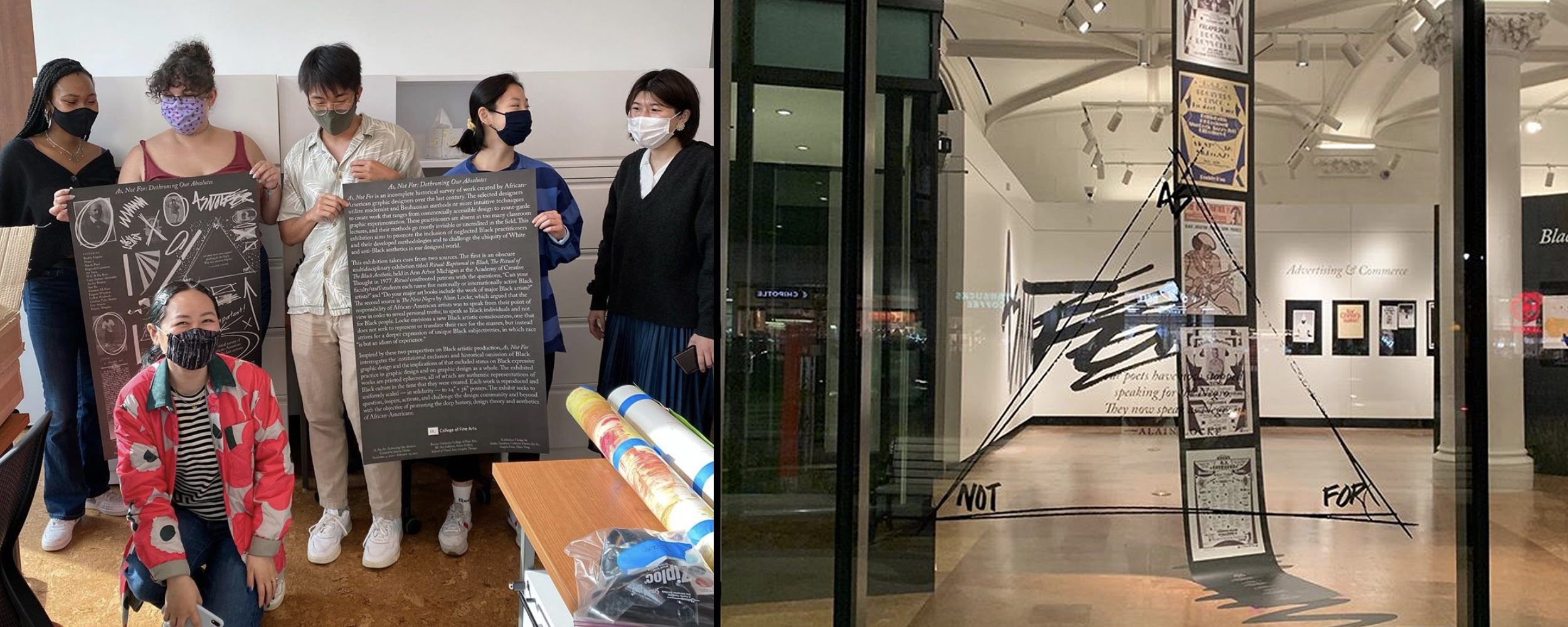 Challenge. Reframe. Inspire. Those are just some of the goals of As, Not For: Dethroning Our Absolutes, an exhibition that opened in Boston University's Stone Gallery in November 2020.
As, Not For is an incomplete historical survey of work created by African-American graphic designers over the last century. According to curator Jerome Harris, "the exhibit seeks to question, inspire, activate, and challenge the design community and beyond with the objective of promoting deep history, design theory, and aesthetics of African-Americans." These practitioners are absent in too many classrooms, and their methods mostly invisible or uncredited in the field. This exhibition aims to promote the inclusion of neglected Black designers and their developed methodologies, and challenge the ubiquity of White and anti-Black aesthetics in our designed world.
Along with CFA School of Visual Arts Graphic Design students Ashlie Dawkins (CFA'22), Gabriela Ferrari (CFA'22), Jay Li (CFA'21), and Angela Lian (CFA'21), Assistant Professor of Art Mary Yang planned, produced, and designed the exhibition which was curated by Jerome Harris.
[bu_slideshow show_id="75434″ show_nav="1″ transition="slide" nav_style="icon" autoplay="1″ transition_delay="4″ width="auto" shuffle="0″]
According to Yang, "we wanted to start a conversation about influential Black graphic designers who have not been given the credit they deserve. Our conversations with Jerome Harris informed how we wanted to present and form a conversation around the work with the students, faculty, and staff at Boston University." The team encourages BU faculty members to bring their classes to the gallery and treat the exhibition as a space to listen, learn, reflect, and respond.

"Through re-contextualizing and promoting these works by influential Black practitioners, we hope to inspire communities within and beyond the College of Fine Arts to critically examine and challenge their field's past, present, and future," reflects Yang. "Our goal was to create a space where people could learn and be inspired—ultimately leave with the desire to further research these designers and others."
Harris will also be giving a virtual lecture for the School of Visual Arts' Tuesday Night Lecture Series on November 10 at 7:30pm EST. This lecture series is hosted by the CFA School of Visual Arts MFA programs in Painting, Sculpture, and Graphic Design.
Can't make it in to see the exhibition? Check out the virtual gallery walk-through!
As, Not For: Dethroning Our Absolutes
November 4, 2020 – February 19, 2021
This exhibition was curated by Jerome Harris in collaboration with Mary Yang (Assistant Professor of Art, Graphic Design) and BU Graphic Design students Ashlie Dawkins (CFA'22), Gabriela Ferrari (CFA'22), Jay Li (CFA'21), and Angela Lian (CFA'21).
Learn more about the exhibition at bu.edu/art.
Visiting the Gallery
BUAG has opened its new glass doors to BU students, staff, and faculty, with a few caveats. Due to the pandemic, visitors outside of the BU community are not permitted access, but virtual tours of the exhibitions will be available online. The gallery has also implemented new social distancing practices for this year, including a designated entrance, social distancing, and mandatory mask-wearing.
Follow @buartgalleries on Instagram for exhibition highlights, behind-the-scenes peeks at installation, and more!
---
Boston University Art Galleries
Dedicated to serving the Boston University community, as well as the Greater Boston and New England public, the Boston University Art Galleries are committed to a culturally inclusive and interdisciplinary interpretation of art and culture. Located within walking distance on the Boston University campus, the Faye G., James, and Jo Stone Gallery and 808 Gallery maintain an ongoing schedule of temporary exhibitions that focus on contemporary international, national, and regional art development. For more information, visit bu.edu/art.
Graphic Design at BU College of Fine Arts
The Graphic Design program at BU takes a studio-driven approach to design thinking and visual communication. With an emphasis on process and critical design thinking, the program sets itself apart as a maker-based design department set within an art school. The design faculty are leaders in the field who work closely with students to develop their technical and conceptual skills, challenging them to think creatively and strategically and placing them at the forefront of entrepreneurial thinking in the business world. Learn more about studying Graphic Design at BU!