Theatre students connect and empower Asian American artists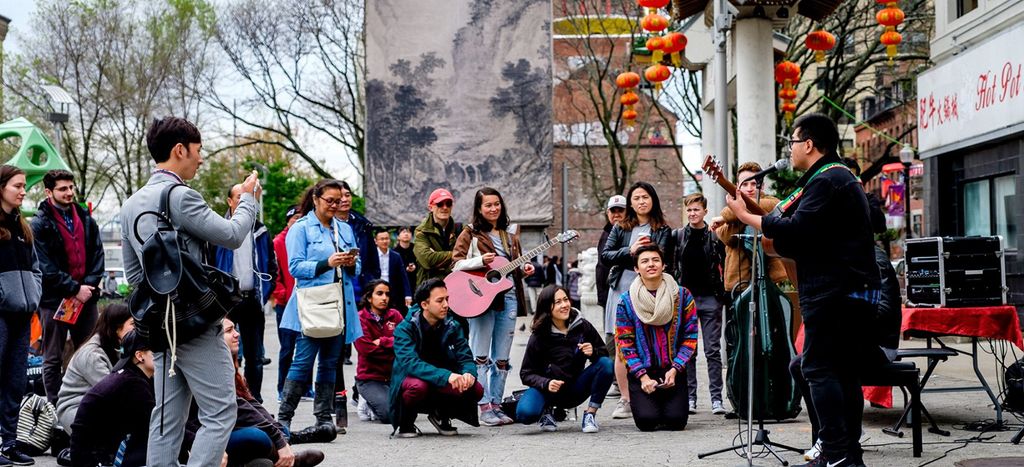 Interview by Priscilla Valdez (COM'19)
Sensing a unique need in their communities, artists and advocates Sarah Shin (CFA'19) and Michael Rosegrant (CFA'21), BU College of Fine Arts School of Theatre students, joined forces to launch the Asian American Theatre Artists of Boston (AATAB). The social collective has a mission "to empower and connect Asian American, MENA American, Kanaka Maoli theatre artists of the Boston area."
After regular potluck dinners for Asian Americans in the School of Theatre, Sarah and her classmates realized they wanted to expand this community and support system to others. "It's been very exciting to be in conversation with the Boston theatre community about how we can increase and maintain more diverse representation on and offstage show programming, casting, and accessibility," Sarah says.
After attending a conference and festival produced by the Consortium of Asian American Theaters and Artists in 2018, fellow Theatre Arts Performance major Michael Rosegrant was inspired to organize programming on behalf of the community of Asian American artists in Boston. Sarah and Michael applied for and won a CFA Seed Grant to kick off their first major event, and their project only grew from there.
Sarah, who recently graduated, hopes to instill confidence and drive for her peers to pursue their passions. "For the folks in our Asian community," she says, "I want to make clear that being an artist or being in the theatre is totally possible for them if they want to pursue it."
As AATAB prepares for a second season, its founders reflected on representation, getting their program off the ground, and expanding its impact on the community.
---
CFA: How did the idea for Asian American Theatre Artists of Boston originate?
Sarah Shin: When I was a freshman at BU I was able to be a part of the beginnings of a tradition where Asian American School of Theatre students would gather to have dinner together, bringing dishes and snacks from each of our heritages, and appreciating the community that was growing. Since [then] the dinners have gotten bigger, and I was becoming more aware of what the Boston-wide Asian American Theatre Artist community was like, which I thought would be really important for students to connect with because I personally found it harder to find role models and mentors that looked like me. I knew I couldn't do on my own. Luckily, Michael Rosegrant reached out to me this past summer about starting such a group, and I knew I found my partner. Starting with a Facebook group we were able to create a social collective with the mission to empower and connect Asian American, Pacific Islander American, MENA American, and Kanaka Maoli theatre artists in Boston. We want to create connections between artists, artists and Boston producing organizations, and students and professionals.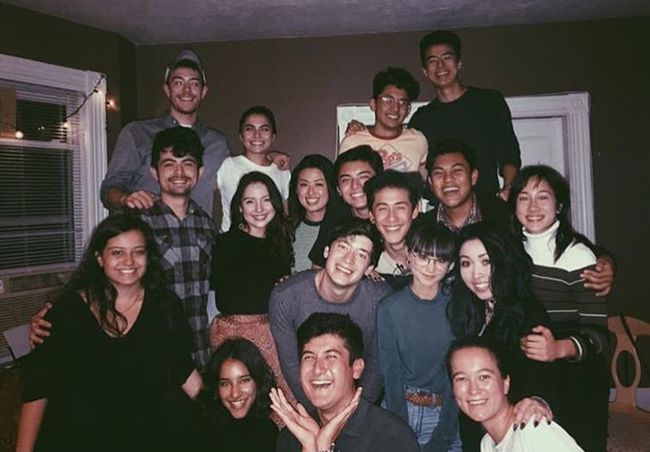 We wanted to reach out to students at other theater programs, like Emerson, Northeastern, Boston Conservatory, Harvard, MIT, and BC, to name a few. Still, it made sense to us to use our support systems from BU – our friends, the faculty, the facilities – and to take advantage of the resources offered to us as students.
We also considered the pathway of becoming a non-profit organization, and this could end up being the way to go in a few years, but for now it was not going to be manageable while we were still students taking classes and trying to fulfill college degrees. We've enjoyed staying grassroots and letting organizational roles form out of how our team works, rather than assigning roles and sticking to those expectations.
CFA: What what made you want to pursue this idea in the first place?
Michael Rosegrant: Last summer, I attended the biennial conference and festival produced by the Consortium of Asian American Theaters and Artists (CAATA). The 2018 "ConFest" was hosted by DePaul University and Victory Gardens Theatre in Chicago, and featured a week of workshops, play readings, full shows, and other events (including a protest!). Randy Reyes, President of the CAATA board, wrote a wonderful article in American Theatre magazine about our week-long festivities. One of the workshops I attended covered the step-by-step process of developing an Asian American theater group (based on the origin story of Philadelphia Asian Performing Arts). It was after this workshop that I felt equipped to try starting an Asian American theater collective in Boston.
CFA: How did the CFA Seed Grant support this initiative? And what was the ultimate outcome of the funding?
SS: The Seed Grant supported us in producing our first major event, a staged reading of This is Not a True Story by Preston Choi, paired with a post-show conversation. It allowed us credibility to find a co-producer, API Arts Network, which made presenting the event at the Pao Arts Center possible. The funding also allowed us to pay the actors, directors, and our community outreach manager a fair wage, which is not always possible for theatre and staged readings. One of the goals we listed in our grant application was seeking economic justice, and making sure the artists' work is validated through compensation.
CFA: What are your goals for AATAB in the upcoming school year and beyond?
SS: We've been able to have some big team members join us [including a Community Outreach Manager, and a marketing specialist] to help produce our future events. I think it's important that AATAB keeps being a student-powered organization because young people need to get invited and involved in the conversation about making Boston theatre more equitable, inclusive, diverse, and innovative. Already the Boston theatre community has been very welcoming so I am excited for all of the possible directions AATAB could go in.
We are still in the planning stages, but we've noticed while there were around eight productions programmed in the 2018-2019 season that centered on Asian stories, the 2019-2020 season so far has two. It's interesting because this past year we were feeling very excited about progress since it seemed to follow the momentum of Crazy Rich Asians' success, but now it's sort of feeling like it was a trend that faded out, which just isn't fair! So, I think AATAB has a lot of work ahead of us to present more of our stories and artists.
MR: Over the next couple years, AATAB will continue to partner with the API Arts Network and Pao Arts Center to bring diverse and inclusive Asian Pacific American programming to Boston. We have some exciting opportunities around the corner… and two general goals: one is to partner with Front Porch Arts Collective, "a black-led theatre company committed to advancing racial equity in Boston through theater," to empower the voices of all people of color in Boston through theatre. We want to program art of solidarity that creates space for any/all unheard voices. The second is to collaborate with other Boston-based Asian Pacific American collectives in the arts and otherwise such as Boston PEAR (Pilipinx Education, Advocacy, & Resources), Asian Glow Boston, and Asian-American Resource Workshop. If our work centers what we want to do over the community we care about, we start failing our mission.
CFA: Has the group been focused mostly around opportunities for BU students or have you been able to involve students or people from other schools or organizations?
MR: The group started BU-centered, however, we have been intentional in including other schools and the larger Boston Asian American theatre community. It was natural for us to begin with where we already were, as the Asian American students in the School of Theatre established a tradition of community dinners a couple years before I arrived. Starting from our close-knit community, we branched out by contacting friends and resources in the larger area: from folks I met when working on SpeakEasy Stage's Allegiance to contacts at Chinatown's Pao Arts Center to students from Boston College, Boston Conservatory, and other schools, we formed a digital network of Asian American theatre artists of all ages.
CFA: Why is AATAB's existence and success at BU and in the wider Boston community so important?
SS: I hope that AATAB can really grow to become a resource for Asian American theatre artists, and the general theatre community. Oftentimes I hear from theatre companies that they want to innovate and create more progress but they're still figuring out how to get more diverse folks to show up at auditions, interviews, and performances, and how to produce work that is outside of their comfort zone or experience, so I think it is important for the supporters and connectors to be there to help. And for the folks in our Asian community, I want to make clear that being an artist or being in the theatre is totally possible for them if they want to pursue it. I grew up not knowing there were other Asian American people working in the theatre writing and directing our authentic stories, and working to make change in representation, and when I learned about what was happening and who was out there I was confident that I could be a part of it too.
MR: AATAB is important because it offers two things: an affinity group, and an artistic outlet. And as Carmen Morgan, Director of ArtEquity, says, "we don't have affinity space to be divisive and to separate people; we have affinity space because it is often helpful for those individuals who have been historically pushed to the margins to have a 'for us by us' space where their voices can be centered." AATAB provides that space through our programming, Facebook group, and supportive presence around town. As an artistic outlet, we create opportunities for our community to be seen and heard through general meetings, open mics, and curated staged readings. By organizing as the collective of AATAB, we build strength and visibility in numbers so that the city will notice us.
Learn more about AATAB at aataboston.wordpress.com. 
This interview has been edited for clarity.