School of Theatre presents RUNAWAYS musical in Booth Theatre
Elizabeth Swados' musical RUNAWAYS continues the inaugural season of Boston University Joan & Edgar Booth Theatre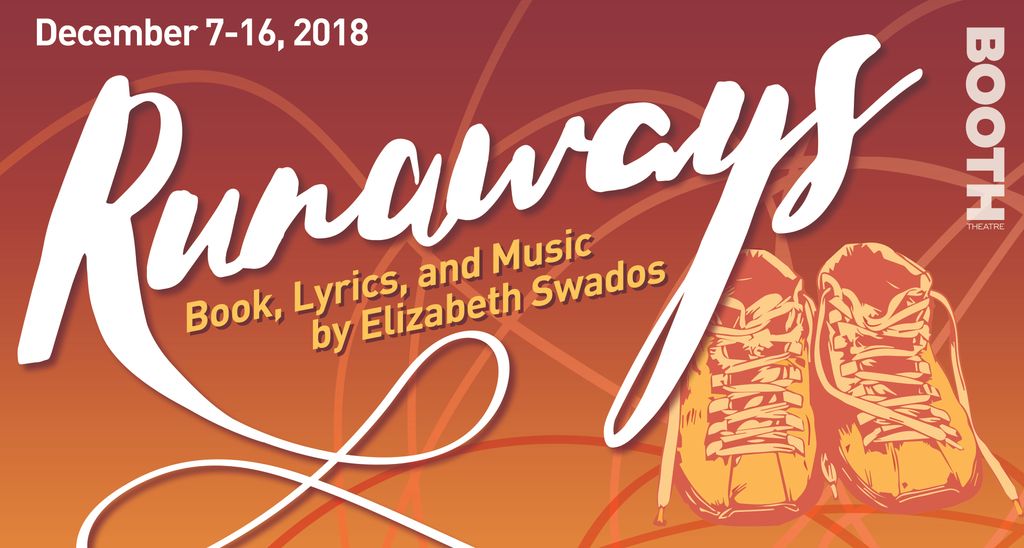 Boston University College of Fine Arts (CFA) School of Theatre presents the musical RUNAWAYS at Boston University Joan & Edgar Booth Theatre. With book, lyrics, and music by Elizabeth Swados, RUNAWAYS at Booth is directed by Elaine Vaan Hogue with music direction by Matthew Stern. This production of BU College of Fine Arts School of Theatre is sponsored in part by the Stewart F. Lane and Bonnie Comley Musical Theatre Fund.
The musical is a unique tapestry of songs, dances, and spoken-word pieces performed by youth who have run away from their homes. Initially created from interviews with homeless children and those in orphanages, Swados weaves together songs about personal struggle and the world at large through the eyes of youth in New York City in the 1970s. The show blends different musical styles, including pop, hip-hop, jazz, and reggae. RUNAWAYS was nominated for five Tony Awards and three Drama Desk Awards when first produced in 1978.
Director Elaine Vaan Hogue believes "that we are all runaways. It is a universal experience. We can all relate to running away from someone, a family, some place, a situation, something, a fear, a dream." The first musical produced in Booth Theatre, RUNAWAYS brings exciting challenges. Vaan Hogue says Booth "offers a wonderful playground in which to bring to life the playground on which these young people live and speak and sing their stories.
"The process of engaging and bringing to life this material has been and continues to be exciting and visceral. Tapping into the energy of this remarkable young ensemble – both actors and the creative team – is yielding a very personal and deep connection to the stories that Swados included in the musical… They are energetic, passionate, generous, and a font of creativity. RUNAWAYS provides a safe container through which they can express their own pain, joy, struggles, disappointments, hopes, fears, dreams."
According to School of Theatre director Jim Petosa, RUNAWAYS is "a masterwork by a pioneering woman of the American theatre, Elizabeth Swados. In a form largely dominated by male composers, lyricists and book writers, RUNAWAYS came to be at a time when the makers of musicals were drastically rethinking their notions about 'fit' subjects for musical theatre." This revival of RUNAWAYS in Booth Theatre will showcase its distinctive structure, method of storytelling, and unique challenges for today's audience.
The performances in Booth Theatre feature undergraduate and graduate students of the College's School of Theatre, the season showcases BU's programs in acting, singing, design, and production.  All productions are open to the public and give visitors an opportunity to experience firsthand the state-of-the-art new facility designed by Elkus Manfredi Architects. The season opened earlier in the fall with Tony Kushner's ANGELS IN AMERICA and will continue with the opera DOLORES CLAIBORNE and THE LATHE OF HEAVEN in 2019.
STEWART F. LANE AND BONNIE COMLEY MUSICAL: RUNAWAYS 

December 7 – 16, 2018
Book, Lyrics, and Music by Elizabeth Swados
Directed by Elaine Vaan Hogue
Music Direction by Matthew Stern
Friday, Dec 7, 8pm (Preview)
Saturday, Dec 8, 8pm (Opening Night)
Sunday, Dec 9, 2pm
Tuesday, Dec 11, 7:30pm
Wednesday, Dec 12, 7:30pm
Thursday, Dec 13, 7:30pm
Friday, Dec 14, 8pm
Saturday, Dec 15, 2pm and 8pm
Sunday, Dec 16, 2pm
Sponsored in part by the Stewart F. Lane and Bonnie Comley Musical Theatre Fund.
Tickets
$15 General Admission | $10 BU Alumni | Free with BU ID, at the door, day of performance, subject to availability
bu.edu/cfa/season or 617.353.3380
Joan & Edgar Booth Theatre and College of Fine Arts Production Center
820 Commonwealth Avenue
Boston, MA 02215
bu.edu/booth