BU Tanglewood Institute: From the Director's Desk | February 2018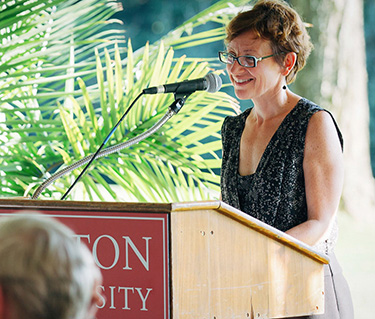 Greetings from all of us at Boston University Tanglewood Institute! This time of year is always exciting for the BUTI team—applications are being reviewed and summer plans are being solidified—and we look forward to what will be another electrifying summer at Tanglewood. We will welcome an accomplished faculty drawn from the BU School of Music, the Boston Symphony Orchestra (BSO), and experienced teaching-artists from around the world. We will host 2018 Visiting Artist Joseph Conyers, and will welcome back our brilliant artist-in-residence, Nico Muhly. And we will present a series of more than 100 concerts, recitals, and community performances throughout the Berkshire region. Stay tuned for the full BUTI performance calendar to be released in April. And in the meantime, visit the BSO website to learn more about our Seiji Ozawa Hall Concert Series.
Countless renowned musicians have a connection to Tanglewood, but perhaps none more visible than the preeminent composer, conductor, and pianist Leonard Bernstein. Inspired by the depth and breadth of his genius, all of Tanglewood will bring his contributions to the forefront in meaningful ways as we celebrate the Bernstein Centennial with the BSO throughout the summer.
But what happens at BUTI moves far beyond our summers in western Massachusetts. The BUTI community, ten thousand alumni strong, is regularly breaking the mold and bringing great music to new and expanded audiences:
Run by Women, Prototype Festival Showcases Diverse Composers, featuring composer Missy Mazzoli (BUTI'98) and producer Beth Morrison (Former BUTI Administrative Director)
Yeethoven II, Two Eras, One Radical Spirit, featuring conductor Yuga Cohler (BUTI'06) and composer Stephen Feigenbaum (BUTI'05,'06,'07)
As we learn of our alumni's accomplishments and contributions across the country and world, we're proud to have played a role in mentoring and guiding these young artists, if only for a few short, but life-changing weeks.
From concertgoers and Berkshire locals, to our generous donors and parents, to our expanding network of education partners like Boston Arts Academy (MA) and Suitland High School (MD), to our youth orchestra partners in places like Los Angeles, Portland, and Seattle, to invaluable organizational partners like the Montgomery Symphony Orchestra (AL), host of the Blount-Slawson Competition, and Sphinx—I want to extend my personal gratitude. With your ongoing support, partnership, and investment, we look forward to summer 2018 and the many years to come as BUTI continues the important work of inspiring and empowering the next generation of musicians.
With appreciation,
Hilary Field Respass
Executive Director