Studying the (Body) Language of Music
Originally published by BU Today.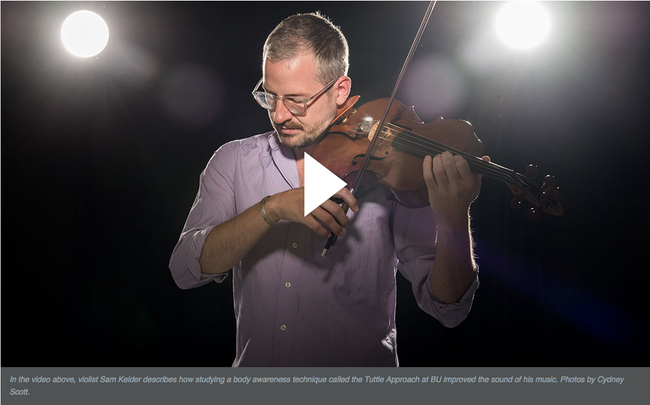 Samuel Kelder's bow glides across the strings of his viola as his six-foot frame sways to the rhythm of Bach's Suite No. 3 in C major. His body is loose, almost elastic, as he performs the prelude, coaxing his instrument through the complex arrangement with his eyes closed.
Acquiring the skill needed to play at this level takes relentless practice and devotion. And a good mentor.
The latter brought Kelder (CFA'17) to Boston University four years ago, much the way a professional athlete seeks out a talented coach. He came to begin a doctoral studies program in music studying under Michelle LaCourse, a College of Fine Arts associate professor of music, because of her expertise helping violists improve their body awareness and coordination.
Kelder says that playing the viola is "kind of a puzzle to get your body to cooperate. Your body needs to have a certain degree of coordination and synchronicity."
LaCourse, chair of the School of Music string department, is part of a small but influential cadre of viola instructors around the globe who specialize in the Tuttle Approach, which helps violists relieve the stress on their bodies to improve the quality of their sound.
Viola players often face special, if largely overlooked, challenges. Known as the Cinderella of string instruments because it is often in the shadow of the violin and cello, the instrument is larger than a violin and more unwieldy to play. Although its rich alto tones can be hauntingly beautiful—it's the closest of all string instruments to the human voice—violists must apply more pressure to its thicker strings to make it sing.
Basically, it can be awkward and uncomfortable to play.
As a result, those who practice viola for hours daily from a young age, joining ensembles, quartets or orchestras to hone their skills, often suffer from aches and repetitive stress injuries or play through outright pain.
Like many violists, Kelder began by playing the violin. He was six when he took up the instrument. It wasn't until his early 20s that he tried the viola for the first time. He was instantly smitten.
"It was this revelatory moment," he says. "I thought, I've found my voice."
That passion would launch him in a new direction and guide him through the years of intense practice necessary to technically master the instrument. He graduated from the University of Houston and later from the Mannes School of Music with a master's degree, performing in countless string quartets, orchestras, and festivals to refine his skills. He also cultivated an interest in playing edgy contemporary music in electrified ensembles.
Now 29, Kelder says he's lucky he hasn't been injured or forced to play through pain, but the relentless schedule took a toll on his body, making his neck and shoulders ache. He was playing at the Green Mountain Chamber Music Festival in Vermont when he learned about LaCourse's work from a fellow violist, who pushed on his sternum as he played, relieving a strain in his shoulder.
"I thought, how did I not know I was playing in this weird and contorted way?" he says.
That brought him to BU, where LaCourse, winner of the 2009 Metcalf Cup and Prize, BU's highest teaching honor, has been teaching music for more than 20 years. LaCourse is a disciple of noted viola player and instructor Karen Tuttle, who encouraged violists to tap into their emotions and channel them into their music. Tightness in a player's body can affect the quality and richness of the viola's sound, the thinking goes, so violists benefit from learning, or relearning, how to play in a free and natural state.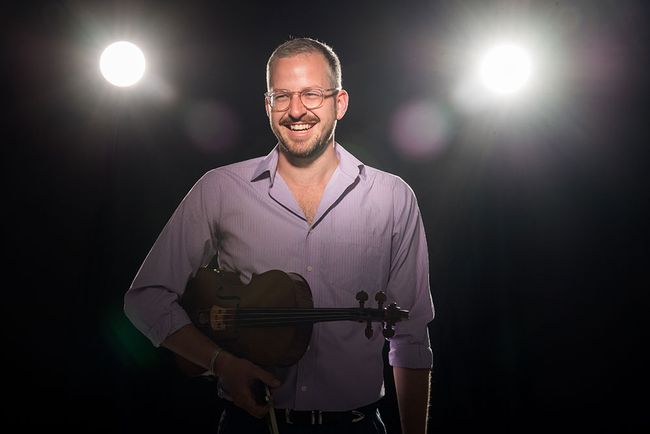 "How do you make beautiful music?"
Tuttle's teaching, although widely respected, had some unconventional elements. Teaching at Julliard in the 1990s, she taught freshmen that playing the viola is about communicating, much like lovemaking, and encouraged the exploration of repressed feelings as a way to free the body.
Tuttle played with eminent cellist Pablo Casals and studied in depth the technique of Scottish violist and teacher William Primrose. She died in 2010, although many of her students continue to teach her methods.
LaCourse is one of the foremost experts on the Tuttle Approach. She studied with Tuttle for years, as an undergraduate, grad student, and teaching assistant at the Peabody Conservatory. After she graduated, she regularly visited Tuttle at her Philadelphia home to play for her, and she had a successful career as a viola soloist and chamber musician on four continents.
She says that while the sexual aspect of Tuttle's teaching may draw the most attention, it really wasn't about that.
"It was about: how do you make beautiful music?" LaCourse says. "You need to play accurately and with good articulation to make a beautiful sound. But there's so much more to being a very special player who has something to say with their music."
Getting rid of unnecessary tension in the body instead of playing through aches and pain is one step. "Karen Tuttle recognized that the more comfortable one is with their own body, the better everything functions," she says.
Such strategies have become increasingly popular and necessary as music students begin playing intensively at younger ages, putting them at risk of injury sooner, LaCourse says. BU is home to two orchestras and about two dozen viola players living in an age that sees them tightening their bodies as they hunch over a computer or text messages on mobile phone keypads.
"These days I find students have overdeveloped thumb muscles—they're doing so much with their thumbs that they tend to grip the bow much harder," she says. "I run into much more severe cases of this than I used to."
For Kelder, the proof is in an improved sound. He says he's better at spotting tension in his body and addressing it as he plays. A regular yoga practice has helped him too. And what he's learned, he says, will also help him in the months and years to come as he auditions for high-stakes positions in globally renowned orchestras and philharmonics.
"I believe that I have grown emotionally while studying coordination, but it seems like something that will be an ever-evolving understanding," he says. "I don't think anything about music-making is permanently achieved, but is always in a state of growth and flux."
LaCourse says the ultimate benefit is that he has made his musical voice more interesting.
Kelder agrees.
"I have a psychological understanding of myself as a human being," he says. "It's been about trying to learn my body and know my fears. The by-product is a better musician."