GRAMMY Award-Winning Conductor Bramwell Tovey Appointed Director of Orchestral Activities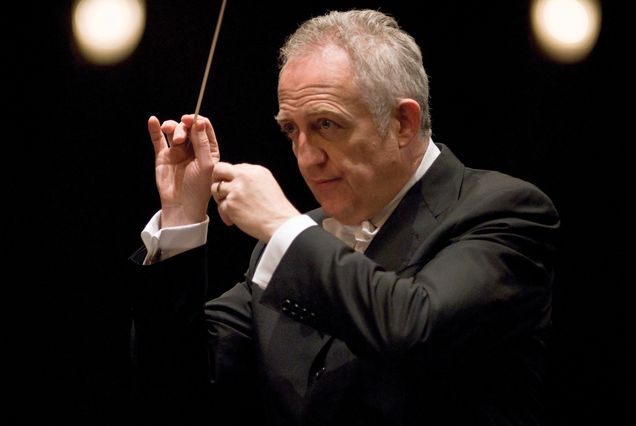 Boston, MA – Boston University College of Fine Arts is pleased to announce the appointment of Bramwell Tovey as Director of Orchestral Activities for BU School of Music. Tovey succeeds David Hoose, who led the program from 1987 to 2015. Tovey begins his new role at Boston University in the Fall 2017 semester with his first public rehearsal scheduled during BU's Alumni Weekend in September.
"Bramwell Tovey's extensive career, both as a conductor and a teacher, brings renewed energy and experience to the School of Music at Boston University," says Lynne Allen, Dean ad interim of Boston University College of Fine Arts. "His fresh ideas and incredible knowledge of repertoire in performing and engaging audiences offer our students exceptional experiences and viewpoints about classical music today. We are delighted to have him join our ranks and look forward to new and exciting music performances."
British composer and conductor Bramwell Tovey was appointed Music Director of the Vancouver Symphony Orchestra (VSO) in 2000. Under his leadership the VSO has toured across Canada and the United States as well as to China and Korea. His guest appearances for the 2015-16 season included the New York Philharmonic, the Los Angeles Philharmonic, the Cleveland and Philadelphia Orchestras, and the Boston, Chicago, Montreal, Melbourne and Sydney Symphonies. Tovey is also the Artistic Adviser of the VSO School of Music, which provides music education opportunities to students of all ages. Beginning with the VSO's 100th season in 2018, Tovey will assume the title of VSO Music Director Emeritus.
"As a conductor and pedagogue, Bramwell Tovey is known to audiences around the world. Boston University School of Music in the College of Fine Arts is thrilled to welcome him to our faculty," explains Shiela Kibbe, Director ad interim of BU School of Music. "We know that his appointment will inspire current students, and anticipate that alumni across the profession, as well as prospective students and their families, will celebrate this important moment for the orchestral program."
Among his many noteworthy accomplishments, Tovey and the VSO, with violinist James Ehnes, won a GRAMMY® and a JUNO award in 2008 for their recording of Barber, Korngold and Walton concertos. In 2015, Tovey was awarded the Oscar Morawetz Award for Excellence In Music Performance and donated the $20,000 award to the VSO School of Music bursaries to study with VSO musicians. Also a noted composer, Bramwell Tovey won the JUNO Award for Best Classical Composition in 2003 for his choral and brass work Requiem for a Charred Skull. In addition to being an accomplished conductor and composer, Tovey is a talented pianist and has appeared as a soloist with many major orchestras including, Los Angeles, Melbourne, New York, Pittsburgh, Sydney, St. Louis, Toronto, and Royal Scottish orchestras.
Tovey is a graduate of the University of London and the Royal Academy of Music of which he was elected an honorary Fellow in 2004. He is also a Fellow at the Royal Conservatory of Music in Toronto and holds honorary degrees from the universities of British Columbia, Kwantlen, Manitoba and Winnipeg.
Tovey's first public appearance on a BU podium will occur during Alumni Weekend, at an Open Rehearsal with the BU Symphonic Orchestra on Friday, September 15 at 11:30am. The repertoire being rehearsed will be: Sergei Prokofiev – Romeo and Juliet: Suite from the Complete Ballet, Op.64; Frederick Delius – The Walk to Paradise Garden (from "A Village Romeo and Juliet"); Pyotr Ilyich Tchaikovsky – Romeo and Juliet Overture-Fantasy. Tovey will subsequently conduct that repertoire at the BU Symphony Orchestra Concert on Wednesday, September 27 at 8:00pm at the Tsai Performance Center, 685 Commonwealth Avenue. This event is free and open to the public. Later in the season, on Monday, November 3, Tovey and the BU Symphony Orchestra will perform at Boston's Symphony Hall. This concert will feature the music of Lili Boulanger – D'un matin de printemps; Igor Stravinsky – Pulcinella Suite; Igor Stravinsky – Le Sacre du printemps. Tovey will also conduct BU Symphony Orchestra concerts on March 1 and April 30, both at Tsai Performance Center.