A conversation with Maestro Bramwell Tovey
New conductor talks joining the School of Music, expressing deep human narratives through conducting, and getting down to the music.
Spark Volume 3, Issue 2 | by Emily White
Spark spoke with renowned conductor Bramwell Tovey, who joined Boston University as Director of Orchestral Activities this fall. Since 2000 he has served as Music Director of the Vancouver Symphony Orchestra (VSO), and will assume the title of Music Director Emeritus beginning in 2018.
Among his many noteworthy accomplishments, Tovey and the VSO, with violinist James Ehnes, won a GRAMMY® and a JUNO award in 2008 for their recording of Barber, Korngold and Walton concertos. In 2015, Tovey was awarded the Oscar Morawetz Award for Excellence in Music Performance. Also a noted composer, he won the JUNO Award for Best Classical Composition in 2003. In addition to being an accomplished conductor and composer, Tovey is a talented pianist and has appeared as a soloist with many major orchestras around the globe.
Speaking about Tovey's appointment to the College of Fine Arts, Shiela Kibbe, Director ad interim of the School of Music, says, "students and faculty alike are delighted with Bramwell's arrival, and orchestral energy is positive. I believe his leadership will bring important changes to the program, and I anticipate that alumni across the profession, as well as prospective students and their families, will show enthusiastic interest as the orchestra flourishes under his expertise."
Spark: Welcome to Boston University College of Fine Arts! What are you most looking forward to in your work with BU Orchestras and guiding the future of the program?
Bramwell Tovey: Working with students is incredibly stimulating. They question everything and have a thirst for understanding and knowledge. Being a 21st century orchestral musician is completely different even from say, 50 years ago. There are well known and understood economic challenges in the orchestra business, for sure, but the most challenging aspect of the orchestral world remains how to function at a high level as an ensemble while satisfactorily interpreting music that might have been written yesterday or 300 years ago. My role at BU is to prepare our students for that new world while ensuring that the very reason they became musicians in the first place remains inviolate—to express the inner human narratives articulated by composers.
Spark: How do you approach conducting a new orchestra? 
BT: When I was younger this was an arduous undertaking. Would the orchestra respond to my direction? Would I be able to inspire and lead this particular body of musicians? As I've reached this point in my career and with the benefit of four decades of conducting experience behind me and the wonder of the Internet meaning that everyone can know almost everything about you by the time you arrive at rehearsal, it means I can start straightaway focusing our attention on the score in hand. It's so much simpler than I realized – it's not about me at all, it's all about the music.
Spark: Along with many other tours and guest appearances, you have previously performed with the Boston Symphony. What has it been like to return to Boston and work with Boston University musicians?
BT: I took the position at BU because so many BSO musicians and members of the administration told me I'd love it, and they weren't wrong. Boston is one of my favourite cities and conducting the BSO regularly at Symphony Hall and Tanglewood has only made me love the city more. Coming to BU and settling into being part of the musical fabric of Boston is proving immense fun and very rewarding musically.
Spark: What about BU and the School of Music made you consider this position?
BT: I'd toyed with the idea of academia for years but life was always so busy. I'm just relinquishing the music directorship of the Vancouver Symphony in Canada after an incredibly happy 18 years. I'd heard about the BU position from a friend in the BSO and chatted about it with my agent and family who all knew how much I enjoyed teaching at various summer courses and masterclasses. The job description included the desire of BU to recruit a conductor with a continuing national and international career so I allowed my name to go forward. To me that spoke volumes about BU's commitment to excellence.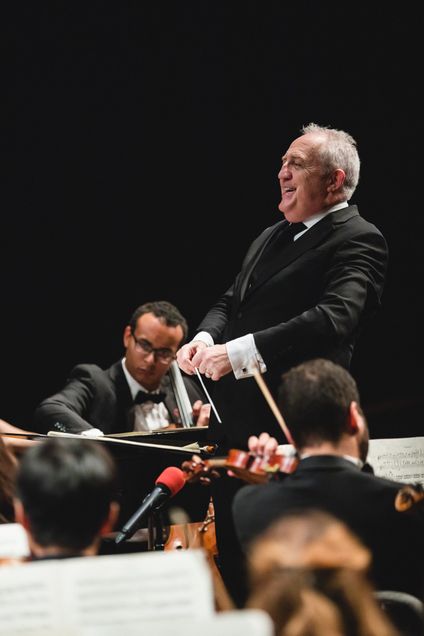 Spark: What is the repertoire of the November concert at Symphony Hall? Can you describe the significance of these selections?
BT: Lilian Boulanger D'un matin du printemps, Stravinsky Pulcinella Suite and Le Sacre du Printemps. Lilian Boulanger died in 1917 aged only 24. She was the younger sister of Nadia Boulanger, the famous conductor and pedagogue and mentor of 20th century composers. Lilian grew up in Paris during the glorious years of Diaghilev's Ballet Russe. Stravinsky's huge masterpiece Le Sacre was premiered in 1913 and his chamber orchestral masterpiece Pulcinella in 1920 in the economic aftermath of the Great War when resources were scarce. Both works received their first performance in Paris. So, the music for this concert was conceived and composed within the decade after 1910. It's one of music's great might-have-beens to imagine what Lilian Boulanger might have composed had she lived. Our concert, while thrilling to hear BUSO and BUCO tackle the two great Stravinsky masterpieces, is also a reflective tribute to Lilian.
Bramwell Tovey's first formal concert at Boston University was held on September 27, where he conducted the BU Symphony Orchestra Concert at the Tsai Performance Center. On November 13, Tovey and the BU Symphony Orchestra perform the music of Lili Boulanger and Igor Stravinsky at Boston's Symphony Hall. He will conduct BU Symphony Orchestra concerts on March 1 and April 30, both at Tsai Performance Center.
Purchase tickets for Boston University at Symphony Hall at bso.org.