CFA Alumni
Designing for the Ice
Get to know rising star Niko Cohen
Niko Cohen jokes that they emerged from the womb watching anime. They learned Japanese in order to better understand the cartoons. They applied to the School of Theatre's costume production program with a portfolio of anime cosplay designs. And watching the anime series Yuri!!! on Ice inspired Cohen ('20) to take figure skating lessons at BU.
Cohen's mix of anime-inspired skills led them to Yumi Couture, where they spent two years working for Olympic figure skating costume designer Yumi Barnett-Nakamura. In 2022, Cohen established Lavender Thread Co. in Brighton, Mass., and began creating their own designs.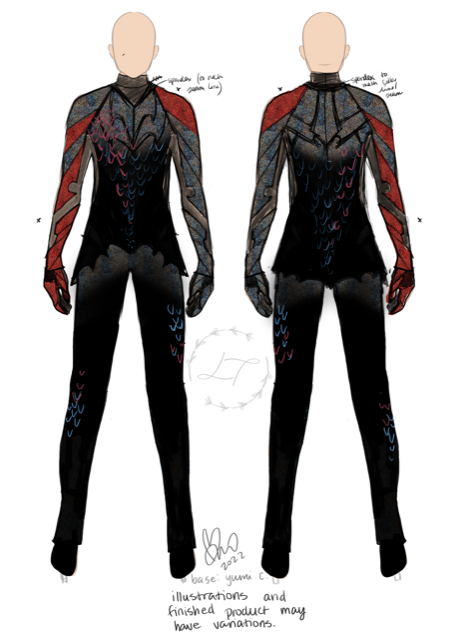 CFA: What makes a good figure skating costume?
Cohen: A good costume makes the skater feel really good and empowered. And it also fits with the music and packages the skater appropriately for what they're trying to present and perform.
Can a costume impact judging?
One hundred percent. Skating is a very competitive sport, but it's also a performance art. Your score includes your general skating skills, your performance, and your characterization. Costumes are a part of that.
How do you create a design?
When I receive the music, I like to listen to it on repeat and think about how it makes me feel, what colors, shapes, and movement I think about when listening to it. While in a design meeting with the skater, I sketch out ideas as I ask them their thoughts on what they'd like, while also taking into consideration input from their parent, coach, and choreographer. I try to prioritize the skater, since they're the ones who have to wear the costume.
---

Skating is a very competitive sport, but it's also a performance art. Costumes are a part of that.

---
What's your vision for your new company?
It's to make gorgeous costumes for figure skaters that they feel and look great in. At the same time, I want to break down what barriers I can in the sport. I'd like to offer semicustoms, rentals, and recycling to help alleviate the financial burden that comes with skating. I want to be thoughtful in supporting athletes in an environment where eating disorders and negative self-image are too common. I want to figure out how to help tackle the racism, homophobia, and transphobia in the sport. I want to enhance the figure skating community through costume design and production, in a way that allows me to be authentic to myself as an artist, athlete, and a person.
This Series
Also in
October 8, 2021

June 10, 2021

November 6, 2020