An Orchestra for All
Nicholas Brown is on a mission to make classical music more accessible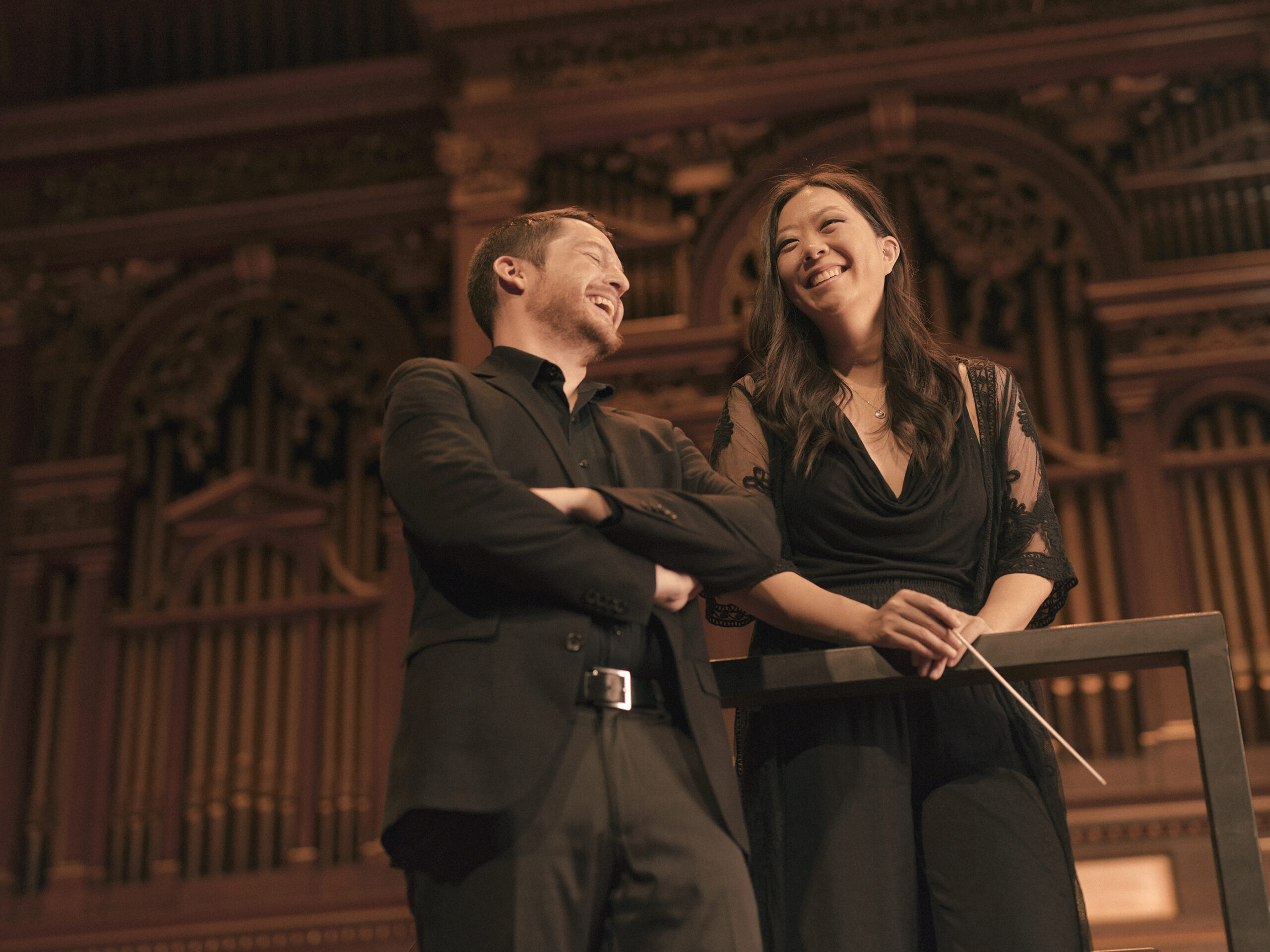 Music
An Orchestra for All
Nicholas Brown is on a mission to make classical music more accessible
Nicholas Brown is the principal clarinet with the New Bedford Symphony Orchestra and second bass clarinet with the Boston Lyric Opera. With an undergraduate degree in performance from BU and a master's from the New England Conservatory of Music, Brown ('15) also freelances with the Boston Pops, Boston Philharmonic, Landmarks Orchestra, and others.
In 2019, the Maine native was trying to establish a career in Boston as a working musician and noted the dearth of gigs in the summer. He worked as community outreach coordinator for the North End Music & Performing Arts Center, connecting culture to underserved communities, ranging from music classes to concerts, and taught in the New Bedford Public Schools.
A light bulb went on. Maybe he could provide work for himself and his colleagues and also spread their brand of beautiful music to people who don't normally get to hear it. He needed a collaborator, though, and found the ideal one in his friend Alyssa Wang, assistant conductor of the Boston Ballet and a concert violinist.
In November 2019, they founded the Boston Festival Orchestra (BFO). Brown is the organization's executive director and plays clarinet in the orchestra; Wang is artistic director and principal conductor.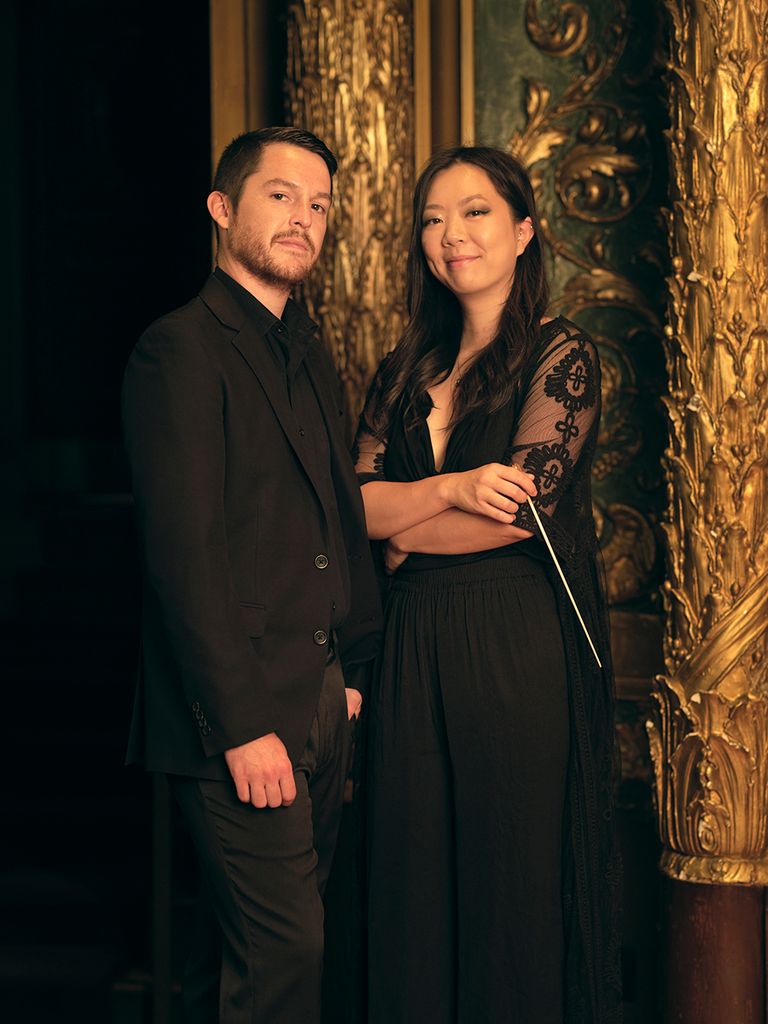 The BFO offered no in-person concerts in 2020 besides a couple of small introductory recitals just before the pandemic. But in 2021, they managed three sold-out concerts at the Boston Center for the Arts (BCA) Calderwood Pavilion.
In July 2022, they held three concerts at the 1,100-seat Jordan Hall, three times the size of the previous venue.
CFA spoke with Brown about bringing his idea to fruition, his partnership with Wang, and his hopes for the orchestra's future.
CFA: Tell us how you and Wang got started.
Nicholas Brown: We met in class our last semester, when we were studying for our master's degrees at the New England Conservatory (NEC). It was a class called All About Bach's St. Matthew Passion, and our friendship started with talking about how much we loved the class. We clicked personally, we clicked musically, and then we graduated. She said she was going to be sticking around Boston, which was always my plan, and I said, "Oh, we should chat."
I've always struggled to understand why so few musicians stay in Boston after graduation. They graduate NEC and either move to New York or they go back home. But in the summer there's not a lot of [concert] work in the city—thank God I teach. Finally, I thought, Alyssa wants more conducting work, too, and the city of Boston needs more work over the summer for all these incredible musicians I work with.
So, Alyssa and I met at Caffè Nero in Brighton, and I pitched her my idea. We each came up with our own timeline, so we could be sure our visions aligned, and honestly, it was a mirror image—what we each wanted, how it was structured. And it's pretty much been like that ever since. She wears her hats and I wear mine. We have been able to work side by side, stay in our lanes, but ask for help when we need it.
How did you choose the musicians?
We wanted a diverse group, across all races, ethnicities, and ages. With a lot of new projects, you see people hire all their friends, which is fine. But it can very quickly become an orchestra of all 26-year-olds or all 64-year-olds, and we needed that not to be the case.
This is where my freelancing for years has really come into play, because I had this whole network of incredible talents, from fresh out of college to approaching retirement. We each put out a whole list of every single person we knew who played an instrument in the Boston area, and then we started putting the puzzle pieces together.
We took it to those closest to us first, and said, "This is our project. Would you be willing to be part of it? We want this to be a long-term thing, where each year you are guaranteed this amount of work, and we want you to help shape this organization." And all these conversations were met with extreme gratitude and well wishes, and most of them accepted. We had a similar conversation with the Boston Musicians' Association, so all of our musicians are fairly compensated.
[In 2021] we had 60 musicians take part; the most ever onstage was 51. [In 2022] we added 13 new positions, to almost 75 total, but we had about 60 maximum onstage at any one time.
There's a phrase in your marketing materials that's sort of a slogan: "Music is the answer." What is the question?
That was our response to COVID-19, pretty much. What started as our legacy quickly transformed into a way to heal, especially after all the social unrest across 2020. People were asking huge questions about race in America and policing and other issues.
BFO is by no means a political or social organization, but we thought, as clichéd as it is, music really can be a kind of universal language. It can be healing, transformational, supportive, cathartic. It satisfies so many human needs. And beyond that, it provides for our musicians, it adds to our economy.
---


When Alyssa and I started talking about ways to grow BFO, we knew we needed to get into those untapped communities—communities that would love to go to a concert, but probably would never seek it out on their own.

---
How are underserved communities part of that?
When I came back to Boston to finish my degree at NEC after a couple of years in Chicago, I got involved with the North End Music & Performing Arts Center. Their tagline is "music for all." I taught and I got involved with administration and that really struck a chord with me. And as the social landscape started changing, I realized we could be a huge part of expanding music in Greater Boston.
When Alyssa and I started talking about ways to grow BFO, we knew we needed to get into those untapped communities—communities that would love to go to a concert, but probably would never seek it out on their own, especially if they had to travel too far or pay $50 or $100 or $200 for a ticket.
From there, we started developing community partnerships, approaching organizations we thought would benefit from the music. Our goal is for 10 solid partnerships, and we've reached out to organizations such as Horizons for Homeless Children, the Boston Center for Refugee Health and Human Rights, Big Brother/Big Sister, and Tunefoolery.
How are those outreach efforts going?
Our first entry point is to establish connection and trust with those communities who might not feel comfortable going into that concert hall. We've offered blocks of tickets to their administrators to give to their communities, and free or heavily discounted tickets for their staff and volunteers. And we're preparing an educational packet for them on the symphony orchestra.
There are all these preconceived notions—you show up in your Sunday best, you're silent, you wait for other people to clap before you do, you don't speak. We want to make people realize there's a lower threshold for the casualness of these concerts. It's an entry point.
And we're in conversations to send a musician or a chamber group to these programs onsite, to be on their home turf.
So, Wang gets to be artistic director and you get all the dirty work like budgets and contracts?
I've always juggled tons of different things. I don't want to say I'm easily bored, but I need a whole bunch of stimulation professionally to keep me going. I'm definitely one of those people who works better under pressure, with deadlines and high stakes, and if this isn't that, I don't know what is.
My work with the North End center has been very, very helpful. I got to see how Sherri Snow ('06), the executive director, did all these things. She continues to be a mentor on how things work for nonprofits, dealing within the city and contractors and things like that. I went to her when I was trying to choose a bank. And when the season starts, we have Rebecca Mansfield (MET'21), a former marketing coordinator with the Handel & Haydn Society. She comes on as general manager seasonally and ramps up at concert times, dealing with the front of house and that sort of thing.
By the way, what's with the word "festival"?
In classical music, festival orchestras are orchestras that typically operate during the summer.
It must be tremendously satisfying to see what has come from your idea…
Alyssa and I feel so lucky to have so many high-level artists who've become good friends and confidants, and to have had them all in one place last year, especially after the pandemic. To make it back onstage for the first time, surrounded by some of the best musicians and closest friends I've ever had, and to have that happen out of my and Alyssa's hard work, is something I will never forget.
Long-term goals?
I had originally envisioned it as a five-program season, and we will do at least four next year for season three, with an educational component, a little different experience. We have bigger dreams in the pipeline for a decade down the road, but that involves far too many moving parts to get into right now.
And we will always take off July 4 weekend. The Pops has that locked down. I would never come close to that!