The Clothes Make the Character
Costume designers Joyce Kim Lee and Natalie Turturro Mettouchi dress performers for success
Theatre
The Clothes Make the Character
Costume designers Joyce Kim Lee and Natalie Turturro Mettouchi dress performers for success
The first episode of the Amazon Prime series Hunters begins at a sunny waterfront BBQ. Kids splash in a pool. Adults sip beers on the lawn. A man in a KISS THE COOK apron works the grill and gregariously welcomes guests. It's a surprisingly cheerful scene for a show about vigilantes hunting Nazis—until things take a sudden, violent turn. A flurry of bullets leave the cook standing alone, gun in hand, surrounded by the bodies.
"The opening of Hunters was supposed to be jarring," says Natalie Turturro Mettouchi, an assistant costume designer on the show's first season. "We think we're at a BBQ among coworkers, but then all of a sudden we find the wolf in sheep's clothing." Mettouchi ('10) is speaking metaphorically, but clothing does play a critical role in rapidly establishing, then upending, viewer expectations in just three minutes.
Edith Head, arguably the most famous costume designer ever, summed up her work near the end of her career. "What a costume designer does is a cross between magic and camouflage," the eight-time Academy Award winner (and 35-time nominee) for costume design told American Film in 1978. "We create the illusion of changing the actors into what they are not."
In Hunters, that illusion is created by a mix of festive pastels and floral prints. High waistlines establish the late-1970s setting. And the whimsical apron accentuates the murderous turn of the cook, played by Dylan Baker.
"What do people first see when they watch a television show?" says Joyce Kim Lee, a four-time nominee and onetime winner of a Daytime Emmy for her work on the Nickelodeon kids' series The Fresh Beat Band. "They see the actor and what they're wearing—and it informs you in a second."
Costume designers play an integral role in creating the illusion of character identities and the believability of historical eras or fantastical locales. They find or make costumes for the stars, supporting actors, and background cast—and in the process help each to embody their character. Lee ('93) and Mettouchi arrived at CFA from different directions—Lee was premed before discovering a costume design exhibit and transferring to CFA, while Mettouchi began designing costumes in high school—but they graduated with a shared outlook on their craft: costumes are all about enhancing a story.
Studying the Fashion
Over their careers, Lee and Mettouchi have dressed ballet dancers, stage actors, opera singers, and movie stars. They've designed a variety of costumes, from surfing outfits to spacesuits. But they have a singular focus: character building.
Lee starts each project by combing through the script and figuring out what the writer has—or hasn't—included. "You try to find clues," she says. If she can, she'll begin collecting images that might inspire each character's look. And when a script is light on specifics, Lee asks the writer what details they had in mind that didn't make it onto the page. "This character is 'dressed funny'—what does that mean?" she says, as one example.
As the costume designer for Surfside Girls, a 2022 Apple TV+ show, Lee was responsible for creating the looks for the show. Jade (Miya Cech) and Sam (YaYa Gosselin) are the leads who portray teenage surfers growing up in contemporary California. The two had very different styles and cultural heritages that Lee drew inspiration from, plus, she says, the script was packed with hints about the characters. Jade, a "fashionista" and Chinese American, wears cool jumpsuits, bomber jackets, and boots and shows off her academic interests with science-themed T-shirts. Sam, a Mexican American, favors "function over fashion" and wears Baja hoodies and jean shorts. Lee also wanted to create a visual link between the girls, so she invented a backstory in which they bought matching friendship bracelets that they wear everywhere.
Natalie Turturro Mettouchi has worked as an assistant costume designer on New York City period dramas, including The Marvelous Mrs. Maisel, set in the cafés and comedy clubs of the 1950s and 1960s. Pictured are characters from the show, including, from left, Midge Maisel (Rachel Brosnahan), Maisel's father, Abe (Tony Shalhoub), and Maisel's mother, Rose (Marin Hinkle). Album/Alamy Stock Photo (Midge) and Amazon/Kobal/Shutterstock (Abe and Rose)
Mettouchi has worked on a string of New York City period dramas. Her process often begins with historical research. The Marvelous Mrs. Maisel is set in the cafés and comedy clubs of the 1950s and 1960s; The Deuce tells the story of the pornography industry's rise in the 1970s; and Hunters, set in the late 1970s, is inspired by the real events of Operation Paperclip, a controversial US intelligence program that brought more than 1,000 Nazi scientists and engineers to work in the US after World War II. Despite some overlaps in time and place, these projects' costumes had little in common. Each section of New York City has distinct characteristics: uptown styles differ from downtown styles, high society contrasts with street fashion.
To prepare, Mettouchi watches films set in the era she's studying. Kramer vs. Kramer, the Meryl Streep–Dustin Hoffman legal drama, was a helpful source of 1970s inspiration. She also references photography books like Terminal Bar (Princeton Architectural Press, 2014). That collection of photographs taken by bartender Sheldon Nadelman of his patrons between 1972 and 1982 helped her understand how the characters of The Deuce—set in the same neighborhood as the bar—should dress.
Mettouchi conducted extensive research while on costume designer Anna Terrazas' team for the first and second seasons of The Deuce, which starred Maggie Gyllenhaal, left, and Gary Carr, right. She sourced vintage clothing and fabrics, including for Gyllenhaal's jumpsuit pictured at left. HBO/Kobal/Shutterstock
There's no detail too small when it comes to creating an authentic look. Even undergarments that aren't revealed to the camera can be important. "They create this silhouette that takes you to a different time period," Mettouchi says. She knows that attention to detail will help draw viewers in and orient them to the characters' world.
"What fuels me is the story," Mettouchi says. "It's about putting yourself in other people's shoes and learning about them, and their worlds, and alternate realities."
The Right Fit
In the race to gather everything that a costume department might need for a production, shoppers scour local retail shops, vintage stores, online vendors, specialty rental houses, eBay, and Etsy. Their discoveries are sorted and racked by size, type, color, and pattern. One team works with the lead actors, another with supporting actors, and a third with the background—the people without speaking roles. Tailors make adjustments or, if something truly unique is needed, build a custom piece.
The apron for the opening scene of Hunters was a team effort: they bought several copies of a plain apron, and a member of the design team created the artwork for screen printing. During filming, someone had to be standing by to clean fake blood from the aprons in case the director needed more takes than they had costumes. For one of the lead actors, Logan Lerman, who had to embody a young New Yorker, the costume team wanted a very specific and authentic look. "We referred to Levi's archives," Mettouchi says. The jeans company then helped them recreate several pairs of vintage pants. And for Lerman's costar, Al Pacino—who plays a Holocaust survivor and philanthropist—head costume designer John Dunn created custom suits.
"We pay a lot of attention to the types of garments and fabrics, based on the character's socioeconomic status," Mettouchi says. "Where would they have shopped? How often would they have worn something?" If the answer to that last question is "often," then a garment is sent to the ager/dyer, who is responsible for making clothes look used.
The costumes must fit the overall look and feel of the project, so close collaboration with the production designer is critical. Lee collects paint chips and color samples from each set to avoid accidentally putting someone in a red shirt if they'll be filmed standing in a red room or sitting on a red sofa. Because some of the Surfside Girls locations had to be filmed with a green screen backdrop—the locations were added digitally in postproduction—Lee couldn't choose clothing that included any green in those scenes.
Each costume must eventually be approved by the director, showrunner, and perhaps even studio or network executives. But before that, costume designers need to make sure the options work for the actors. Do any of them have allergies to a particular material? Ethical objections to wearing leather or fur? Tattoos to cover?
---

What do people first see when they watch a television show? They see the actor and what they're wearing.

---
To avoid putting an actor in that position, Lee takes advantage of her limited time alone with each cast member. "I say, 'When I submit these costumes to the director and showrunners, what happens after that is out of our hands—but while you're in my fitting room, let's have some fun and try to find this character.'"
"It's the actor who is on camera, and my job is to provide them with the tools to feel like they've found the character," Lee says. But actors don't always speak up—or have a choice—when they're uncomfortable with something. Lee recalls a friend who dreaded going into her dressing room every day for six weeks because of what she had to wear.
For Lee, Surfside Girls was a rare opportunity to work on a project for which she felt a personal connection. The show was created, written, and directed by women, and starred a family of Asian descent. Lee was particularly interested in adding small details that helped to define Jade's family. She worked with the actors, director, and showrunner, for instance, to figure out how the characters could remove their shoes quickly when they entered the house. And she gave Jade delicate pieces of gold jewelry—a contrast to her friendship bracelets—meant to be gifts from her father, who was often away from home on business. Lee recalls seeing very few Asian faces on television when she was growing up, so she was proud to help create characters who her own children could watch.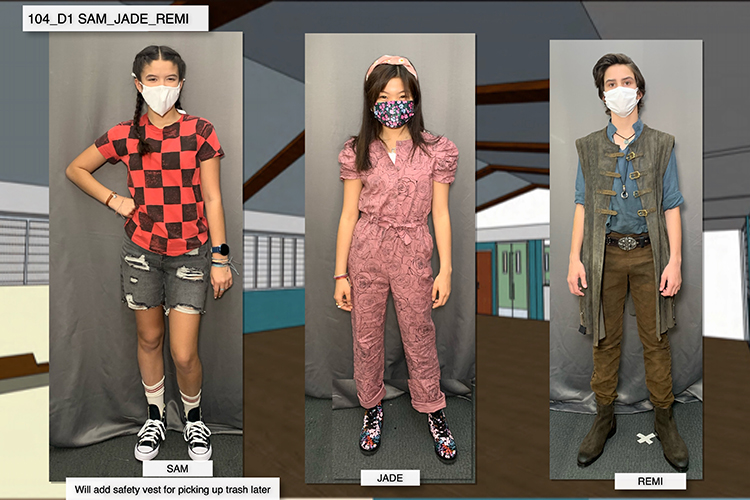 Costume fitting images for Surfside Girls' Sam (YaYa Gosselin), Jade (Miya Cech), and Remi (Spencer Hermes-Rebello), left, and how they appear on film. Courtesy of Joyce Kim Lee; Jessica Brooks/Apple TV+
While every project brings unique joys and challenges, Lee approaches each with the same attitude. "We're storytellers," she says. And to tell the best story, she wants to find harmony among the ideas of the director, showrunner, actor, and herself. The goal, she says, is to have a magical moment when the actor finally puts on a costume and everyone in the room senses their transformation into character. "I have this phrase: 'You know when you know,'" she says. "We think, 'This is it. We love this. It feels right, and the actor is happy.'"
Costume Credits
Joyce Kim Lee and Natalie Turturro Mettouchi have both designed costumes for stage and screen, but much of their most recent work has been for television and streaming shows. Here are some of their career highlights:
Natalie Turturro Mettouchi
Costume Designer
Esther in Wonderland (short film, 2021)
Assistant Costume Designer
Feud: Capote's Women (television, TBD)
Maestro (feature film, 2023)
Hello Tomorrow! (television, 2023)
The Time Traveler's Wife (television, 2022)
Hunters (television, 2020)
The Deuce (television, 2017–18)
The Marvelous Mrs. Maisel (television, 2017)
The Greatest Showman (feature film, 2017)
Costume Shopper
New York City Ballet (2013–15)
Joyce Kim Lee
Costume Designer
Surfside Girls (television, 2022)
Disney's Magic Bake-Off (television, 2021)
Just Roll with It (television, 2019–21)
Walk the Prank (television, 2018)
The Muppets (television, 2015–16)
The Haunted Hathaways (television, 2013–15)
The Fresh Beat Band (television, 2009–13),

winner, 2012 Daytime Emmy for Outstanding Achievement in Costume Design/Styling