The Magic of Music
Paula Grissom-Broughton believes that music, and music education, holds the power to save us all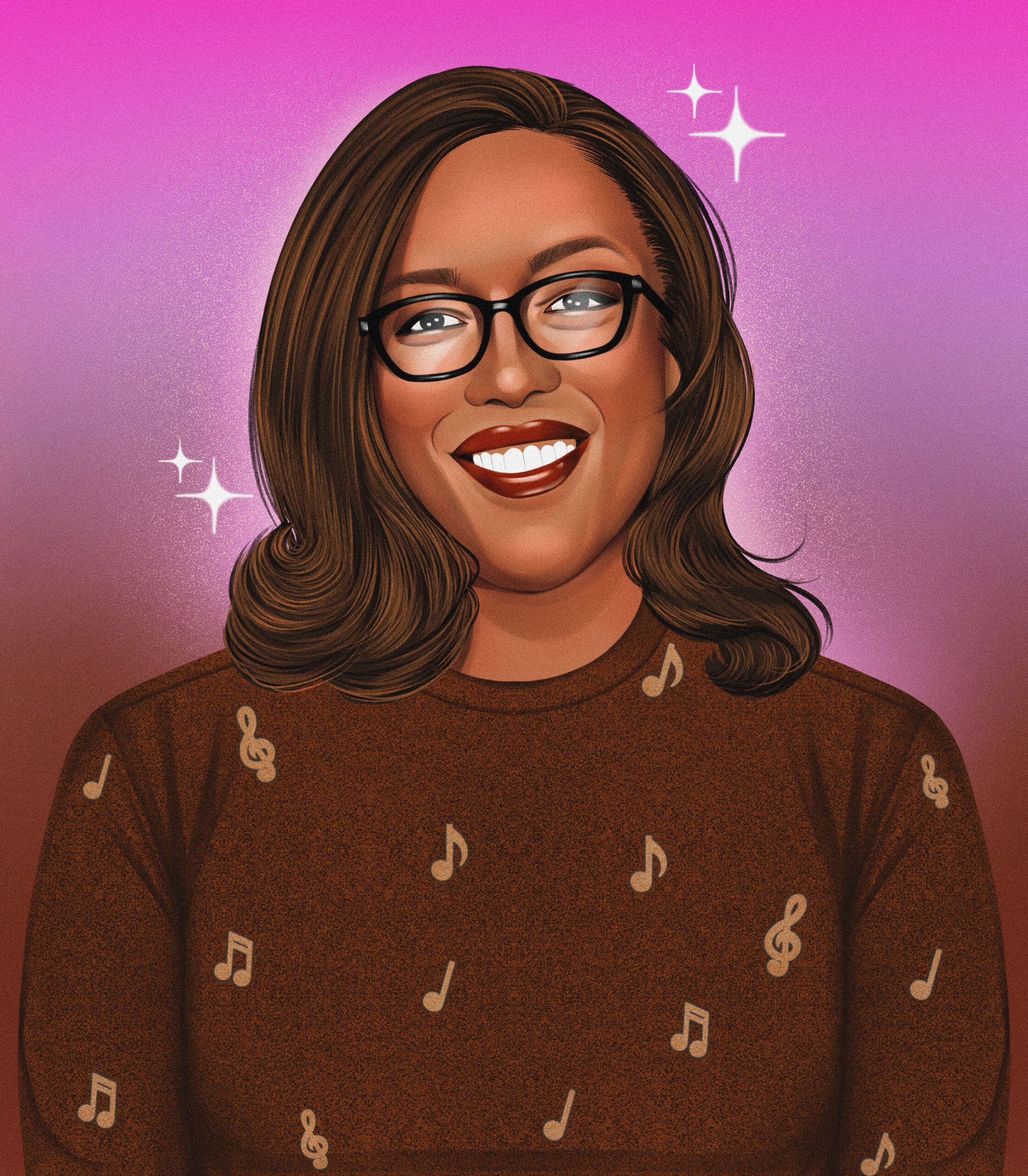 Music
The Magic of Music
Paula Grissom-Broughton believes that music, and music education, holds the power to save us all
Music was everywhere in Pine Bluff, Ark., where Paula Grissom-Broughton was born into a family that gathered around the piano rather than the television. At church, she heard gospel, blues, spirituals, Bach, and Handel. "We saw Black faces singing every musical genre," she says. At school, her teachers signed her up to play piano and sing in every musical—just as they had for her 10 older siblings.
"We weren't asked if we wanted to," says Grissom-Broughton ('15). "I was very shy, but I had a tribe of teachers and mentors who said, 'You can do this.'" She jokes that "people telling me what to do" has been a theme in her life. But time and time again, someone saw a talent that Grissom-Broughton hadn't yet recognized—and she listened to them.
It took her many years to see her own path clearly, but now Grissom-Broughton is a music educator as well and she appreciates the role she can play in the lives of young people, as the members of her network did for her. "Music education was the door of opportunity," she says. "That was molding me, even when I didn't realize that it was."
Grissom-Broughton is an assistant professor and the former chair of Spelman College's music department, where she's using her expertise in race and gender in music education—and specifically Black feminist pedagogy—to keep that door open for future generations. It's work that she considers more important than ever because music, she says, has a "supernatural" power, capable of saving the world.
"With everything that's going on in our society, we're going to need a type of healing that won't be able to be addressed through science. It's going to have to be something more of a supernatural realm," she says. "The arts are going to be the balm that's going to heal the sin-sick soul of our world. It's going to be a song. It's going to be a dance. It's going to be somebody's voice, or even someone playing an instrument."
An Academic Segue
Grissom-Broughton very nearly stopped listening to that supernatural call before she'd had the chance to fully embrace it. As an undergraduate, she arrived at Spelman College with a plan to major in psychology and prelaw. She also wanted to study piano on the side, so she met with the music department chair, Joyce Johnson, now a professor emerita, who has been at Spelman since 1955. She asked Grissom-Broughton to step into her studio and play something. The young student performed the only piece she could play without sheet music, Clair de Lune by Claude Debussy.
"I think you need to change your major. Go to the registrar's office and let them know," Grissom-Broughton recalls her soon-to-be mentor saying. "Dr. Johnson saw something in me that I didn't see in myself."
At Spelman, she studied the classical Western canon, learning the music of a series of white men. "In order for the program to produce Black women who could go out and compete, we had to learn the game book, right?" Grissom-Broughton says. But she also learned about Black composers and musical genres, like spirituals, blues, gospel, and jazz. It was as though they had two parallel curricula. "It was sort of like a double consciousness," she says.
Transformative Teaching
"I was very intimidated," Grissom-Broughton says of entering the doctoral program at CFA. Being the only Black woman in the program added to her anxiety, but, she says, "that was also my strength." Her identity sparked the dissertation work that continues to shape her approach to education.
Using the music program at Spelman, she examined music education through the lens of feminism and Black feminist pedagogy. She says that Black feminist pedagogy goes beyond what many people associate with the term—the promotion and centering of Black women—to "teaching from a place of inclusion, teaching from a place of empowerment and transformation."
She brought that philosophy back to Spelman.
Taking a narrow, Western, white-centric view of history isn't an issue unique to music. It's a pattern that educators in all of the traditional humanities have grappled with. But music—especially the music of Black women—is different in substantial ways, Grissom-Broughton says.
Black women have historically been objectified and their work diminished as a result, she says. "Our bodies were our instruments. So when women perform, particularly Black women, music isn't the only thing that's heard. They also see our faces and our bodies." At Spelman, "students are encouraged to examine and, perhaps, redefine the women's position in various fields of music. We also want to raise the consciousness of our students' understanding of how race and gender and other modes of oppression can impact their lives as Black women musicians, performers, and educators."
---


The arts are going to be the balm that's going to heal the sin-sick soul of our world. It's going to be a song. It's going to be a dance. It's going to be somebody's voice, or even someone playing an instrument.

---
As a former chair of the department where she once studied and which she once studied, Grissom-Broughton has had a unique opportunity to apply her research in classrooms filled with Black women. That still means teaching the traditional classics, but she tries to do so on the students' terms. "We're twisting it a little to say, 'This is what's been taught—what do you think?' It's a more communal way of learning about the white patriarchal canon. We're going to learn it from the perspectives of your voice." An important part of that is taking the time to examine what was going on elsewhere in the musical world that those who established the canon ignored.
At the center of Grissom-Broughton's teaching, informed heavily by her study of Black feminist pedagogy, is a single question: "Am I becoming the center of the teaching process? If so, I need to decenter myself, because that's not what's going to work nowadays." The students wouldn't accept anything else. "They are coming in with bold questions. They are questioning what we are giving them, and that's a good thing," she says. "Black feminist pedagogy is not about who or what you teach. It's about empowerment, transformation, inclusion."
Something else that Grissom-Broughton has noticed about today's students is less encouraging: a decrease in the level of performing talent. "The effects of not having music programs or music programs having been eliminated, the lack of private lessons prior to college—it's prevalent," she says. One victim of that trend was Spelman's jazz ensemble, one of the only jazz programs for women in the US, which the college eliminated in 2016.
In the face of these changes, Grissom-Broughton recognizes that the music department must pivot to meet new demands. "We're now looking at the type of students and saying, 'Where can we meet the needs of these students in order to make them who they need to be?'" she says. Courses in songwriting, music for films and games, and technology provide new avenues to a range of offstage careers. "We're cultivating leader musicians. Our students are still getting into top grad schools, working for major record labels, or they're starting their own businesses with undergraduate degrees."
Keep the Music Going
The elimination of music programs has become an unfortunate trend, with the arts often the first subjects cut when school budgets are tightened. An American Federation of Teachers report showed that 42 percent of Georgia public schools eliminated art and music programs between 2008 and 2016. "I get very passionate when I hear about people ending music programs because I'm a product of what music education can do," says Grissom-Broughton.
Before CFA, she taught music in the Atlanta and Fulton County public school systems and appreciates the tough financial decisions that school administrators face. "I think we have to reimagine what music education looks like in our public schools. We've been on the soapbox of 'stop cutting our budget' for over 20 years and guess what? They're still cutting the budget." Her friends who teach in public schools have begun finding other ways to introduce music to their kids, like inviting the Atlanta Opera to perform for them.
"Exposure plays a huge role—more than anything else," says Grissom-Broughton, whose own exposure to music began before she can remember. "I've seen students come into themselves. I've seen music mold them, like it did me. And I've seen it heal a lot of students," she says. "You just never know what the impact is going to be once you expose somebody and allow them to experience that supernatural feeling."