Conversation: Alfre Woodard & John Bartinicki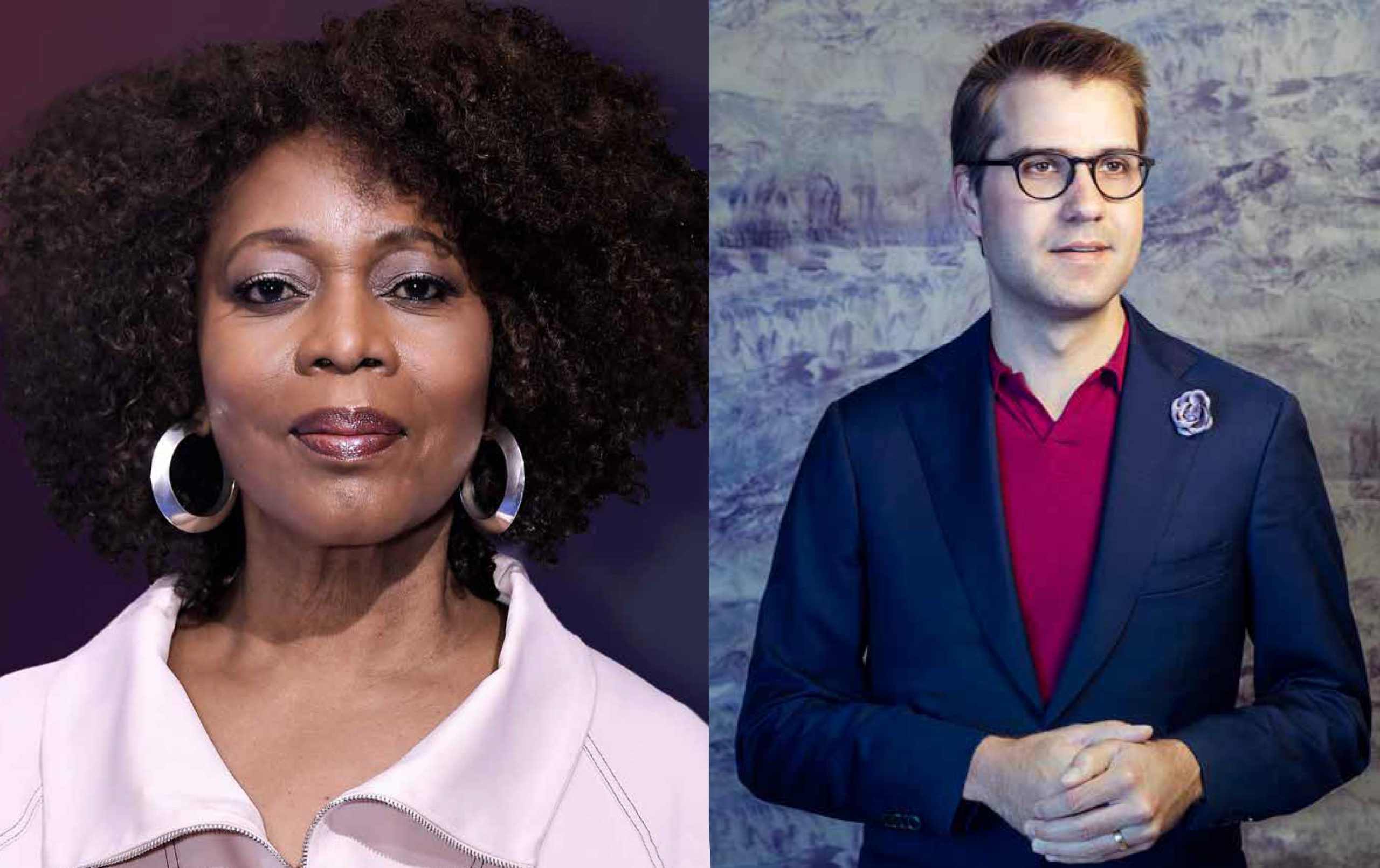 Music
Actor Alfre Woodard ('74, Hon.'04) and producer John Bartnicki (BUTI'02, CFA'07) discuss their roles in the live-action remake of a Disney classic
Edited by Lara Ehrlich
As the sun rises over the African savanna, antelopes pick up their heads and zebras paw the dusty air. From all directions, animals converge at the base of Pride Rock, where the monkey Rafiki greets the king and queen of the Pride Lands. A celebratory Zulu chant rings out as Rafiki thrusts the new lion prince, Simba, to the heavens.
This online teaser trailer for Disney's live-action retelling of The Lion King, which comes out in July 2019, had more than 224 million views in just 24 hours. It's easy to see why; not only is this the iconic scene from the blockbuster film, but the live-action footage is sweeping.
The Lion King is the latest in a series of Disney classics reimagined in live action (along with 2016's The Jungle Book, 2017's Beauty and the Beast, and 2019's Dumbo and Aladdin). Still, it takes guts to remake the fourth-highest-grossing animated film of all time and the inspiration for a Broadway musical that's been running for 22 years. It's a lot to live up to—and the film's coproducer, John Bartnicki (BUTI'02, CFA'07), knows it. He aimed to honor the original while bringing "something new to the table," he says. "Otherwise, what's the point?"
So, what's new about this version of The Lion King? Besides how strikingly lifelike the animals look, the film features a fresh cast, including Oscar-nominated actor Alfre Woodard ('74, Hon.'04) as Queen Sarabi, Simba's mother. Woodard has earned acclaim and dozens of awards, including a Golden Globe and four Emmy Awards, over more than four decades for roles like Mistress Shaw in the 2013 historical drama 12 Years a Slave and Betty Applewhite on the ABC dramedy Desperate Housewives.
Bartnicki attended CFA for trumpet performance, then set his sights on Hollywood. He worked his way from postproduction assistant on movies like Iron Man to coproducer on The Jungle Book.
Bartnicki and Woodard connected by phone to talk about the joys and pressures of remaking a beloved classic, and how they breathe life into live-action characters.
Disney's visual effects team and animators use a voice actor's vocal track and video reference to bring their computer-generated character to life. "I still think it's magic," Woodard says. © 2019 Disney Enterprises, Inc. All rights reserved (The Lion King)
ALFRE WOODARD: The Lion King animators have sometimes worked for years on one specific character, like bringing Sarabi to life—but at the same time they're filming me playing Sarabi. Tell me all about how this process works, because I still think it's magic!
JOHN BARTNICKI: I'm doing it every day and it's still magic to me. It blows my mind how the filmmakers take the actors' audio performances, then use that video reference to bring the animals to life. In this case, it started with pages from our screenwriter, which we tested with storyboards.
Then, we have a marathon recording session and use a lot of imagination to record different versions of the scene to give our editorial team some flexibility as it gets cut together. Your vocal tracks are then cut against those early animatics, and that's such an exciting part of the process. Once that's fleshed out, we engage the visual effects company and the animators. They take your vocal track and the video reference of your recording, and bring these computer-generated characters to life.
There's so much an actor brings to the performance. In addition to what you put into the microphone, there are little looks and gestures that inform the animators. Our animators choose specific moments and gestures to reflect the cast members—because we hire you not only for the sound of your voice, but for everything you do to bring this character to life. I'm very curious about how you approach voiceover work.
AW: Let's start with the training. You're first of all getting rid of all of the regional dialect and honing neutrality so you can then study dialect, movement—all of that gives you a reservoir to call on for any role. You can use your entire being, the power of your voice, how far you can carry it, how resonant it is, your gesture, your body—everything. By the time you come to the camera, you want to put all of that in.
I don't like when actors just stand there barely moving their mouths, barely moving their eyes, because we don't do that in real life; we gesticulate and we move around. So that's what you're doing, and you bring that moment onto a canvas that is fluid. Pathos, solace, mystery, terror, beauty—all of that is possible when you paint with your voice. It's exhilarating.
B: You've been acting since you graduated from CFA—and now you're also producing; you were executive producer on the films Clemency (2019) and Juanita (2019). Tell me how you're using your acting career as a producer.
AW: I came out of CFA in '74 during a time when people chose to become an engineer, a teacher, a social worker; we thought of getting a job for the rest of your life. You guys have come of age with the understanding that you can do six things—not only within your lifetime, but at once! I was just focused on being an actor.
As you go along [in this business], you realize how much you know. And it's just like, if mom is at work and can't get home for dinner, you don't sit there waiting for her, you say, "I'll cook the dinner. I know where all the food is and I know how to satisfy our palates." That's how I got into producing.
I'm sort of a duct tape and paperclip producer, but you're the real deal. I could follow you around and learn a lot about producing. What led you from the trumpet to producing?
---


IT BLOWS MY MIND HOW THE FILMMAKERS TAKE THE ACTORS' AUDIO PERFORMANCES, THEN USE THAT VIDEO REFERENCE TO BRING THE ANIMALS TO LIFE.


---
JB: Throughout my childhood and adolescence and early adulthood, playing music was everything I wanted to do. My dream job was to play in an orchestra like the LA Philharmonic, but there was sort of a reckoning when I realized that although I loved it, it wasn't everything for me. I think if you pursue one of those purely creative fields, there's something spiritual about it. My peers would almost get withdrawals if they couldn't practice. I just didn't need music to survive the way a lot of the people did.
I came home to LA, and I was able to land a production assistant job, just fetching lunches and coffees and running errands. Within days, I realized that I loved it. It brought me so much joy being around all these creative people, especially in postproduction, which is where I got my start. Seeing the movie coming together, the technical nitty-gritty, the physical process of making a movie, being around recording sessions and the edit bay—everything was so exciting. I saw how producers got to be involved in everything, and I set my eyes on that goal.
I steadily worked my way from job to job in my early career doing PA work. It wasn't until I met [The Lion King director] Jon Favreau and started working closer with him on (2010's) Iron Man 2 that I started working a little bit closer toward the goal of producing on his films. Chef (2014) was the first film that I was able to produce with him.
AW: One thing you said that really struck me is that when you started to be around all the creative activity in filmmaking, it brought you joy—that's always the indicator that what you're doing is right. Walk me through how your approach to the practical mechanics of producing on a film like Chef differs from your approach on The Lion King.
JB: Chef was a small passion project that Jon wrote, and there was no big studio with a department for anything we needed. We did everything in the dirt, trying to figure out how to pull this off. Jon wrote the script, and we were very involved in the creative process of telling the story, versus a film like The Lion King that we're fitting within a framework of the existing film and stage show. On a small movie like Chef, we were able to change anything and do whatever we wanted in service of that story.
As a creative producer, my goal first and foremost is to help the director execute their vision for the film. Although the needs are very different for films like The Lion King and Chef, I'm still servicing the same goal and that is: How do we make this movie?
Do you see any parallels in what I'm saying to the type of producing you do?
AW: Yes, as a matter of fact. Your mind is firing on all cylinders all the time. Filmmaking is like a fellowship, a group process in which everybody is there helping that filmmaker bring their vision fully to life. I come at it from that direction.
Let me ask you this: Everybody is excited for The Lion King. It's emblazoned upon our hearts. Like telling any story, though, you want to bring a new way of looking at it. How do you manage people's expectations, excitement, and nostalgia?
---


PATHOS, SOLACE, MYSTERY, TERROR, BEAUTY—ALL OF THAT IS POSSIBLE WHEN YOU PAINT WITH YOUR VOICE. IT'S EXHILARATING.


---
JB: I grew up with the animated version of The Lion King. I'll never forget being in that theater, and at the end of that stampede scene [where King Mufasa dies] I was devastated. It's a timeless coming-of-age story that everyone can relate to, dealing with powerful myths and themes. To be involved with anything having to do with The Lion King—let alone making it again for Disney—is just a supreme honor. There are a lot of eyes on this project, but that's why I love working with a director like Jon, who brings something new to the table. Otherwise, what's the point?
Our technology has gotten to a point that we can make live action, with realistic lions, and bring something new to the story, while at the same time honoring the film everyone loves. How do you approach reprising Sarabi?
AW: I am accustomed to re-creating classic roles. I mean, that's what we do. It's like a piece of music that's interpreted over and over, and that's what makes it a classic. So, I don't feel anything other than, "Woo-hoo, I get to play!"
I just wanted to say this also: My children are 25 and 27, and when the original film came out, I remember people asking, "Oh, how are they gonna feel about the stampede?" We've been honest with them about life from the very beginning, and the whole concept of "the circle of life" has become a tool for so many people who are in charge of young people, because it so truthfully gives answers to the head and the heart about the circle of life. People are hungry for The Lion King because of what it is—but I think people are hungry for what The Lion King can bring to our world as well.
This Series
Also in
March 16, 2023

December 21, 2022

June 17, 2022