CFA Magazine Feature: Una Voz, One Voice

Mario Arévalo realized his dream of becoming an opera singer. Now he's focused on helping the next generation of Latin American musical talent.
Originally published in the Fall 2021 issue of CFA magazine. By Mara Sassoon | Photos by Sonya Revell
EXCERPT
When opera tenor Mario Arévalo was a young child, the thought of leaving his El Salvador hometown—let alone pursuing a career in music—was unfathomable.
"I was from a poor family, living in a very poor area," he says. "My options were limited."
The son of a single mother, Arévalo ('09) was a natural performer growing up, always dancing and singing for friends and extended family in his small town of San Vicente. "I just did it for fun. It wasn't something I ever thought I could develop beyond a hobby."
Arévalo has come a long way from those impromptu recitals he put on as a child. He's performed in operas around the world—from Canada to Austria to Italy, founded an arts organization in 2016 that elevates the work of Latin American musicians and artists, and is now working to help build a theater and arts center to nurture the next generation of musical talent in his hometown. "I can't believe what this small project I started five years ago has become," says Arévalo. "I'm excited to see where I can go with it next."
A Dream Forms
In 1991, when Arévalo was eight, his mother left him and San Vicente for the United States, determined to make a better life for the two of them. He went to live with his grandmother for the next six years, before he finally was reunited with his mother on Long Island, New York.
"[My mother] came to the US without papers, then obtained residency when she got married and brought me [here]. At first, as a child, I didn't understand anything, but now I tell her that I understand her sacrifices," he told Noticias Telemundo in an interview.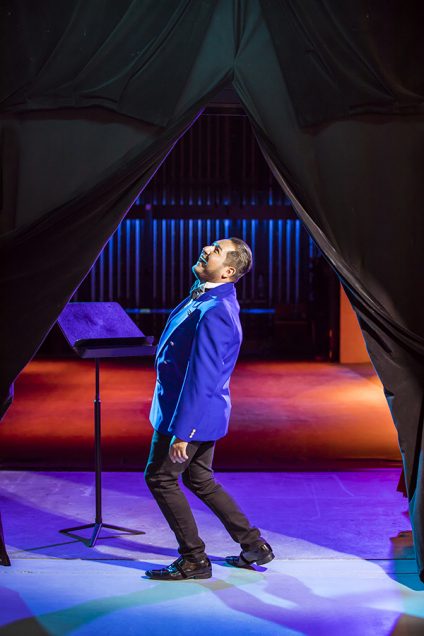 Arévalo began high school in New York knowing only a few words of English. The transition was jarring. He was taking ESL classes and trying to catch up on his credits in order to graduate on time. When he was told he needed to take an arts class, he joined his high school's choir.
It was there he met a teacher who would change the trajectory of his life.
"I'd say that's where my opera dreams began," Arévalo says. "It's all thanks to my choir teacher, Ms. Robin Hall." She provided Arévalo a safe haven as he adjusted to life in the US and eventually encouraged him to pursue a degree in vocal performance at the Conservatory of Music at SUNY Purchase. "She really spent time getting to know me, and helped me to achieve what I wanted to do with my singing. She went beyond teaching. She protected me, she cared about me."
At college, Arévalo began to see music as a possible career, particularly after working with an opera company that performed with the American Symphony Orchestra. "It was my first paid gig and I was just like, 'Oh my God, I now know I am totally made for this.' I thought one day I could be doing what the principals in the opera are doing if I work hard enough. But I also thought I still needed to learn some more to succeed."
A master's program felt like the right next step. Arévalo auditioned at CFA and credits instructors like Penelope Bitzas, an associate professor of music, voice, and Shiela Kibbe, an associate professor of music, piano, with helping him find the confidence to embark on his opera career.
"They both helped me discover myself as a singer and become a real musician. They pushed me—I don't think I would be where I am today if it weren't for what I learned at BU."
…
---
ABOUT CFA MAGAZINE
CFA is a publication for alumni and friends of the Boston University College of Fine Arts. We welcome your feedback on the magazine, this website, or anything else related to CFA. Send us your comments at cfaalum@bu.edu. Find current and past issues at bu.edu/cfa-magazine.