BU Today feature: Exit the King, and Enter Random Actor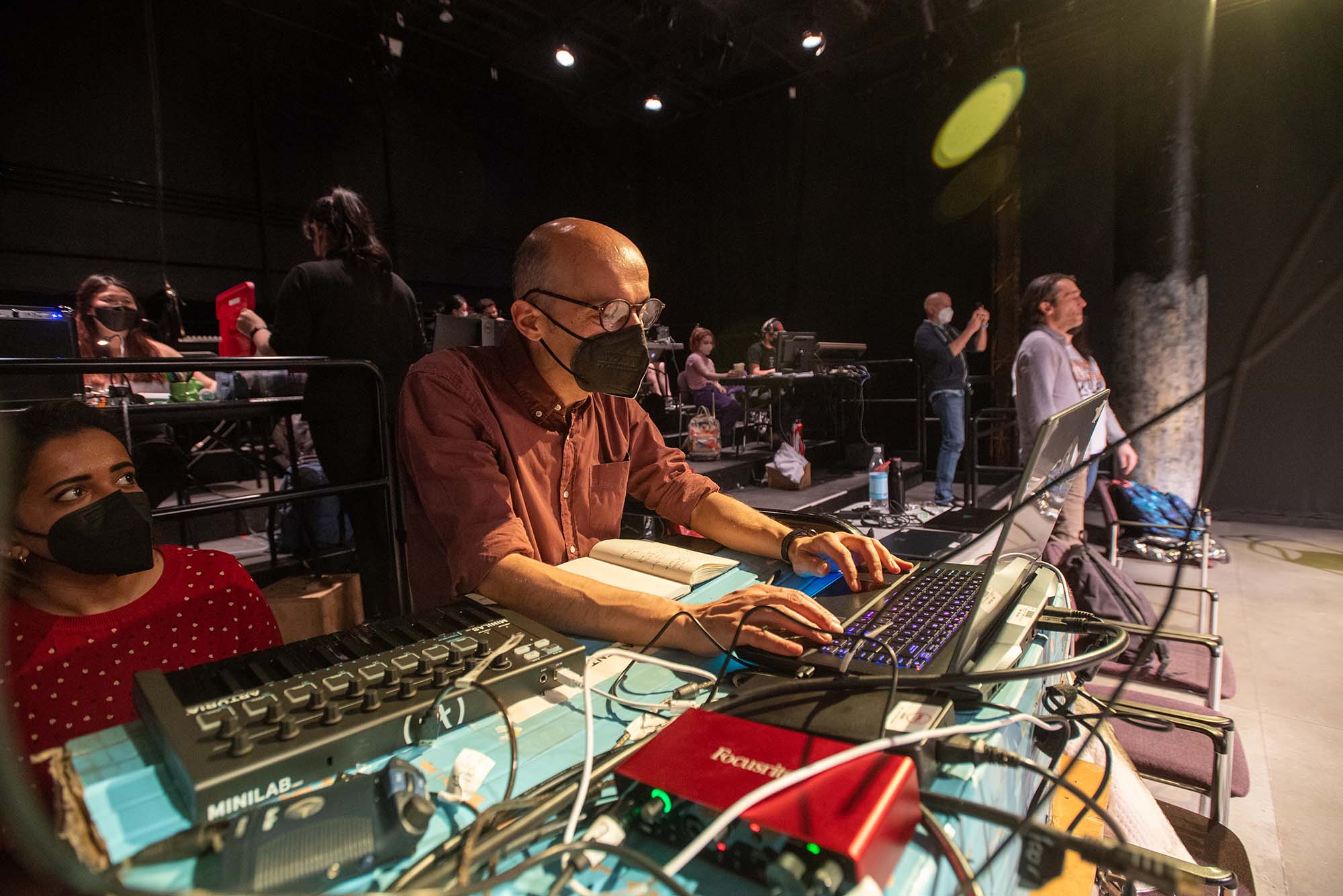 This article was first published in BU Today on May 3, 2022. By Joel Brown | Photos by Cydney Scott
Excerpt
There will be two premieres at the College of Fine Arts on Wednesday night.
The School of Theatre production of Exit the King opens for a five-show run in Studio ONE. And the performance will mark the debut of Random Actor, a software tool for creating live, interactive stage projections that's been in the making at BU for four years.
"It's almost magical. It's really wild," says Declan Schliesmann (CFA'22), who stars as the King.
Written by Eugène Ionesco and translated by Donald Watson, Exit the King is the absurdist tale of King Berenger the First, whose empire has crumbled and whose life is coming to an end. As directed by Clay Hopper (CFA'05), a CFA senior lecturer in directing, this production will look different from anything you've ever seen.
Three motion detectors will capture data on Schliesmann's movements on stage and feed that information to the Random Actor software, which in turn will give directions to another set of equipment that produces the projections. Random Actor will also use input from stage mics that capture the King's voice. And the software will be operated by a graphic designer who can tweak the projections in real time.
It's easy to understand when you see it, much harder to explain. Basically the King will be accompanied around the stage by a retinue of tiny graphic objects projected on backdrop, floor, and the actor himself, a "particle system" that moves when he moves and seems to change in accord with his very state of being.
"The test is, does it reveal more about the play, or does it simply look like gift wrapping," Hopper says.
"When I first heard about it, I couldn't wrap my mind around what it was," Schliesmann says. "Particle system? I don't even know what that is, but I'm excited to find out," he says he thought. "I was certain it was going to be a process unlike anything I'd done before."
In technical rehearsals, the actor had to focus on the story in the traditional way, embodying the king's mortal journey, while also remaining aware that Random Actor was using his movements to shape the projections around him. Just as an actor's performance is slightly different every time, so are the projections.
"That's been very challenging, but also incredibly rewarding," Schliesmann says. "There are moments in the play where the particles go up my body and I can see them responding to my movements. I don't need to imagine what's happening to me because it's all right there.
"It helps illustrate the whole story we're trying to tell. And it becomes very beautiful toward the end, when the system doesn't respond to me anymore," he says.
Help from the Shipley Center and a visiting artist
Behind the theatrical project is a technical one, supported by the Shipley Center for Digital Learning & Innovation and driven by visiting artist Paolo Scoppola.
"The Random Actor project is our first collaboration with CFA, and a showpiece of the Shipley Center's mission of enhancing the undergraduate experience at BU through the creative use of technology," says Chris Dellarocas, associate provost for digital learning and innovation and Shipley Professor of Management at Questrom School of Business. "The project strengthens CFA's ability to educate creative artists for a digital future."
Random Actor began at a CFA meeting four years ago, where Hopper started talking about projections in theater with James Grady, BU Spark! creative director and a CFA assistant professor of art, graphic design. They agreed most projections were lacking, not integral to the production, "a TV with a play happening in front of it," as Hopper says.
Instead, they wanted to create projections that were more about what was happening among the actors on stage, "so the environment could change to reflect the interior life of the characters," Hopper says.
"I was talking about some of my research when I was at Rhode Island School of Design, where I was doing a lot of interactive, immersive, 4-D design," Grady says.
Grady and Hopper worked on the idea together for a 2018 Hopper-directed production of 1984 at the School of Theatre, using an Xbox Kinect for motion capture. But making even the slightest change meant days of reprogramming.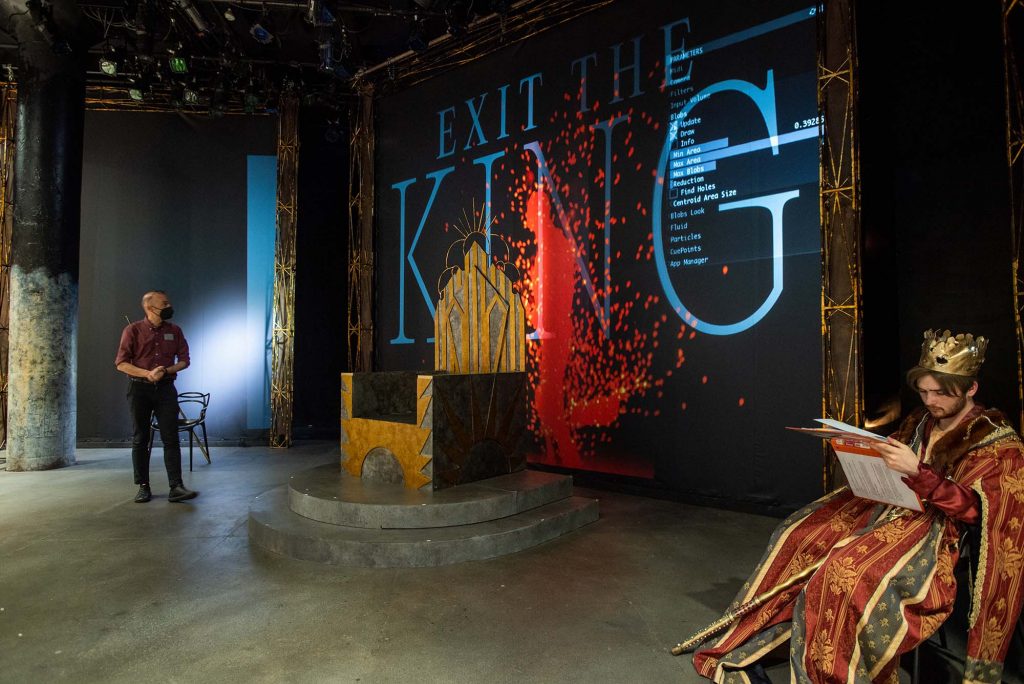 "The goal has always been, how do we build a tool that doesn't need people to recode it—that we can support so theater students can use it, designers can use it, and developers can build on top of it," Grady says. "Clay and I have always been working with the passion of developing this so it can be used in the theater and only enhances the experience and doesn't become some sort of mask over the performance."
Grady took the idea to BU Spark! where students worked on it for several semesters, but eventually the project needed a veteran with both the software and the art chops to get it over the finish line. Hopper and Grady found Scoppola, who arrived for a four-month residency this semester, supported by a $55,000 grant from the Shipley Center.
"There's an interactive and visual and artistic component to this project, which is a first for us, and we are thrilled to support that," says Romy Ruukel, director of the Shipley Center. "It's a fantastic collaboration between art and technology."
Exit the King is a CFA School of Theatre production of Eugene Ionesco's absurdist exploration of ego and mortality, featuring projections by the new Random Actor software. Playing at CFA's Studio ONE, 855 Comm Ave, May 4-7 (Two performances on May 7, 2 pm and 7 pm.) Tickets are $20; free with BU ID at the door, subject to availability. For more information and to reserve tickets, visit here.