BU Tanglewood Institute: From the Director's Desk | June 2020
This summer certainly looks different at Boston University Tanglewood Institute, but we've been working hard to find ways to help our students connect and grow over the coming months in spite of the fact that we cannot be together in person. We hope you will join us, too!
We recently launched The Vault, an online resource center for students, parents, and others who love classical music. We'll soon add video editions of select programming, including our usual Registration Day event titled So Your Child Wants to Major in Music? We will share tips and tools on the best ways to practice, and will recommend online resources to develop music theory skills and delve into music history over the summer. Also, keep your eye out for videos from our Health & Wellness experts who will share wisdom on how to build body awareness and prevent injuries.
Please join us for Intermissions: A Spotlight Conversation Series, streamed live on Wednesdays at 5:30 p.m. EST beginning June 24. Hosted by BUTI's Director of Education Nicole Wendl, these one-hour events will feature conversations with alumni and friends about their careers, things they have learned and recommend, and what they are thinking about these days. Award-winning composer Nico Muhly (BUTI'96,'97) joins us to launch Intermissions this Wednesday, June 24 at 5:30 pm EST. Look at the schedule to see who's joining us next on July 1 and throughout the summer, and for more information on how to tune in weekly. Events will be recorded and can be found on YouTube for those who cannot make it live.
This summer also holds several opportunities available exclusively for the BUTI Class of 2020:
Students will have access to masterclasses taught online by faculty and guests of the Tanglewood Music Center. Students, please stand by as these offerings are finalized. Classes begin after July 1.
Community is an integral part of the BUTI experience—as artists, as future colleagues, and as friends—and our students will have the opportunity to build their community through a Class of 2020 Facebook Group. This will be a place to gather, meet new friends, and exchange ideas and music. Students, make sure you join this Facebook group for a chance to submit questions in advance for our Intermissions guests. They want to talk to you!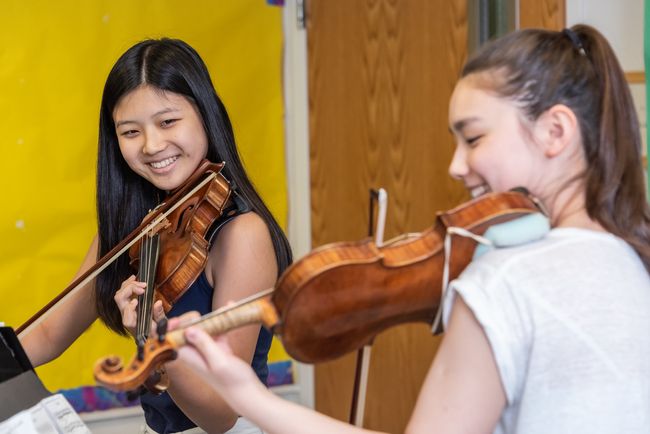 Lastly, I'm proud to announce that three violinists from the Class of 2020 have been selected to perform in a masterclass taught by renowned violinist and educator Midori. The class is made possible by the Tanglewood Learning Institute and will be aired as part of the Tanglewood 2020 Online Festival on Wednesday, July 29 at 1:00 pm.
I am enormously grateful to our alumni, advocates, contributors and partners for the support that enables us to stay connected with our community in meaningful and mission-driven ways this summer. These include our generous Intermissions guests, our dedicated colleagues at the Boston Symphony Orchestra, our invaluable Advisory Council members, and our supportive partners at the National Endowment for the Arts. We are proud to be part of the international community of music-makers and music-lovers coming together this summer. We may be gathering together differently, but we're doing so as fervently as ever around this transformative art form.
Sincerely,

Hilary Respass