Bostonia feature: Designing Women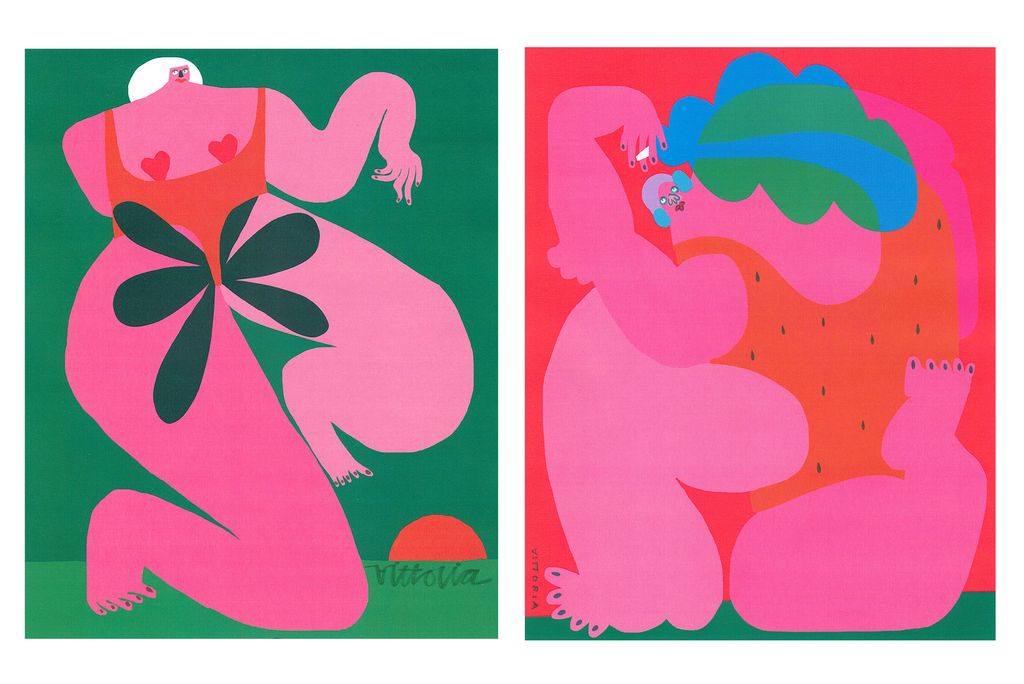 Amber Vittoria creates illustrations for brands like Marc Jacobs and Adidas that challenge beauty standards
This article was originally published in Bostonia and CFA magazine. Written by Mara Sassoon. Illustrations by Amber Vittoria.

Amber Vittoria is dissatisfied with the way women's bodies are often portrayed in the media—airbrushed, photoshopped, hairless, held to an unrealistic standard. So, the illustrator has channeled those frustrations into her artwork, crafting colorful, abstracted depictions of women that go against the beauty ideals promoted in advertising and on screen. In her illustrations, women's contorted limbs stretch the limits of a composition, folding into themselves, threatening to burst out of the space they occupy: their bodies are covered in a smattering of technicolor hair, their arms and thighs undulate. Vittoria (CFA'12), who has collaborated with brands like Adidas, Snapchat, and Gucci and has had her work grace the pages of the New York Times and Teen Vogue, was recently named to the Forbes 30 Under 30: Art & Style 2020 list. She highlights—celebrates even—what the mainstream media tries to mask.
Relatable Art
For a while, Vittoria was part of that media agenda. Soon after graduating from the College of Fine Art's graphic design program, she'd landed a job as a web designer for Victoria's Secret. Part of her role involved editing images, she says, and she quickly became disillusioned.
"I loved everyone I worked with, but retouching images of a very specific type of woman, and not being able to relate to that type of woman, was pretty tough on my self-esteem," she says. Around this time, she also started to notice the problematic depictions of women she'd see in artwork at museums and galleries—it doesn't help that "a lot of these painted and sculpted women were painted and sculpted by men."
Vittoria quit her job and spent a few years working in a digital advertising agency and as an in-house digital designer for Avon, building up her client list as she did freelance illustrations on the side. In late 2017, she decided to freelance full-time. She was determined, she says, to make work that she and other women could relate to.
"It's important that I'm able to approach every piece from a place of vulnerability, but also from a place of joy. I make sure that while I'm making a piece, I'm having fun, while trying to tell an authentic story," says Vittoria. "Even if the final output is more abstracted, or very colorful or very bold, I hope the essence of the piece is something that is honest."