So You Think You Can Dance…to Mozart?
By Lara Ehrlich | Photo by Cydney Scott
It was too loud for conversation at the Barking Spider Tavern in Cleveland, Ohio, an intimate venue where an eclectic mix of live folk, rock, blues, bluegrass, jazz, reggae, and gospel spills out into the beer garden on any given night. Courtney Miller ('16) had left her friends to squeeze through the tables for a jam session with classical musicians from the nearby Cleveland Institute of Music, where she earned a master's degree. She fitted the reed into her oboe, and leaned into the haunting first notes of Bach's Oboe Sonata in G minor. The crowd quieted beneath the swaying Christmas lights and Miller felt good—until she returned to her table, where her friends told her the performance had made them uncomfortable.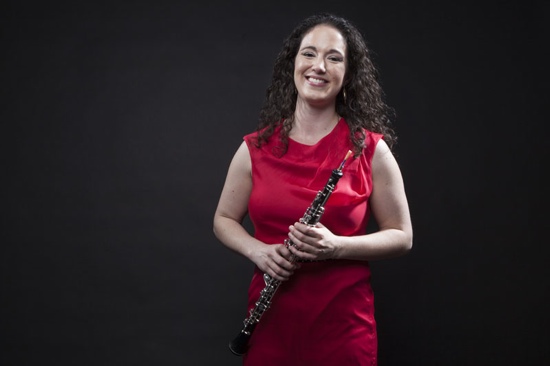 "Why?" she asked, mystified.
"You were playing Bach," they explained. "We should be at a concert hall. We feel guilty for sitting here in jeans, drinking beer."
Their reaction stunned Miller. "It resonated with me so much that they had a preconceived idea of classical music—even though they are my good friends and they know I'm a goofball," she says. "They thought what I did for a living was totally inaccessible." If her oboe intimidated even her closest friends, how could she hope to reach a broader audience?
This question hounded Miller all the way from Cleveland to Boston, where she is a doctoral student at the School of Music. At CFA, Miller found she wasn't the only one asking questions about building an audience and navigating the challenges of a classical music career. In 2013, the School brought together industry experts, musicians, educators, scholars, and composers for the Are We Listening? symposium, which addressed the question: How can we find ways to innovate while retaining the core standards of our field? Here are just a few ways students and alums are answering this question in their work.
Taking the Music Off the Stage
In her quest to introduce the oboe to new audiences, Miller turned to another musical genre for inspiration. "Pop musicians have been making music videos for decades, and we don't even stick our toes in it," she says. Miller and fellow musician Ceylon Mitchell ('13, '14) wondered if they could apply the music video model to the classics, and they hit the Boston streets with an oboe and a video camera to find out. When the video of Miller performing Clara Schumann's Romance No. 2, Opus 22 in her favorite locations around BU reached 800 hits, the duo knew they were onto something.
For the next video, Miller reached out to self-taught hip-hop dancer and Boston native Ernest "Eknock" Phillips, whose work she had admired on the hit television show So You Think You Can Dance. Though Phillips didn't share Miller's background in classical music, he was intrigued, and they decided to collaborate on Mozart's dreamy Oboe Quartet K. 370, Movement II Adagio.
Phillips was drawn to the Adagio because "I talk fast; I dance fast. So my challenge was slowing it down so people can see my moves. I had to make everything tighter, cleaner, and less aggressive. Slow music brings out the whole emotion of the moment." In the video, Phillips improvises to Miller's oboe in the Boston Common and Public Garden, matching his moonwalk to the oboe's plaintive pace.
Marrying the styles was equally demanding for Miller; her greatest challenge was staying true to the music. Though her mother suggested adding hip-hop beats to Mozart, Miller believes "in the absolute integrity of the music. I've spent the last decade of my life studying the oboe and trying to do it justice. My side of this collaboration is to evangelize the music."
She is equally adamant that her videos should not dumb down the music, but instead emphasize elements that would engage even the least musical audiences. For instance, when listening to the Adagio for the first time, audiences might not pick up on Mozart's humor, Miller says, so in one scene, she and Phillips played a flirtatious game of hide-and-seek to highlight "the joy and the mischief" of the piece.
Miller intends for her videos to intrigue audiences who might otherwise find classical music inaccessible—and it's working. She now has viewers as far-flung as Kenya and Portugal and Saudi Arabia. "It's really cool," she says, "and something I couldn't do just from the stage."
Saying "Yes" to Strange
Opera composer David T. Little's newest work began with a feeling he couldn't articulate, "kind of like staring at white lines on a TV. You start to see things in it if you stare long enough." He turned to his longtime collaborator and producer, Beth Morrison ('94), to bring the feeling into focus.
"I helped David articulate the idea in a way that allowed him to feel safe to explore it," Morrison says. With all of her collaborators, she wants to "see how deep and how strange an idea can go, and where it might take us. I try to support the scariness of going out on a limb and trying something new."
Morrison knows all about trying something new. She initially studied to be a vocal performer, earning a bachelor's in music from CFA and a master's in music from Arizona State University, but she never felt comfortable in the spotlight. It was only when she became the administrative director of the Boston University Tanglewood Institute that she realized what she was meant to be doing—and it changed the course of her career. "It was exciting to create a vision for a whole institute," she says. "As a performer, the focus is really so much on yourself. Once I was able to focus outside of myself, I was in a much more fulfilled position."
Morrison founded the indie opera company Beth Morrison Projects (BMP) in 2006, and in less than 10 years, she has become one of the most sought-after producers in the opera world. BMP champions music-theatre, opera-theatre, and multimedia concert works by today's most exciting emerging artists, like Little and Missy Mazzoli ('02), whose opera Song from the Uproar was featured in the Summer 2013 issue of Esprit, and is now touring.
These daring new artists—as well as established composers like David Lang, Tod Machover, and Philip Glass—are drawn to Morrison because she is doing something new. Some traditional opera companies develop work, some produce work, and others do both. BMP does more.
As creative producer, Morrison collaborates with composers to develop new works, unbridled by the limitations of bigger organizations. She assembles the creative team; secures the world premiere venue, funding, marketing, and publicity; and develops the pitch materials—all the components that must come together in order to create a new work. For Little's piece, Artaud in the Black Lodge, for instance, "we are just at the beginning of dreaming up what the project is, who the collaborators will be, and where we will premiere the work. It's an exciting place to be, because anything is possible." The production elements reinforce the collaborative atmosphere Morrison cultivates for her team, allowing them the freedom they need to innovate and push boundaries.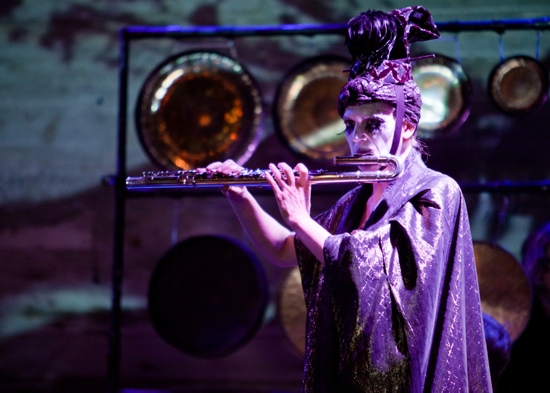 For Morrison, success comes back to this freedom to innovate. "I never say to a composer, 'You can't use electronics, or you can't have more than five players'—the kind of limitations that are put upon composers by commissioning organizations and larger institutions. The greatest work happens when people feel they can experiment." Her collaborators respond by producing works that are like nothing else in the opera world. For an ambitious new artist, Little says, "the most important thing is having someone who says 'yes.'"
Establishing Your Own Style
Kendall Ramseur ('12) was home for the holidays during his final year in graduate school at CFA, when he received a phone call from a concerned family friend: How would he support himself as a professional cellist? How would he pay off his student loans? How would he live? The well-meaning friend urged Ramseur to give up his lifelong dream and join the Air Force.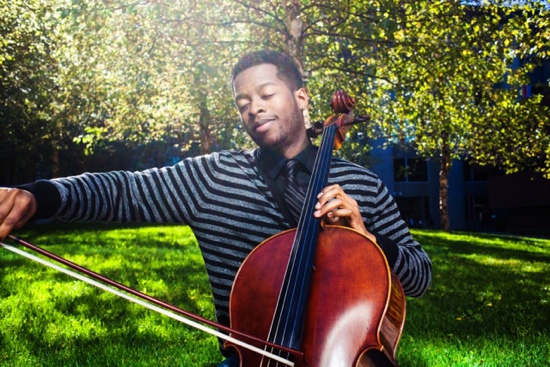 Ramseur wondered how many artists give up when their dreams are challenged, and he began to write inspirational lyrics to keep himself motivated. These lyrics would become "Lullaby," the first song of his album T.I.M.E., which took him in a new direction as an artist. "I knew that I had a voice," he says, "so I decided that I would learn how to sing and play the cello at the same time." There was one problem: No one else was performing both voice and cello, and because there was no precedent, Ramseur was on his own.
Ramseur was already an established cellist, having performed for Maya Angelou on her 80th birthday, accompanied a principal dancer with the American Ballet Theatre, and played with the Grammy Awards Orchestra. Upon moving to Boston, he had experimented with performing at weddings and in T stations. Now, he was ready to push that experimentation further.
Singing and playing cello simultaneously was a new challenge, which at first he found daunting. If the pitch was sharp, he wasn't sure whether to tune his voice to the cello, or tune the cello to his voice. "They have two different personalities," he says, "so how do I bring out one instrument without stepping on the other instrument's toes?"
He had a breakthrough when he realized he could learn by writing his own music, allowing one instrument to carry the melody, while the other accompanied, slowly rebuilding his confidence on both instruments. As he practiced, he became a better performer, "stretching myself like I wasn't able to before, and expressing myself in deeper ways."
After three months of practice, Ramseur was finally ready to perform for an audience—at the release party for T.I.M.E. It "wasn't perfect," he says, but it was unique. Venues and festivals are attracted to Ramseur's distinctive combination of cello and voice, and in 2013, he performed at more than 50 Boston events, including The World on Stage at ArtsEmerson, the Kendall Square Concert Series, and the Boston GreenFest. The Boston Globe recommended his performance at the 2014 First Night Boston, and the Boston Music Awards named him the Gospel/Inspirational Artist of the Year.
In retrospect, Ramseur says the phone call from his concerned friend "opened my eyes to the reason so many people let go of their dreams. If I hadn't believed in myself, or what I've been called to do, then Kendall Ramseur the recording artist would never have existed. I think about all the other artists who might let go of something that could touch millions of lives," and he hopes that he can inspire others not only to persevere, but to attempt more than they thought possible. So what's next for the singer, songwriter, cellist, and recording artist? This year, he's performing on the hit TV show America's Got Talent.
If You Build It, They Will Come
It was dusk as Greg Hum (CAS'10) pedaled down Commonwealth Avenue, battering the bucket drum between his handlebars. A Boston University desktop services specialist by day, Hum is a musician on his bike. He parked next to a Play Me, I'm Yours street piano in the courtyard of BU's George Sherman Union as other bicyclists flocked from all directions, bearing instruments of their own. They ranged around the piano for the opening strains of Aretha Franklin's rendition of "Respect," and then, prompted by a cowbell, began to sing: "What you got? Baby, I got it! What you need? You know I got it!" It didn't matter that the words weren't quite right, or that they were off-key—the musicians added their guitars, shakers, clarinets, mandolins, trumpets, and tambourines, creating a wild cacophony that faded for a trumpet solo, then swelled into joyous noise again.
"The street pianos were the highlight of my year," Hum says of the Play Me, I'm Yours Street Piano Festival, an international art project by British artist Luke Jerram that has traveled to 46 cities around the world. The festival "brings such joy to whoever gets to experience it," says Margo Saulnier ('96), the project manager responsible for organizing Play Me, I'm Yours in Boston. Hosted by the Celebrity Series of Boston, the festival engaged the entire city, from the institutions that installed 75 pianos throughout greater Boston, to the local artists who painted them. BU hosted three pianos—at the East Courtyard, the GSU, and Kenmore Square—which were painted by CFA alums Ashley Teamer ('13), Kathleen Kennedy ('13), and Elizabeth King ('11).
The festival "created a great sense of community and showcased the talent of the citizens who live here," Saulnier says. Participants shared their talent and extended the community through social media, uploading videos, photos, and comments to webpages devoted to each piano. Inspired by the BU pianos, journalism student Kaylee Hill (SED'15, COM'15) filmed a short documentary, School of Theology students held a hymn flash mob, the Hip-Hop Club freestyle rapped, and the all-male a cappella group The Dear Abbeys broke their no-instruments rule to pose for a photo.
"I work at the Starbucks in the GSU and didn't quite understand where all the lovely, sporadic music was coming from for a bit, but I LOVE IT!" Ella Clausen (COM'15) commented on the website. "The beautiful music spontaneously flowing through totally makes my shift." At the Kenmore Square location, a local doorman posed on the piano seat, and high school musician Max DiRado performed his original composition, "Le Benjamin, So Long," as strangers paused to listen.
"Each piano had its own community around it," Saulnier says, and although the pianos weathered the elements in an urban environment, "the people who lived in the neighborhoods took care of them," even covering them with sheets when it rained. As Play Me, I'm Yours proves, when we bring our instruments out of the recital halls and into the streets, communities will make music together.
[Correction to the print edition of Esprit: The original version of this article incorrectly stated that Courtney Miller earned an undergraduate degree from the Cleveland Institute of Music, when in fact she earned a master's degree from Cleveland and an undergraduate degree from Florida State University.]