A Moral Compass Must Guide the Path to Global Vaccine Equity
"Why is this important? What have we learned? What's at stake?"
With these three questions, Nahid Bhadelia, MD, MALD, and Founding Director of the Center for Emerging Infectious Diseases Policy and Research (CEID) of Boston University, convened The Path to Global Vaccine Equity, the inaugural event of the Center on Thursday, June 10. The event (the Center's first since officially launching in May) kicked off just hours after US President Joe Biden pledged 500 million vaccines to countries in need, and one day prior to nation leaders gathering in Cornwall, England for the G7 Summit, where they were expected to release plans to collectively provide one billion doses of COVID-19 vaccine to low- and middle-income countries (LMICs) in an effort to end the pandemic by 2022.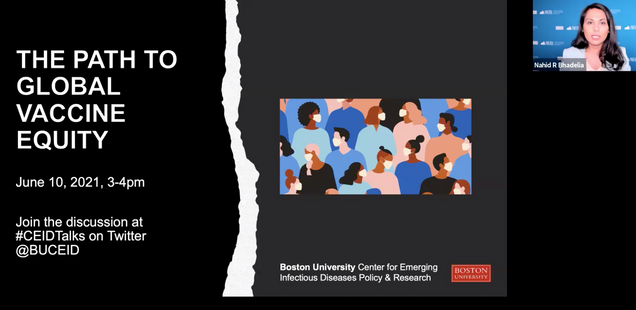 Watch Now: The Path to Global Vaccine Equity
Featured panelists included Joia Mukherjee, MD, MPH (Partners in Health, Harvard Medical School), Rajeev Venkayya, MD (Takeda, Coalition for Epidemic Preparedness Innovation), and James Lawler, MD, MPH (University of Nebraska Medical Center, Nebraska Biocontainment Unit). These global leaders shared insights surrounding equitable vaccine distribution, the harsh reality of 'vaccine apartheid' (with relentless variants, oxygen shortages, and inefficiency in global supply chains causing millions of deaths, while those with access to vaccines continue to live), and called for urgent moral action so that global society may fully realize a path to vaccine equity.
Dr. Bhadelia set the global stage of the impact of COVID-19: confined not solely to the tragedies of the over 174 million cases and 3.76 million deaths (including at least 115,000 healthcare workers), but extend far beyond what we can even begin to measure today: an additional 95 million pushed into extreme poverty and 130 million pushed to the brink of starvation.
Recognizing the tragic and immeasurable implications of COVID-19 on the world, the panel confronted the ways in which challenges to global vaccine production and distribution perpetuate the vaccine apartheid that has escalated the divide between those who will continue to die – at the hands of relentless variants, oxygen shortages, and inefficiency in global supply chains – and those who will live as a result of their capacity to gain equitable access to this vaccine.
Dr. Mukherjee began by reminding us that a pandemic that has defied national borders and left governments vulnerable is now mostly under control within the US due to its ability to produce, purchase, and distribute vaccines. Mukherjee called for leaders of the richest countries in the world to create innovation through equity (applauding AstraZeneca's collaboration with Oxford University on a vaccine for the world at the outset), a global fund to support vaccination of vulnerable populations, and a long-term plan for manufacturing vaccines in LMICs.
Dr. Venkayya is well familiar with the challenges of COVID-19 vaccine production, distribution, and manufacturing in his role at Takeda and as a board member of CEPI. He explained that COVAX – a partnership led by GAVI, CEPI, UNICEF and WHO to ensure global equitable access to vaccines – is based on the principles of pooling financial resources for vaccinations worldwide. Countries share the risk inherent to each step from vaccine development to production to distribution, and therefore,
"The principles of COVAX need to live beyond COVID-19. They need to lay the foundation for future pandemics."
In that vaccines are biological agents, Venkayya explained, they are unlike drugs and other therapeutics and present unique challenges and complications to production. He called for commitment to establishing the distribution of vaccine manufacturing in LMICs as a step towards equity, but recognized that challenges of the talent pool, supply chains, and regulatory competence impede this reality.
To further complicate such matters are issues of national interests, Dr. Lawler noted. He set the reality that while we begin to enjoy freedom, reopening, and a sense of ease in the US, this sense of ease is shortsighted, for:
"It's in our enlightened self-interest to do something about that now, and also to prepare for the next pandemic … We are not safe as a nation when there is a pandemic … anywhere in the world."
Lawler suggested three immediate actions. First, confronting COVID-19 will aid in promoting stability around the world, especially as COVID-19 continues to significantly cripple already weakened governments of LMICs (exacerbating poverty, hunger, and other disease control efforts). Second, the development of stronger global alliances, referencing PEPFAR's success due to goodwill beyond national borders. Third, forging global trading partnerships that recognize our interconnectedness and dependence on the global supply chain. Political leaders – operating with only national interests in mind – will not initiate these actions, however. These actions are only as successful as the capacity of the public to drive the global agenda with urgent moral imperative.
Urgency: now and for the next pandemic
Understanding the monumental gaps in equitable distribution of vaccines, Bhadelia then asked the panelists what is required in the next six months to ensure that we are better poised against the threat of variants, recognizing that the WHO has called for 2 billion doses to supply COVAX with what they would need to vaccinate healthcare workers and the most vulnerable countries. Timing matters. We need to achieve equity soon and not a year down the road. Mukherjee reminded us:
"Charity is not a strategy for a global pandemic that is completely derailing peoples' lives and causing impending famine."
Lawler echoed, stating that even the recent US pledge of donations, though urgently necessary, are given out of our excess and not derived from sacrifice for the rest of the world. Venkayya called for a 'Marshall-Plan-like' approach, hoping G7 leaders would come together to address the unacceptable 'temporal inequity' in pledging to provide one billion doses of COVID-19 vaccine to LMICs (it's estimated that 11 billion vaccines will vaccinate 70% of the population, at which point herd immunity is a possibility).
Vaccine equity: The limits of supply and demand
Responding to a question from the audience of how equitable vaccine distribution can coexist with private company profit interests, Venkayya highlighted that demand that is beyond what we could imagine, but supply is not: there are over 200 individual components to vaccine production, and that these components (which only a few companies produce) don't meet global supply.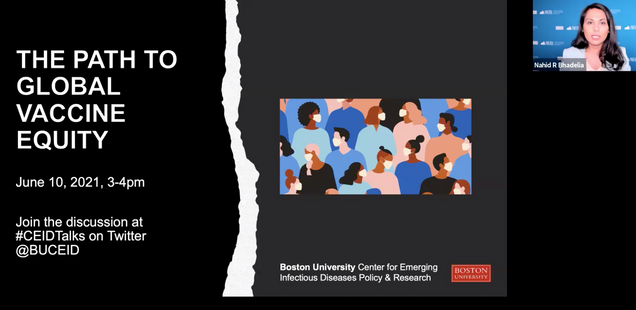 Watch Now: The Path to Global Vaccine Equity
Despite recent data from Airfinity that projects that there will be more than 9.5 billion doses produced by the end of 2021, with Duke Innovation Center predicting more than 12 billion doses could be produced this year, Venkayya remains skeptical. Sharing his reservations, Mukherjee stressed that in public health, supply and demand is not an effective paradigm, for LMICs do not have the money to reflect demand, adding that "the language we use doesn't work when the market failure is built into the equity proposition."
A moral compass to guide the path to equity
All three speakers united in the belief that the recent US donation of 500 million doses was generous, and yet not nearly enough. As Mukherjee notes, this is a time for equity at the outset, for "human rights is a dialectic between governments and civil society, and it's civil society with the moral compass to [influence] politicians…with our vote, with popular protest, with our writing."
Our response to the current and future emerging infectious disease outbreaks demands that those with the privilege to advocate on behalf of those in dire need leverage an intentional, equity-based approach that is grounded in a strong sense of morality. It is this moral compass that will guide us during this present pandemic and forge a path navigable for future generations who follow in our steps.
Next steps
Since the Path to Global Vaccine Equity on June 10, G7 leaders gathered June 11-13 in Cornwall to commit 1 billion doses of the vaccine. Signing the Carbis Bay Declaration, these nations reassert the importance of strengthening the WHO and global health systems, supply chains, and surveillance, as well as focusing on health equity through intensified and focused efforts of vaccinating 60% of the world's population against COVID-19. Despite support for this declaration, many global organizations and leader have critiqued these efforts for their inability to meet the scale of global need.
Caitryn McCallum, MPH
Research Program Manager, CEID