The Power of Mentorship: Data Days for Good, Making Real Life Change
How can LatinX voter registration and turnout be expanded? What are some of the factors impacting computer science literacy for underrepresented groups across school districts in Massachusetts? How can understanding the correlation between school discipline, federal adoption and foster care, and school arrest data help reduce crime?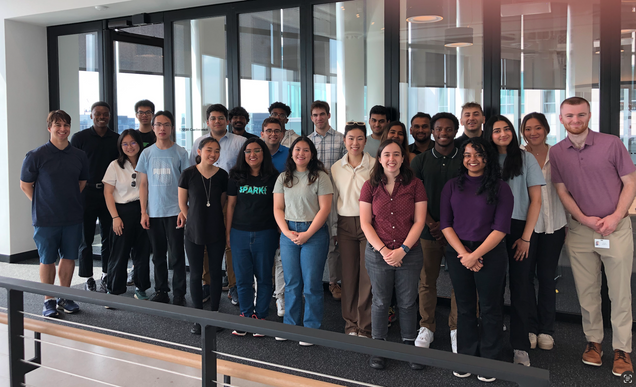 These were the questions 21 Boston University students—data science, computer science, and engineering majors—explored alongside their MassMutual mentors at the Summer 2023 Data Days for Good event hosted at MassMutual's Fan Pier office in Boston. This event was part of MassMutual's partnership with the Faculty of Computing & Data Sciences and BU Spark!, which focuses on the responsible use of data and the advancement of transparency, accountability, and trust in data-driven artificial intelligence solutions.
Over the four-day event, the project teams built fully developed interactive tools that non-profits and government organizations can use to gain insights to help make real change in our communities.
Voting patterns in Boston
In 2019 Boston City Councilor Julia Mejia ran for office on the promise of expanding civic engagement and participation among historically underrepresented groups in her district. She won the election by one vote.
The goal of the project team was to help Councilor Mejia understand the historical trends in LatinX voter registration and turnout with the goal of expanding civic participation. Using data from multiple sources, the student team created an interactive map that can be used to target specific precincts. The map provides insights into LatinX voting patterns such as changes in eligibility and registration, party affiliation by gender, age, and household income.
Urvi Sharma, a sophomore majoring in Data Science and member of Mejia's team, said collaborating with MassMutual mentors and working with tools like Visual Studio Code, a source code editor, was a fantastic educational experience.
"Working at the MassMutual office gave me a glimpse into the ins and outs of corporate life, and we had the opportunity to ask questions about the mentors' academic and career pathways," Sharma said.
Bridging the Computer Literacy Divide
This team created heat maps providing insights into how factors such as ethnic diversity, AP test score performance, and income impact computer science literacy across Massachusetts school districts. The goal was to provide the New Commonwealth Fund with this information to help spearhead educational reform.
Priyank Negi, a second year graduate student majoring in Electrical and Computer Engineering and member of the Bridging the Computer Literacy Divide team, said the one-on-one and group learning experience "went beyond the classroom norm."
"Our mentors fostered critical thinking, guided and validated our work at every step to help align with client objectives, and encouraged us to explore causality beyond simple correlations in the data for our project," Negi said.
Juvenile Justice
Can data help reduce crime and transform the juvenile justice system in Massachusetts? That was the challenge one team addressed. They analyzed the linkages between school discipline, federal adoption, foster care, and school arrests data to help Citizens for Juvenile Justice (CFJJ) advance its mission to transform the systems that serve our children and young people to keep them on the pathway to a successful future.
"These BU students were incredibly talented and thoughtful about how they approached the problems, asking questions to help ensure that their results were as accurate and useful as possible," said Audrey Bertin, MassMutual mentor and Data Scientist, Data Science Investments. "Their enthusiasm for data science was contagious, and their excitement to continue to grow and use their skills for good was inspiring." 
The benefits of mentorship run deep for students and their mentors. Collaboration, partnership, and professional and network growth are just a few of the benefits. "I'm very grateful for the opportunity to mentor undergraduate and master's students as I was in their position not too long ago and greatly benefitted from exposure to professional mentors," said Anisha Pai, MassMutual mentor and Data Scientist, Marketing and Distribution.
MassMutual Mentors
Mary Ellen Sullivan, Anisha Pai, Audrey Bertin, Seetha Raman Anantha, Krishanu Ghosh,  Kapil Chauhan, Joseph Merrigan, Michael Hajjar, Brian Xu, Ethan Jampel, Josh Minot, Bahar Bazargani, Terrill Toe, Maya Brod, and Ashok Godugu
Boston University Student Mentees
Jose Batlle (ENG '24), Louie Belile (CDS '26), Laya Dang (CAS/KHC '25), Ryan Gilbert (CAS '26), Ella Hain (CAS '26), Lamese Ibrahim (CDS '25), Jonathan Joseph (QST '25), Abhishek Malakar (GRS '24), Smriti Suresh (GRS '24), Reetom Gangopadhyay (CDS '26), Jinquan Pan (CAS '24), Shobhak Selvarhaj (MET '24), Anargh Sidhardhan (GRS '25), Vani Singhal (GRS '24), Nikhita Singh (CDS '26), Yuhang Song (GRS '24), Urvi Sharma (CDS '26), Jasmine Fanchu Zhou (CAS '24), Zula Nyamtur (CAS '23), Anshi Mittal (CDS '25), and Priyank Negi (ENG '24)
Originally published by MassMutual with contributions from Melina Nguyen, CDS Communications.