By Marc Chalufour
Professor Scott Schaus (CAS'95) was 16 when he and his two sisters received the worst news imaginable: Their mother, a ticket agent for Northwest Airlines, had died in a car accident on her way home from a night shift. Thirty-two years later, Schaus is honoring her memory with a scholarship at Boston University, his alma mater and workplace.
"My mom was always the one who held the family together," says Schaus, a  CAS professor of organic and medicinal chemistry. Two years after her death, when he chose BU over his home state University of Minnesota, Schaus' father told him he'd have to pay his own way through college. He did, with a combination of financial aid and off-campus jobs. At the same time, he became a fixture in the Department of Chemistry, where he's now a member of the faculty. 
"The idea had always been in the back of my mind to create something in my mother's name," Schaus says. Following the recent sale of a company he cofounded in 2020, he's now in a position to do so.
The company, Virex Health, is developing an easy-to-use and highly accurate at-home COVID test. Early in the pandemic, Schaus was watching with frustration as COVID-19 testing got off to a slow start. "There's got to be a better way to do molecular diagnostics, or at least diagnostics that are quicker and aren't necessarily tied to PCR," he recalls thinking. The pandemic lockdown gave him the opportunity to come up with his solution, in collaboration with colleague Mark Grinstaff, a professor of chemistry and a College of Engineering professor of biomedical engineering. "You take a scientist out of the laboratory and give him time to think, there's limitless possibilities."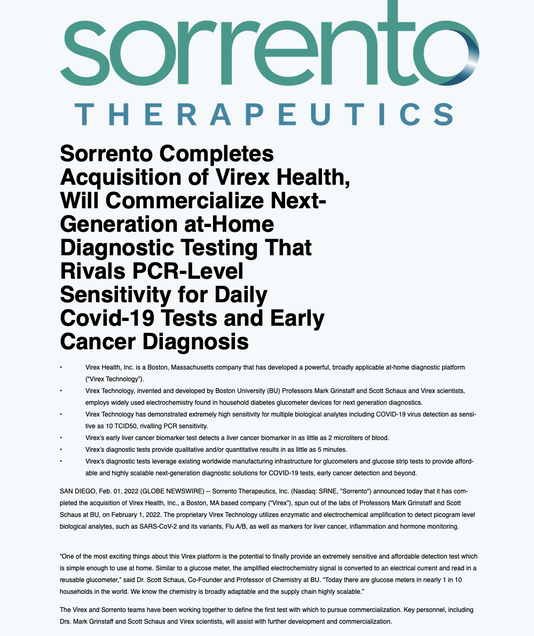 The two began experimenting with glucometers—devices already approved by the FDA for people with diabetes to self-monitor their blood sugar levels. With existing technology, they figured, they could speed up the adoption and distribution of their product. By August 2020, they had filed for a patent; in October they formed Virex Health; and in February they sold the company to Sorrento Therapeutics
"This is a platform technology," Schaus says, by which he means that its use isn't limited to COVID testing. "We can detect pretty much anything in terms of a bioanalyte—proteins, small molecules, we've looked at cancer biomarkers, as well as proteins in viruses."
The acquisition of Virex by Sorrento allowed Schaus to establish the Irene Sophia Prado Endowed Scholarship Fund. The scholarship will provide need-based support to undergraduates pursuing degrees in science, technology, engineering, or mathematics (STEM), with preference given to women of Mexican American or Latina backgrounds.
"There really aren't enough women in STEM," Schaus says. "I've been dedicated to trying to make a difference." More than half of the PhD students from his research group to successfully earn a PhD have been women, he adds.  
His mother, the youngest of six children in a Mexican American family, never had that chance. "She didn't have the opportunity to go to college," Schaus says. "But she would always say, 'You can do anything.'"
---
Donations from alumni, parents, friends, and other advocates of Boston University College and Graduate School of Arts & Sciences support all facets of our educational and research work. Please consider making a gift to CAS Fund or GRS Fund.