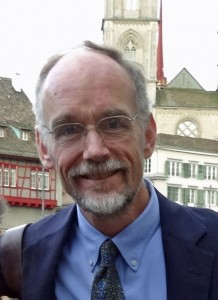 Karl Kirchwey
Associate Dean of the Faculty/Humanities
Office

236 Bay State Road

Email

kirchwey@bu.edu

Phone

617-353-2510

Education

BA, Yale College
MA, Columbia University
Karl Kirchwey teaches an MFA poetry workshop and an undergraduate poetry workshop in the Creative Writing Program, and the Translation Seminar in the Department of World Languages and Literatures. He is the author of seven books: Stumbling Blocks: Roman Poems (forthcoming from TriQuarterly/Northwestern University Press, fall 2017), Mount Lebanon (2011), The Happiness of This World: Poetry and Prose (2007), and At the Palace of Jove (2002), all published by Marian Wood Books/Putnam's; The Engrafted Word (Henry Holt, 1998; a New York Times "Notable Book of the Year"), Those I Guard (Harcourt Brace and Company, 1993), and A Wandering Island (Princeton University Press, 1990; recipient of the Norma Farber First Book Award from the Poetry Society of America).  He has translated poems from French, German, Italian and Spanish, and Poems Under Saturn, his translation of Paul Verlaine's Poèmes saturniens, was published by Princeton University Press in 2011.
He is currently working on translations of poems by Italian poet Giovanni Giudici (1924-2011). Kirchwey's play in verse entitled Airdales & Cipher, based on the Alcestis of Euripides, received the 1997 Paris Review Prize for Poetic Drama and has been presented in public readings at An Appalachian Summer Festival (Boone, North Carolina) and at the 92nd Street Y Unterberg Poetry Center in New York. His poems have appeared in periodicals such as Agni, The Atlantic, Grand Street, The Hudson Review, The Kenyon Review, Little Star, The Nation, The New Criterion, The New Republic, The New York Review of Books, The New Yorker, Parnassus, Partisan Review, Poetry, Slate, The Southwest Review, Tin House, The Yale Review, and elsewhere. His poems and translations have been anthologized in works including Poetry After 9/11: An Anthology of New York Poets (2001, 2011), The KGB Bar Book of Poems (2000), The Best of the Best American Poetry, 1987-1998 (1998), Twentieth-Century Latin American Poetry: a Bilingual Anthology (1996), Twentieth Century Poems on the Gospels: an Anthology (1996), and After Ovid: New Metamorphoses (1995). 
Karl Kirchwey has been the recipient of grants from the Ingram Merrill Foundation and the John Simon Guggenheim Memorial Foundation as well as from the National Endowment for the Arts, and also received a Rome Prize in Literature in 1994-95 and the Cato Prize in Poetry from the Classics Conclave in 2015. From 1987 to 2000, he was Director of the 92nd Street Y Unterberg Poetry Center in New York City. He has taught creative writing and literature at Smith College, Yale and Wesleyan Universities, and in the M.F.A. program at Columbia University. From 2000-2010 Kirchwey directed the Creative Writing Program at Bryn Mawr College, where he received the Rosalind Schwartz Teaching Award in 2003. From 2010-2013, he served as Andrew Heiskell Arts Director at the American Academy in Rome, with administrative and curatorial responsibility for programs ranging from literature to the visual arts and from landscape architecture to historic preservation and conservation.  He was Director of Creative Writing at BU from 2014 to 2016.
Born in Boston in 1956, Kirchwey holds degrees in English Literature from Yale College (B.A.) and Columbia University (M.A.). He has lived abroad for extended periods in Quebec, Canada; London, England; Lausanne and Lugano, Switzerland; and Rome, Italy.
Link to feature about Karl Kirchwey in BU Today.