American Portrait
Gallerist and art historian Warren Adelson's love affair with America's paintings
It was 1964, in the days when ladies wore hats and white gloves as they strolled past the venerable art galleries of Boston's Newbury Street. Alongside the established showrooms of Vose, Childs, and Castano, 22-year-old Warren Adelson founded his own salon, Adelson Galleries, in a walk-down storefront at 167 Newbury Street where paintings by Boston impressionists like John J. Enneking and Charles Woodbury could be bought for $100 or so.
Winfred Rembert (b. 1945) Cotton Rows, 2009, Dye on carved and tooled leather, 23 x 24 3/4 inches.
Courtesy of Adelson Galleries, New York.
In his role as chair of the CAS Dean's Leadership Advisory Board, Warren Adelson asked his fellow board members to "look into their hearts and see what most interests them, and to talk about how that interest could align with the curriculum at Boston University." He was speaking from personal experience. In 1996, he endowed the Beaze and Harry Adelson Research Fellowship to support doctoral students' research for their dissertations on topics of American art; the Jan and Warren Adelson Curatorial Fellowship in American Art, established in 2000, provides three years of tuition and a stipend to a student pursuing a PhD in American art history. He has also given to the Patricia Hills Endowed Graduate Fellowship Fund in Art History, and contributed a modest subsidy to the University of California Press for the publication of Hills's new book, Painting Harlem Modern: The Art of Jacob Lawrence.
"My interest is to strengthen the American part of the art history curriculum, though the department as a whole has a global focus," says Adelson, whose son, Adam (CGS'10), is a sophomore at BU.
"Over the last decade, our department has been transformed to reflect the increasingly international nature of art today," says Professor Fred Kleiner, chair of the Art History Department. The international focus doesn't mean that Western art is being set aside. Indeed, a new study-abroad program at London's venerable Courtauld Institute of Art offers BU students the opportunity to spend a semester at one of the world's foremost institutions for the study of European art.
And at home, students can get hands-on experience in mounting exhibitions—from planning shows and writing catalog essays to designing lighting—at the Boston University Art Gallery, "the art history equivalent of a lab for a natural-sciences department," Kleiner says. As the curriculum adapts to an evolving field, students are empowered to pursue their individual interests, whether that be in art of the Renaissance or Islamic art; whether they dream of becoming museum curators specializing in Japanese prints or dealers of American art.
Most American painters were still considered the poor relations of the European artists who occupied the museum walls and art history textbooks of the time, but Adelson, a newly minted graduate of BU's Art History Department, from which he'd earned a master's degree, found in their work a lodestar for his young career. "My time at Boston University taught me about art history and drew me to the areas of art that I found to be the most interesting, which were really Renaissance and Baroque painting," says Adelson (CAS'63, GRS'64). "But I went into American art because it was so inexpensive and available, whereas you couldn't readily go into the Old Master business. So I dealt in these American pictures, and then the more I looked at them, the more I liked them."
Times have changed. Today, Adelson Galleries is located in an elegant townhouse on Manhattan's East 82nd Street, a stone's throw from the city's Museum Mile. In the intervening years, as he shuttered his Newbury Street shop, moved to New York, and, in 1990, reopened the gallery bearing his name, Adelson has broadened his purview to the present day, representing such contemporary artists as Jamie Wyeth, Andrew Stevovich, and Stephen Scott Young. But he continues to specialize in the turn-of-the-century American artists he'd come to love in his salad days, and upon whose work he has built a reputation as not only a respected gallerist but an eminent art historian.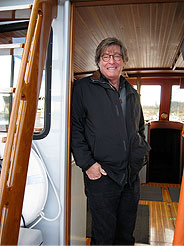 Warren Adelson aboard Jamie Wyeth's
The Dreadnaught
, Summer 2009
"Most dealers are interested in showing and promoting their works, and of course they become very knowledgeable," says Patricia Hills, CAS professor of American art history and Adelson's longtime friend. "But Warren brings a rare level of scholarship to the catalogs that his gallery produces; they are like museum catalogs."
For more than three decades Adelson has been working with Richard Ormond, a distinguished art historian as well as John Singer Sargent's great-nephew, on Sargent's catalogue raisonné—a comprehensive tome detailing all of the artist's known works. The sixth volume of the planned nine-volume series is to be published by Yale University Press this fall. "It's allowed me to follow in Sargent's footsteps and meet some of the people he knew and some of the descendents of people he knew, and to go to some of the places he went—and to get such greater feeling for his life and for his art," Adelson says.
For Adelson, the stories behind the paintings can be as compelling as the art, and he has turned his art historian's eye to books on Sargent, Maurice Prendergast, Childe Hassam, and other artists, as well as to the Mary Cassatt catalogue raisonné, which will be published online next year.
And after more than forty years in the field, Adelson continues to explore, as he seeks out the work and stories of artists who are new to him. This spring, his gallery presents an exhibition on the work of the contemporary American folk artist Winfred Rembert, whose vibrant paintings on tooled leather are autobiographical vignettes of growing up and coming of age among Georgia sharecroppers in the '50s and '60s. "It's a departure in a sense; I've never done a folk artist, as such," Adelson says. "But I think his work is so evocative, and he's so charismatic, and it's just a great story—one that I think should be shown and told."
The new show is a step in the ongoing evolution of Adelson Galleries, to be sure. But it is less than a departure, in the fundamental sense that Rembert is an American artist—like Sargent and Cassatt, like Winslow Homer and Georgia O'Keeffe, like Jamie Wyeth and his father, Andrew. American art history continues to captivate and inspire Adelson "because it's all about America," he says. "Art isn't just about paintings on walls; it's about who painted them, and why they painted them, and what they were painting, and within what fabric they're woven."