[an error occurred while processing this directive]
Related Links
arts&sciences | Fall 2011
How We Make Financial Decisions
The Slater family endows a chair to explore the psychology of financial decision making
By Leslie Friday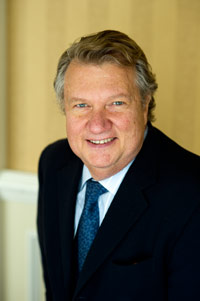 Kenneth Slater says that investing in "bricks and mortar" is important, but his family sees a different kind of value in endowing an academic chair.
Behavioral economics explores the psychology behind decisions that consumers, borrowers, and investors make, as well as the effect those decisions—often based on gut instinct—have on the financial market.
To advance knowledge in this relatively new field, Boston University Overseer Kenneth Slater and his family have endowed a chair at the College of Arts & Sciences, the first endowed chair in the Department of Economics' history. The Slater Family Professorship in Behavioral Economics is created by a $2.5 million endowment made possible by combining funding from the Slater family (nearly $1.7 million) with a matching grant through the Leventhal Challenge ($800,000), established by University Trustee Alan Leventhal (Hon.'09) and his wife, Sherry Leventhal.
"As important as knowledge about a particular area is, what's more important is what you do with that information," says Slater, a principal in Tremont Partners LLC, a financial advisory firm in Palm Beach, Florida. "It's worth learning more about the decision-making process."
Says Dean of Arts & Sciences Virginia Sapiro, "This professorship in behavioral economics is a real game-changer because it builds on strengths we already have in the Department of Economics, one of our leading departments, and enables us to attract another first-rate professor to our ranks. Without endowed professorships like this one, we have little hope of competing with the other top-ranked universities to attract and keep the best faculty and students."
Adds Chair of Economics Robert Margo, "Behavioral economics is one of the hottest areas of research in economics. By giving us the resources to make a high-profile appointment, Ken Slater's extraordinary gift will help move the department to the next level."
As a professional investor, Slater has a personal interest in this branch of economics. His role became crucial during the recent financial crisis, when few people fully understood what was happening on Wall Street. "Things were pretty stressful," he says. "I was trying to understand everything, and I realized I couldn't. I had to make decisions based on limited information."
Slater came to realize that answers to his questions were not to be found in the financial information at hand: what he really needed to understand was investors' decision-making process, and his gift will further that understanding.
While investing in "bricks and mortar" is important, Slater says, his family sees a different kind of value in endowing an academic chair. "We particularly like the idea of something that lasts, that's perpetual, that changes over time, and is refreshed or replenished with new intellectual leadership," he says. "It has an indefinite, unchanging life."
A version of this article first appeared in BU Today.