Computing Solutions
He likes to tackle problems. When computer science major David House (CAS'10) sees a computer, he sees a way to find solutions. Through UROP (Undergraduate Research Opportunities Program), he does real research to help create new tools for science.
By Rachel Johnson
David House arrived at BU with a theory: the professor with "the most interesting stuff on the door" would be a professor doing fascinating research. He spent his first few days at CAS wandering the halls, investigating professors' doors, looking for one crammed with flyers, pictures, posters, and inspiration.

He found computer scientist Margrit Betke, whom House calls "the hardest-working professor I have ever known." Through BU's Undergraduate Research Opportunities Program, which funds faculty-mentored undergraduates conducting original research, House and Betke teamed up to develop a computer program that helps to track and model cell behavior by using infrared thermal imaging.
Unlike more conventional tools, such as standard infrared cameras and flash photography, infrared thermal imaging produces much higher resolution images by recognizing electromagnetic waves and converting them to electrical signals that a computer can then read and understand. The program uses algorithms to generate data about the pictures. Betke's lab has already participated in studies that use this program to track the nocturnal movements of bat populations by reading their heat.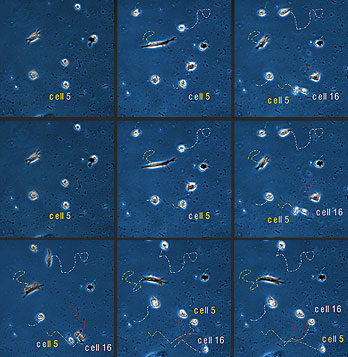 This image demonstrates the BU MicroSight system's ability to automatically record a cell's lineage through time.
"That's the job of a computer scientist: finding ways to solve problems. Each of us has the capacity to change the world using the creative. We are only limited by our imaginations."
"I knew about computer science," House says, "but Professor Betke encouraged me to increase my biology knowledge in my free time in order to really understand all aspects of the program. It's amazing what you can accomplish with the proper team and the right encouragement."
After creating and setting up the algorithms with Betke, House collaborated with Joyce Wong, associate chair of the graduate biomedical engineering program, to fine-tune the system to model cellular behavior. "The algorithms can be applied to a variety of biological systems—cells, mammals, anything with heat," he says. "We want to make it open-source, so eventually any college can use it in many different ways."
Computers and the possibilities they offer have fascinated House since childhood, when he watched "those 80s hacker movies in which an unwitting teen sticks it to The Man and wins," he says. Now he sees computer science for what it can do and how it can change the world we live in. "The real computer science is in the abstract," he says. "It's about taking a situation and using computers to model that situation to see how something works. Right now, I help computers understand what cells look like and how they behave so they can recognize cells and model their behavior. But the range of possibilities for what computer science can do is enormous."
Although House doesn't want to hack into any government supercomputers, he maintains a strong stance on governmental and environmental accountability. He founded the BU chapter of the Association for Computing Machinery, which helps drive local technology-based improvement projects like technology training for local high school teachers. He also lives in "pika," a coed, environmentally friendly MIT-affiliated cooperative in Cambridgeport "full of mathematicians and engineers" who do their own cooking, gardening, and composting; allow pets; and have constructed an enormous tree house attached to the building.
At his core, House likes helping out and untangling obstacles, which is why he finds the field of computer science so rewarding. "I like that people can come to us and say 'We have a problem and we want you to fix it,'" he says. "That's the job of a computer scientist: finding ways to solve problems. Each of us has the capacity to change the world using the creative. We are only limited by our imaginations."
"After graduation, I want to go somewhere that lets me continue this research, to make a real, tangible difference. It's very hard work, and we may fail a bunch of times trying for an answer, but when we come up with a solution, it's so rewarding."