By Katrina Scalise (COM'25)
The History of Art & Architecture Department brought together six scholars in African American Art History in November for "African American Art History: Present Coordinates," a symposium sponsored by Boston University's Emerging Scholars program and organized by Ph.D. student Shannon Bewley. 
Emerging Scholars Programs are structured meetings where departments invite professors, PhD candidates and fellows from other institutions who represent racial or ethnic groups that have been historically excluded from the academy to engage in networking and professional development opportunities, research presentations, panel discussions, and mentorship.
Bewley developed the program as part of the History of Art & Architecture Diversity and Inclusion Committee, in collaboration with the College of Arts & Sciences Diversity and Inclusion office, to "facilitate others' voices in the symposium as a concrete way that I could support inclusion and equity in academia," she said. ':Present Coordinates," was the first Arts & Sciences Emerging Scholars program to take place this academic year.  
"The program was exceptional. Each panelist brought a high caliber of scholarship and passion to their talks covering more than three-hundred years of cultural production," Bewley said. "The History of Art & Architecture department has played an important part in the development of the field of African American art history. The exchange of ideas at the African American Art History: Present Coordinates Symposium certainly foretells of future collaboration." 
"Present Coordinates" presentations focused on architecture, art history, fine arts and visual arts topics including Rosana Paulino's artwork, Edmonia Lewis' artwork, the architecture of the African Methodist Episcopal Church, Frederick J. Brown's work and the New York 'Downtown Scene,' and visuality in Black conceptual art.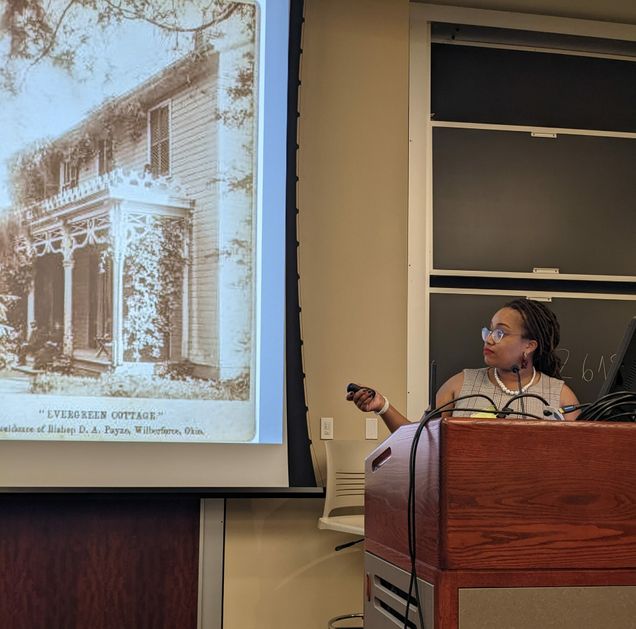 The keynote speaker was Melanee C. Harvey (GRS`17), associate professor of art history at the Chadwick A. Boseman College of Fine Arts at Howard University, who holds a master's and PhD in American art and architectural history from BU. A scholar of the Black Arts Movement, Harvey is artists and programming coordinator and committee chair of Howard's James A. Porter Colloquium on African American Art and Art of the African Diaspora, the leading forum for scholars and curators in the field, named for the pioneering Howard professor known as the father of African American art history.
Harvey's advisor, Patricia Hills, Professor Emerita of American & African American Art at Arts & Sciences, whom Bewley called a "pioneer of African American art history" gave welcoming remarks. 
Harvey also brought several of her current undergraduate students at Howard University to the symposium and BU alumna Martina Tanga (GRS 2015) led our visiting scholars on a fascinating tour of her co-curated MFA exhibition "Touching Roots: Black Ancestral Legacies in the Americas."
"The symposium provided the members of our department and the BU community with a tremendous jolt of energy that demonstrated how vital and necessary it is today to expand the research on African American art history," said Gregory Williams, an associate professor in History of Art & Architecture. "It was incredibly inspiring to see several generations of students and professors gather to passionately discuss the groundbreaking topics developed by these exceptional emerging scholars." 
"It was a resounding success because of the efforts of so many people, but especially Shannon Bewley, PhD candidate in HAA, who guided the project from its inception," added S. Rebecca Martin, Associate Professor of Greek Art and Architecture. "It was an honor to host enthusiastic young scholars and learn about their work. The future of African American art history looks bright. We are so grateful to the Emerging Scholars Program for its recognition of African American art history as a critical field of inquiry."
More information on the African American Art History: Present Coordinates symposium and its scholars is available on the HAA department website.