Thank You!
Wednesday April 7, 2021 was BU's seventh Giving Day but the first to be held during a pandemic! Overall, BU ended the night with ~$2.9M in revenue from more than 8,800 unique donors and over 11,000 gifts.  
Out of the 17 schools and colleges, CAS led the way with 1,000 donors and finished second in revenue with $219,000 raised—exceeding our dollar goal. For the most improved participation challenge, four departments and academic programs won based on the greatest percent increase in their number of donors from 2019's Giving Day. This year's winners are as follows: 
The Department of Anthropology came in first (5 donors in 2019, 61 donors in 2021)

 

The Department of History in second (20 donors in 2019, 97 donors in 2021)

 

Elie Wiesel Center for Jewish Studies in third (7 donors in 2019, 12 donors in 2021)

 

The African American Studies Program in fourth (27 donors in 2019, 39 donors in 2021)

 
Thanks to all our alumni, parents, students, faculty, staff, and students who contributed to CAS's Giving Day! Your generosity directly benefits our students, and we couldn't be more grateful.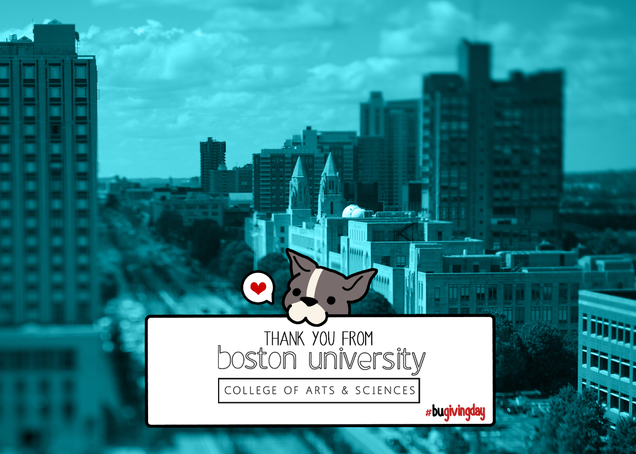 And we would like to extend our appreciation once again to the CAS challenge sponsors who made it possible for donations to be matched to the Dean's Fund, the Dean's Fund for Experiential Learning, and awarded the following units for their accomplishments.  
Thank you to our sponsors—Amy Chiu (GRS'97), David Colapinto (CAS'84), Bonnie Feld (CAS'73, Parent of COM'02), Deirdre Giblin (CAS'90), Lucinda Igarashi (Parent of CAS'23), Ernest Marquart (CAS'86), Gita Pensa (CAS'93, Parent of CAS'23), Michael Rees (CAS'90), Brian Riley (CAS'95), Hellena and Bob Seid (GRS'76), Scott Singer (CAS'93), Rebecca Smith (CAS'80, STH'82), and Anonymous donors—for ensuring all gifts made to CAS on Giving Day go even further! Together we are #ProudtoBU.