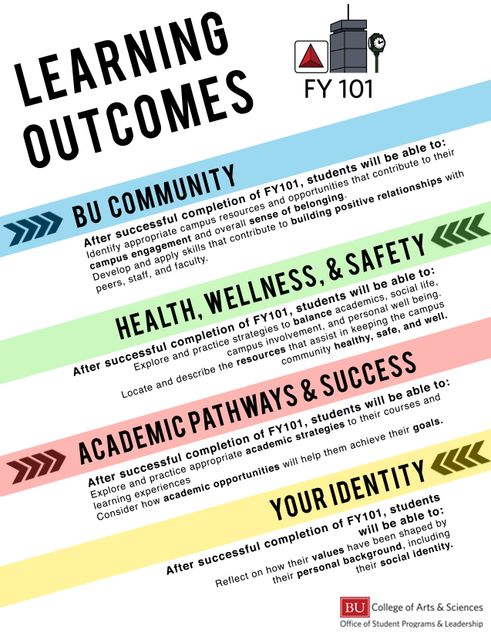 Syllabi Templates 2021
Meet with your Peer Mentor, choose your Instructor Choice and Peer Mentor & Instructor Choice Topics, Personalize your syllabus and submit it to Stacy at srulrich@bu.edu by Friday, August 20th.
Personalized syllabi examples from 2020 here, here and here.
Class Outline Week-by-Week: 
FY101 New Instructor Training May 2021
FY101 Instructor & Peer Mentor May Retreat Info 2021
Summer 2021 FY101 Professional Development Sessions
Modules
Please note that when Peer Mentor is in RED, that means Stacy and Emily are prepping them for that activity in ED:245, Intro to Peer Counseling, at least one week in advance of that class session.
We suggest you copy and paste these outlines into a Google Doc or use the week by week class outline as a shared document for you and your Peer Mentor to map out each class period including each person's role and how long each activity will likely take.
Week One: Intro to FY101
Week Two: Getting Involved
Week Three: Boston
Week Four: Time Management & Priorities
Week Five: Stress Management & Self Care
Week Six: Options for Topics Chosen by Instructor
Week Seven: Consent & Sex Positivity - Combined Zoom Class
Week Eight: Registration Preparation
Week Nine: Instructor and Peer Mentor Choice
Week Ten: Chosen by Peer Mentor
Extra Week: Thursday (11/11) and Friday (11/12) Classes Only
Week Eleven: Values
Week Twelve: Identity & Action
Final Week: Wrap-Up
FY101 Additional Resources
Class Excursions
Virtual Activities and Tools for Student Engagement
Miscellaneous For Instructors (Staff Link, Example Syllabi, etc.)