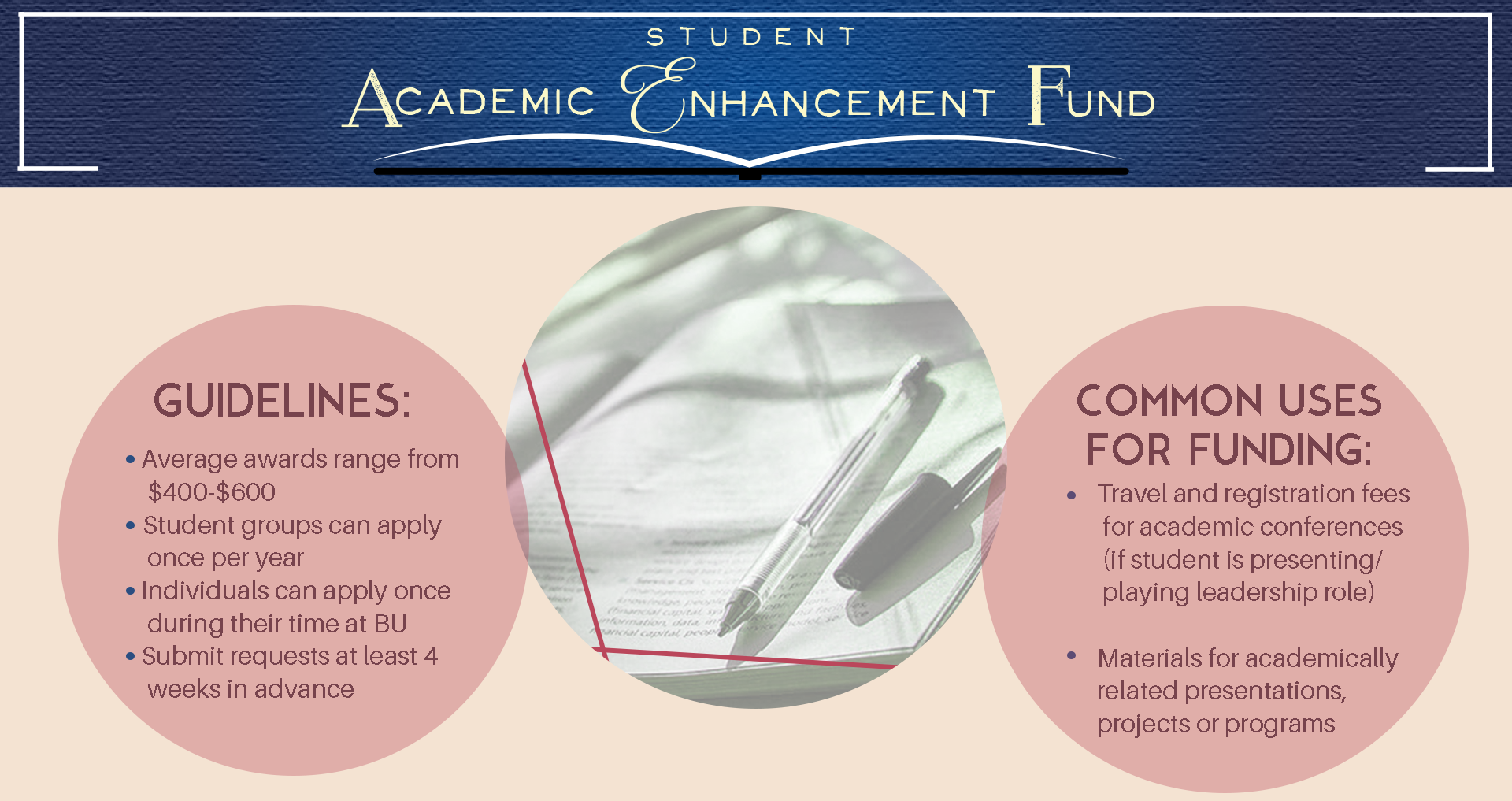 We funded over eighteen projects for a total of $10,000 this academic year.
SAEF funding is now closed for 2018-2019. We will re-open applications for Fall 2019 during Summer 2019.
The Student Academic Enhancement Fund is designed to support undergraduate CAS students in the pursuit of academic interests, endeavors, and achievements outside of the classroom.
Fund Guidelines:
Individual CAS students are eligible for funding once per BU career

CAS student groups are eligible for funding once per academic year

Average funding awards range from $400-$600

Requests should be submitted at least four weeks in advance
Common uses of funds include, but are not limited to:
Travel and registration fees for academic conferences (we will only consider if the applicant is presenting at the conference or playing a leadership role in the conference)

Materials for academically related presentations, projects or events outside of the classroom
Funds may not be requested/used for:
Participation in for-profit volunteer experiences

Direct contributions to fundraisers/charities

Participation in study abroad programs

Course materials such as books and supplies
Events/research/travel over summer
Events that are more appropriately funded through

CAS Honors Research

or UROP
Notes for travel requests:
International group travel requires a graduate or professional chaperone
BU does not encourage using personal vehicles for any student organization business or activity. If you do use a personal vehicle in such an instance, the vehicle owner's insurance must provide coverage in the event of an accident.
The primary driver must be 21 or older
Individual or group international travel requires registration with BU Global Programs
Each request is evaluated by a team of Student Academic Life professionals in the College on a rolling basis. Please be sure to allow ample time between your funding request submission and the date on which you will need the funding. Funding requests submitted too close to the date of an event, conference, etc., are not guaranteed to be reviewed.
If your request is approved, the College will require the submission of a written description of:
1) How the funds were used  2) The benefits derived by use of the funds, as well as photos, when applicable. (Submission is required within two weeks of the event)
This application process is for undergraduate CAS students only. Faculty may make course-related submissions to the CAS Academic Enhancement Fund here.
Questions should be directed to Katlyn Salvador via email: katlyns@bu.edu.