Each year, Boston University has the pleasure of recognizing a number of talented junior faculty who are emerging as future leaders within their respective fields with the awarding of Career Development Professorships. For 2020–21, two CAS faculty members were recognized:
Innovation Career Development Professorship
The Innovation Career Development Professorship recognizes junior faculty whose translational research is likely to lead to future licensed technology.
Joseph Larkin, Assistant Professor of Biology and Physics
Joe's interdisciplinary work examines how the physical and chemical environment influences microbes (in particular, bacterial biofilms), and how those microbes, in turn, engineer that environment through extracellular matrix and cell-to-cell signals to perpetuate and evolve.
Moorman-Simon Interdisciplinary Career Development Professorship
The Moorman-Simon Interdisciplinary Career Development Professorship is awarded to faculty members who currently hold appointments in multiple schools and colleges or have the potential for a second appointment in the future.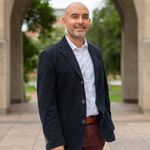 David Horacio Colmenares, Assistant Professor of Spanish
David's research bridges modern Iberian and Mesoamerican studies, incorporating Romance languages, linguistics, historical anthropology, reception studies, and material culture to connect the cultural production of Colonial Latin America to current social questions.
You can read more about their work and the specific honor on the Provost website and BU Today. Congratulations to all!