The College of Liberal Arts was founded on March 14, 1873, joining schools of theology, law, music, and medicine in the quickly expanding Boston University.
The college opened on September 18, 1873, in its first home, 18 and 20 Beacon St., opposite the Massachusetts State House. Twenty-two students matriculated that fall. A six-person faculty taught them Latin, Greek, math, English composition, rhetorical exercises, elocution, German, and Greek and Roman history.
Tuition was $60.
The college has continuously changed with the times and adapted to student needs since then. It moved several times before reaching the Charles River Campus in 1945 and is now the largest college at the University, with nearly 10,000 undergraduate and graduate students. A foreign language is still required, but the offerings have greatly expanded. Even the name changed, in 1996, to the College of Arts & Sciences (CAS), to better reflect the range of academic departments. Across those decades, however, a dedication to the liberal arts education has remained a guiding principle. In an undated speech, William F. Warren (Hon. 1923), BU's president from 1873 to 1903, defined "The Essential Idea of a College of Liberal Arts" and established a vision for the new college. "Study born of abounding life is the highest of all entertainments," he said. "It is personal exploration, thrilled discovery, conscious freedom, growth, achievement, all in one…. It overreaches and transcends all limitations of the individual."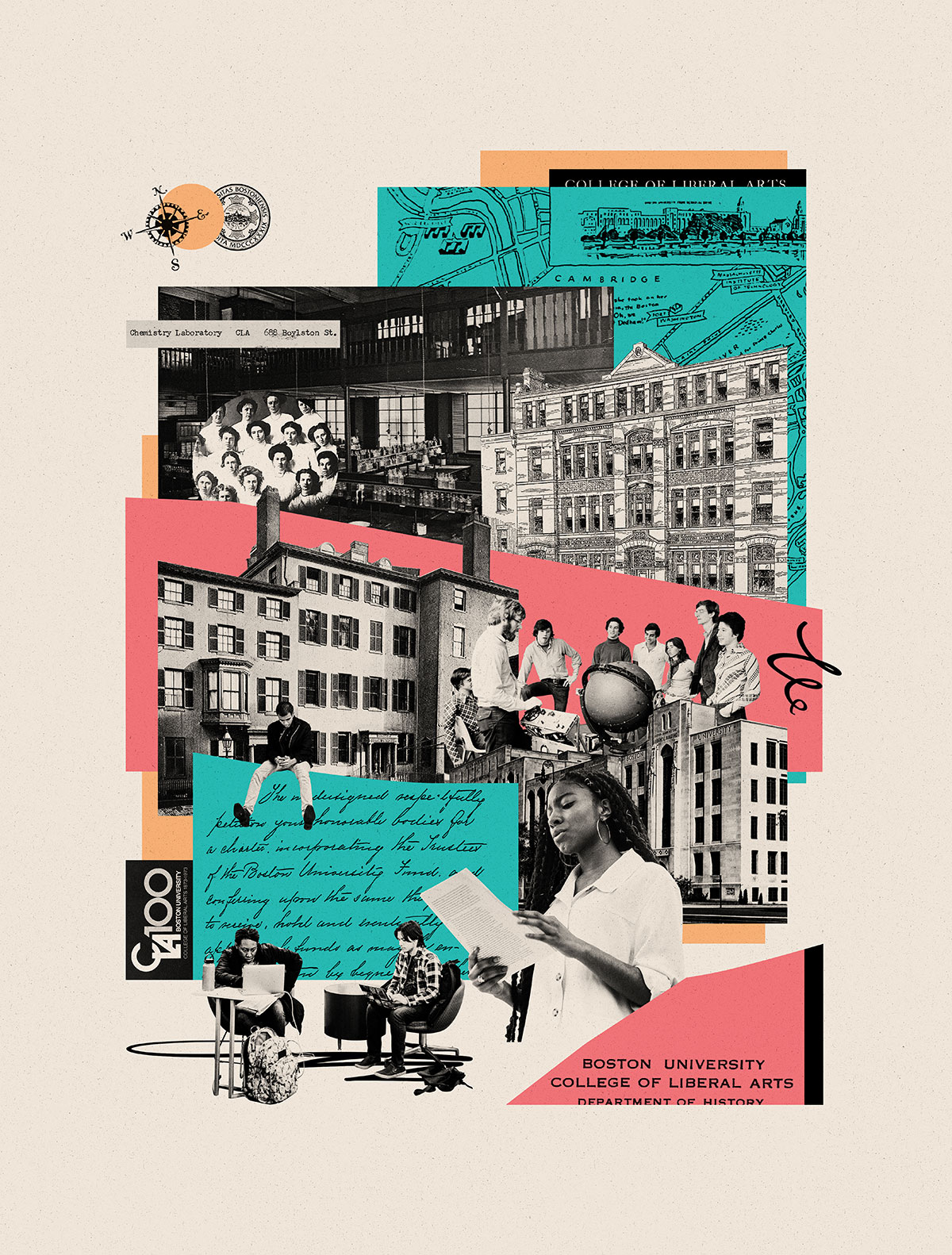 What those studies consist of began evolving almost immediately. The School of All Sciences—now the Graduate School of Arts & Sciences—was established in 1874. Astronomy, biology, chemistry, economics, and education were among the programs added in the first quarter century. A computer science department was established in 1983 and an Earth and environment department in 2012. These additions often mirrored broader societal shifts and new demands in the job market.
When the college was grappling with changing student needs and demands in the late 1960s, it expanded independent study and off-campus work experiences and revised the curriculum. The administration published the College of Liberal Arts Paper on Concepts of Learning and Academic Programs, a collection of essays, to address its plans. Anthropology Professor Harold Fleming's contribution, "Toward a More Relevant University Model," called for academia to embrace a global perspective. "When human problems get tougher and tougher to solve and the human condition heats up year by year over a slow burner called Population, academic 'high culture' becomes a little tiresome," he wrote. "A student can graduate without taking any courses on non-Europe. But no one can graduate without passing at least six semester courses on Europe…. I think this is absurd, given the conditions of the twentieth century."
Emphasizing inclusion was a founding principle of the college. John Wesley Edward Bowen became the first person born into slavery to earn a doctorate, receiving his PhD in historical theology in 1887. Eight women were admitted to the Class of 1877, making it the first coed college in Massachusetts—more than a century earlier than Harvard; women students outnumbered men by 1887, and frequently thereafter. Helen Magill White became the first woman in the US to earn a doctorate when she received a PhD in Greek in 1877. The college has continued to produce alums who have reached the highest echelons of their professions, including Pulitzer-winning novelist Jhumpa Lahiri (GRS'93, UNI'95,'97) and US Representative Alexandria Ocasio-Cortez (D-NY) (CAS'11, Pardee'11).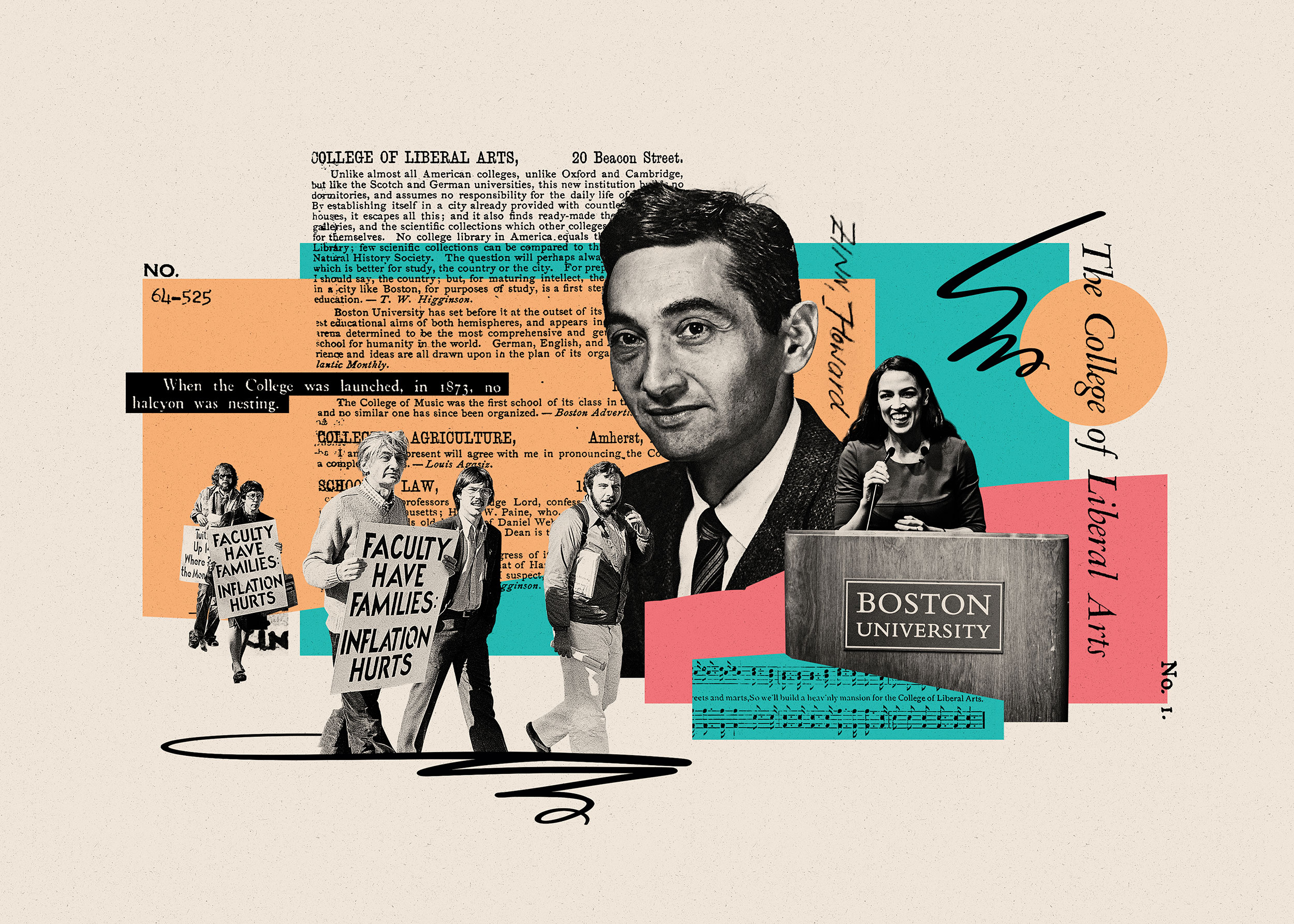 Activism has also linked generations of CAS and GRS community members. Civil rights leader Martin Luther King, Jr. (GRS'55, Hon.'59) studied here, and Howard Zinn, the late political science professor, worked here. Zinn, in turn, helped to inspire the arrival of Ibram X. Kendi, a professor of history and director of the BU Center for Antiracist Research. "[He] is one of the reasons why I decided to come to BU…. To be able to walk on the same campus and think in the places he did and to activate people in the way he did," Kendi said during the 2020 Howard Zinn Memorial Lecture. Kendi has a connection to another CAS luminary: he and Elie Wiesel (Hon.'74), a Nobel laureate and a professor of philosophy and religion from 1976 until his death in 2016, are the only two faculty members to be named BU's Andrew W. Mellon Professor in the Humanities.
There are, of course, many threads and themes holding these past 150 years together. Too many to cover here. New students with new ideas arrive on Comm Ave every year. New faculty push the boundaries of their fields with each piece of research. And CAS administrators position the college to meet new demands and challenges. With each person and action, the legacy of the college grows. To echo William F. Warren, it overreaches and transcends all limitations of the individual.